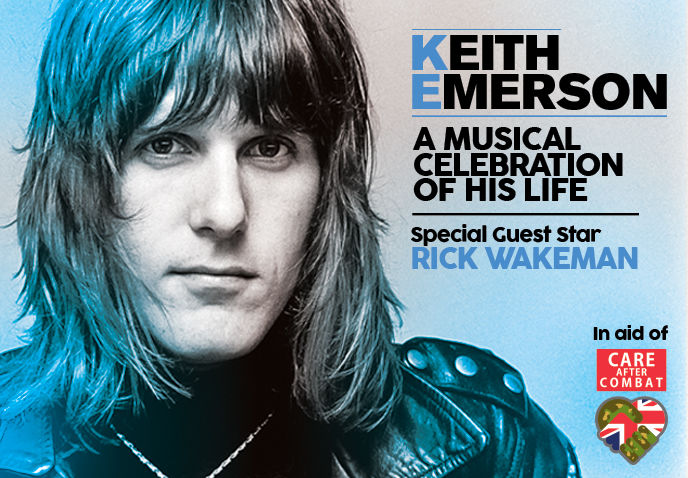 A concert billed as Keith Emerson: A Musical Celebration of His Life was held in Birmingham, England's Symphony Hall on July 28 2017, to feature music by the Emerson, Lake and Palmer keyboard virtuoso and performed by "the people who featured in his life." Emerson, born on November 2, 1944, died March 11, 2016.
The event included a symphony orchestra and fellow progressive rock giant Rick Wakeman. But the evening's surprise highlight was a performance by Emerson's 11-year-old grandson, Ethan. (Watch him below.)
Wakeman spoke fondly about his longtime friend. "Keith and I go back a long way and I genuinely have wonderful memories of times we spent together and times I watched him play." Wakeman noted that "one of his deepest regrets" was that the pair never recorded together. "He will remain in my heart forever."
Watch Wakeman perform Emerson's "Endless Enigma" from ELP's Trilogy album at the event
Watch a 60-piece orchestra perform with American musician Rachel Flowers, who lost her eyesight as an infant
Emerson's son, Aaron, wrote on his Facebook page: "I cannot even put into words how blown away, proud, overwhelmed, terrified, emotional and ecstatic I was last night when my son Ethan walked on stage, sat at the concert piano and played 'The Dreamer' written by my father, along with a 60 piece orchestra. Not only did he do that at 11 years old, but he was just perfect. This boy astounds me daily with his utter strength and determination, and I cannot tell you how immensely proud both me and my wife are of him."
Several days after the performance, young Ethan wrote, "I was so proud to be asked to play. This was not only for my grandad KEITH EMERSON, but also for my other grandfather, or Gar as we call him, Bob Netley, who we lost very suddenly only 2 weeks ago. He was so looking forward to seeing me perform, so this is for you Gar."
Watch young Ethan and be prepared to be seriously blown away
Talent on the keyboards clearly runs in the family.

Latest posts by Best Classic Bands Staff
(see all)