Juliana Hatfield Three Matures on Latest Album
by Jim Sullivan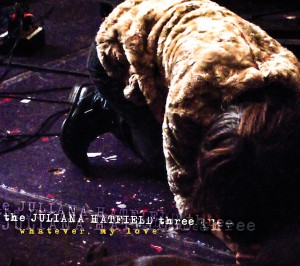 Juliana Hatfield Three
Whatever My Love
(American Laundromat)
In A Word: TK
Twenty-one years after their debut release, The Juliana Hatfield Three, the original group is back for a new album, Whatever, My Love. A '90s singer-songwriter alternative rock vibe runs through the disc's veins, as the group originated in that era dominated by female-led garage rock contemporaries such as The Cranberries, Sheryl Crow and Mazzy Star. Yet Hatfield and her group have successfully transitioned into 2015.
Recorded in Hoboken, NJ, the 12-song disc features songs driven by lead riffs. The first single, "If I Could," released back in December, features a more upbeat theme and acoustic-based songwriting. It contrasts really well with the faster and punk-influenced songs like "Dog On A Chain" and "Push Pin."
Throughout the album, songs feature her trademark double-tracked vocals style. It's an older, more dated style of recording vocals, but the group's maturity and strong grasp of producing techniques learned over the past couple of decades ease it into the modern recording era. Although a bit more mature, you can still hear that younger, possibly insecure version of Juliana on tracks like "Ordinary Guy," "I Don't Know What To Do With My Hands" and "I'm Shy."

As a high school baseball player growing up in Maine, I used to pump myself up for games by playing Raw Power by Iggy & the Stooges –the ultimate adrenaline rush. My friends and team mates didn't quite get it. They liked Chicago (the band). But that was OK: the punk rock revolution was around the corner, and that's where my musical taste locked in with many others, bored with corporate rock. Yes, I had Slade, Mott, Bowie and Roxy to get me there, too. That punk (and post) period was a time of extreme excitement (friction, joy, conflict) that inspired me to write about what I loved. And it opened the doors to even more worlds.

I wrote about pop music and other arts for the Boston Globe for 25-plus years, with more than 10,000 stories to my credit before leaving in 2005. Since then I've freelanced for the Boston Phoenix, Boston Herald, Where magazine, Boston Common, Yankee magazine online, Time Out Boston, US News & World Report, the Cape Cod Times. I host the XFINITY on Demand music/interview show "Boston Rock/Talk," and write and edit www.jimsullivanink.com, which serves as a critical guide to arts and events around metro Boston.

Latest posts by Jim Sullivan (see all)