Johnny Mandel, Composer of 'M*A*S*H' Theme Song, Dead at 94
by Jeff Tamarkin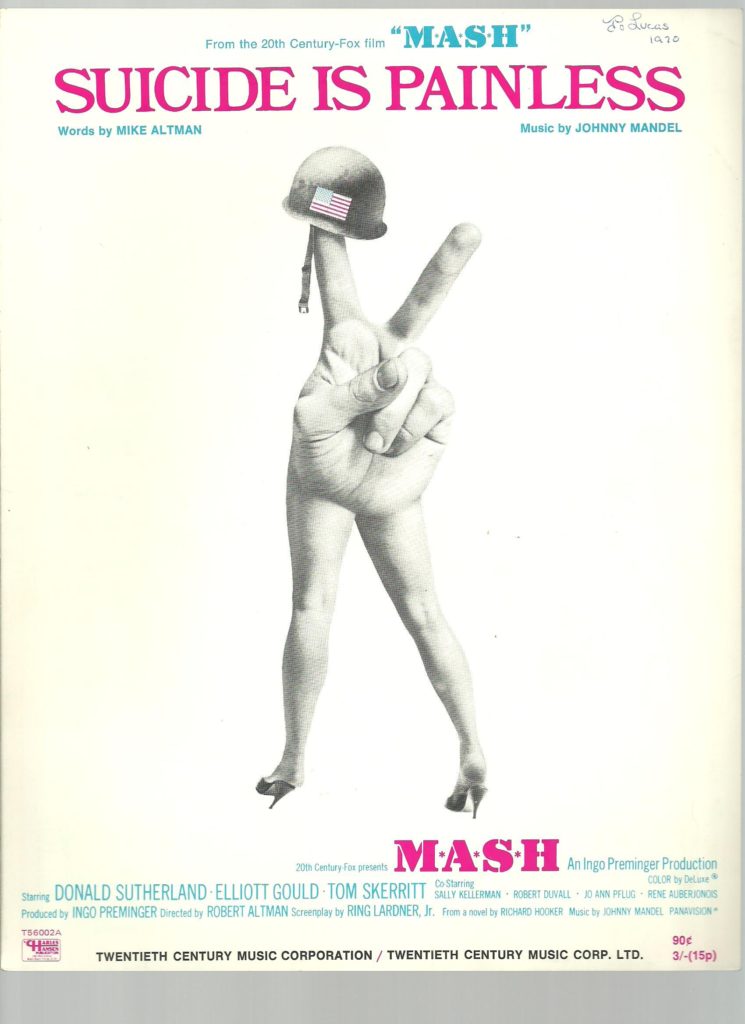 The composer of the music for "Suicide is Painless," better known as the theme from the hit film and related television series M*A*S*H, died June 29, 2020. Johnny Mandel, who also wrote the music for the classic movie theme "The Shadow of Your Smile," and many other songs, was 94. No cause or place of death have been reported as of yet.
Singer Michael Feinstein posted on Facebook, "A dear friend and extraordinary composer-arranger and all-around brilliant talent Johnny Mandel just passed away. The world will never be quite the same without his humor, wit and wry view of life and the human condition. He was truly beyond compare, and nobody could write or arrange the way he did. Lord will we miss him. Let's celebrate him with his music! He would like that."
Another popular vocalist, Michael Bublé, tweeted, "I was so sad to learn that a hero of mine, Johnny Mandel, passed away. He was a genius and one of my favorite writers, arrangers, and personalities. He was a beast."
Listen to the original recording of "Suicide is Painless"
Among the many artists with whom Mandel worked were Frank Sinatra, Barbra Streisand, Count Basie, Tony Bennett and Peggy Lee.
John Alfred Mandel was born Nov. 23, 1925, in New York City. After studying at the Manhattan School of Music and Juilliard, he began his career as a trumpeter and trombonist. He wrote arrangements for Basie, Chet Baker, Stan Getz and other jazz artists and gradually shifted his concentration to songwriting in the late 1950s. Mandel's career took off in earnest after he moved to Los Angeles and began working in film and TV. His score for the hit 1958 film I Want to Live! earned Mandel his first Grammy nomination.
After Mandel wrote the music for "Suicide is Painless" for the 1970 film version of M*A*S*H—its lyrics were penned by Mike Altman, the 14-year-old son of director Robert Altman—he initially felt the music was too soft for the tone of the film. It proved popular, however, and was also used for the hugely popular and critically acclaimed TV series, which ran from 1972-83.
Johnny Mandel, thank you for your melodies. And for one in particular that's engraved in our hearts.

— Alan Alda (@alanalda) June 30, 2020
Related: What were the top radio hits of 1972?
"Suicide is Painless" has been covered by numerous artists, including Henry Mancini, Bill Evans, Roy Ayers, Art of Noise and Manic Street Preachers.
Listen to the Manic Street Preachers' cover
"Emily," another Mandel composition (with lyrics by Johnny Mercer), was used in the 1964 film The Americanization of Emily, and was recorded by Sinatra, Bennett and others. "The Shadow of Your Smile," with lyrics by Paul Francis Webster, is likely Mandel's most oft-covered song, with versions cut by Stevie Wonder, Nancy Sinatra, Bobby Darin, Streisand, Wes Montgomery, Astrud Gilberto, Johnny Mathis, the Delfonics and many others. The song was written for the 1965 film The Sandpiper, and won Grammys for Best Original Song and Song of the year.
Listen to Marvin Gaye sing "The Shadow of Your Smile"
Mandel's other credits include music for films as diverse as Caddyshack, Being There, The Verdict, Harper, Freaky Friday and The Russians Are Coming, The Russians Are Coming.
His other Grammys came from collaborations with Quincy Jones, Nat King Cole and Natalie Cole, and Shirley Horn. Mandel was awarded the Grammy Trustees Award in 2018.
Listen to "Emily" as sung by Barbra Streisand

Latest posts by Jeff Tamarkin
(see all)