'John Lennon is Forever': Yoko Ono at USPS Event
by Greg Brodsky
On a late summer day in New York City, Yoko Ono took the stage at Central Park's Naumburg Bandshell on September 7, 2018, and said: "When John died, I said there will be no funeral. John is going to be forever." The occasion, at the park's Naumburg Bandshell, was at the United States Postal Service's official first-day-of-issue ceremony for the newest addition to the Music Icons series, a John Lennon Forever stamp.
The event, attended by a thousand or so fans, was on a day when the scorching 90+ degree weather the city had been experiencing was a more manageable 75. Ono, born February 18, 1933, looked radiant, occasionally beaming with pride at the words and images that were shared during the ceremony.
She was joined by her and John's son, Sean Lennon, who himself turned 44 in October 2018 [how can that be?!?] and at times displayed his father's trademark wit (and was seen taking selfies at the event). "My father and mother came to New York as immigrants," he said during the well-organized event. "He fought very hard to get his green card because he loved this beautiful country and beautiful city."
"I thought that maybe 10 or 15 people would be here," said Ono. "People would say that's Yoko's fault. It's always my fault," she said with a smile. A fan screamed out: "We love you!"
"I had so much enjoyment with John. I feel very, very lucky. The only complaint I have is that he's not here. Thank you so much for being here today. Even if it was five or 10 people, I would appreciate it. But look at this! It's beautiful!"
The couple would have celebrated their 50th wedding anniversary on March 20, 2019.
Disc jockey Dennis Elsas, who conducted a legendary 1974 live-in-studio interview with Lennon at New York's WNEW-FM, was the event's Master of Ceremonies. (Click here to listen to a portion of their famous interview.) He showed the video for Lennon's "Mind Games," which includes scenes of the iconic musician walking around Central Park and appearing on the very stage that the event was held.
The Bandshell is a short walk away from Central Park's Strawberry Fields, the living memorial to Lennon, officially dedicated on Oct. 9, 1985, the 45th anniversary of his birth. It's also minutes from Lennon and Ono's longtime home at The Dakota at the corner of Central Park West and W. 72 St.
Photographer Bob Gruen, whose picture of Lennon from the 1974 Walls and Bridges album is the image on the Forever stamp, spoke briefly. Postmaster General and CEO Megan J. Brennan welcomed the family, guests and fans to the stamp dedication ceremony, noting that Lennon himself was "a stamp collector and avid letter writer." (An exhibit of Lennon's personal stamp collection had just opened at the Smithsonian.)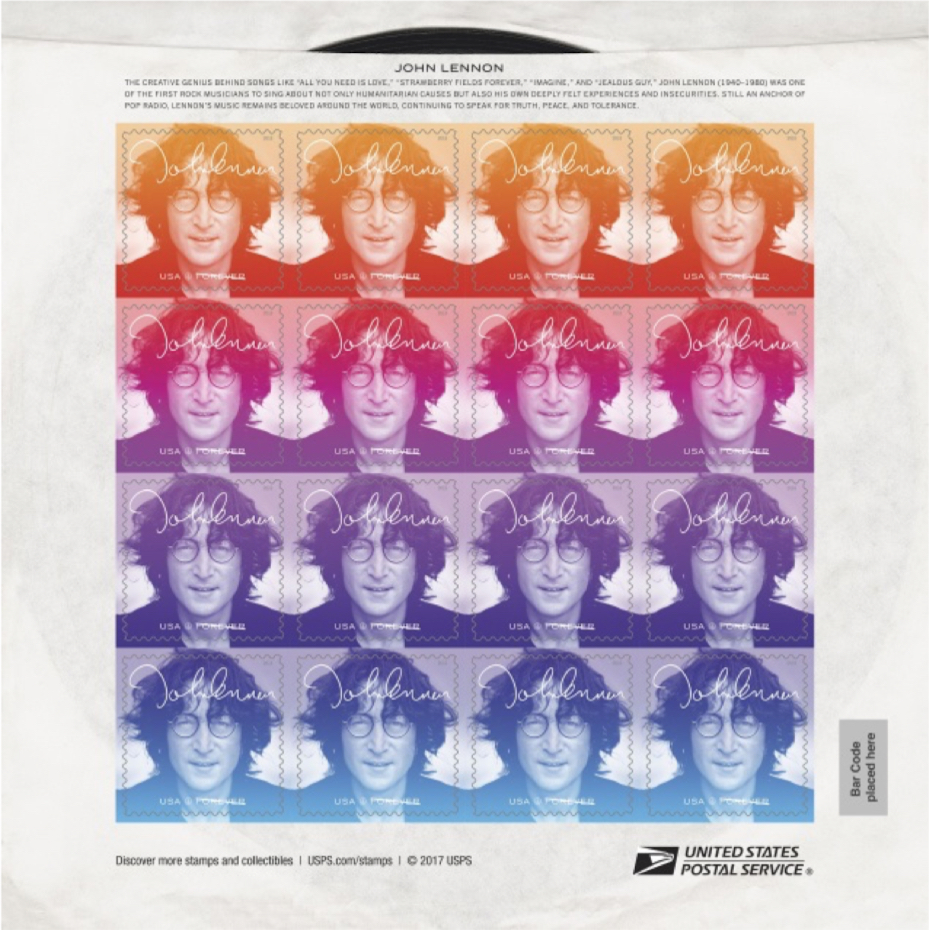 Gruen's original black-and-white photograph has been treated in gradations of color: from yellow orange to red in the top row, from red to light purple in the second row, from light purple to dark purple in the third row and from dark purple to blue in the bottom row. Lennon's signature appears at the top of the stamps. USA, the peace symbol, and the Forever denomination appear along the bottom.
The stamp pane is designed to resemble a vintage 45 rpm record sleeve. One side of the pane includes the stamps and brief text about Lennon's legacy, with the image of a sliver of a record seeming to peek out the top of the sleeve.
A black-and-white photograph of Lennon seated at his white piano appears on the reverse side of the stamp pane, along with Lennon's signature and the Music Icons series logo.
In October 2018, Lennon's Imagine album was the subject of a comprehensive campaign with a new Ultimate Collection boxed set, a remastered Imagine film with previously unreleased footage, and a book, in conjunction with what would have been his 78th birthday.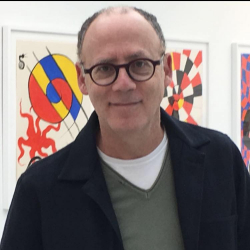 Latest posts by Greg Brodsky
(see all)