Jerry Slick, San Francisco Musician/Filmmaker & Grace's 1st Husband, Dead at 80
by Jeff Tamarkin
Jerry Slick, a drummer turned cinematographer whose mid-'60s San Francisco band the Great Society featured his then-wife Grace Slick on vocals, died March 17, 2020, at his Mill Valley, Calif. home. His death, believed to be of cancer, was confirmed by his wife, Wendy Slick, and by Darby Slick, Jerry's brother. Jerry Slick was 80.
The oldest of three brothers, Jerry Slick was born Aug. 8, 1939. Upon his release from the Army, he married Grace Wing, his former next door neighbor, in San Francisco on Aug. 26, 1961. After their honeymoon, Jerry Slick enrolled in film courses and began making student films while Grace worked in a department store. Before long the couple fell into San Francisco's intellectual beatnik scene, listening to folk music and, later, jazz, and growing marijuana in their backyard.
By 1964, Jerry had become more involved with filmmaking. For a short film titled Everybody Hits Their Brother Once, he called upon Grace to provide the music and she entered a recording studio for the first time, playing Spanish guitar to accompany scenes in the film. The film won first prize at the 1964 Ann Arbor Film Festival in Michigan, but although Jerry Slick graduated from San Francisco State College with a degree in cinematography, their future lay not in the medium of film but rather in that of rock and roll.
Neither Jerry nor Grace had much interest in rock—Elvis Presley and the early Beatles had not impressed her. But when Grace heard the Rolling Stones it hit home with her—she admired their scruffy looks and rough-edged, R&B-informed music. While leafing through the San Francisco Chronicle in the summer of 1965, she saw an advertisement for a concert by a new rock band called Jefferson Airplane at a club called the Matrix, and convinced Jerry to go see them.
Listen to the Great Society's cover of the 1963 Jaynetts hit "Sally Go 'Round the Roses"
Immediately, Grace and Jerry knew what they needed to do. They recruited Jerry's younger brother, Darby Slick, then 21, to play guitar. Jerry played the drums and Grace sang and played guitar. A few others came and went until they settled on a name—the Great Society!! (taken from a domestic program championed by then-President Lyndon B. Johnson)—and, before long, a lineup that also included David Miner on vocals and guitar, Bard DuPont on bass, and (later, replacing DuPont) Peter van Gelder on flute, bass, and saxophone.
With original songs written by Grace and Darby Slick, the Great Society (the exclamation points were generally ignored) became a favored attraction at the city's budding rock ballrooms, including the Fillmore Auditorium, booked by proprietor Bill Graham. Along with other new bands like Jefferson Airplane, the Grateful Dead and Big Brother and the Holding Company, the Great Society was ubiquitous at local events. For a publicity gimmick, the Great Society manufactured buttons mocking the Airplane's slogan Jefferson Airplane Loves You—theirs read The Great Society Really Doesn't Like You Much at All.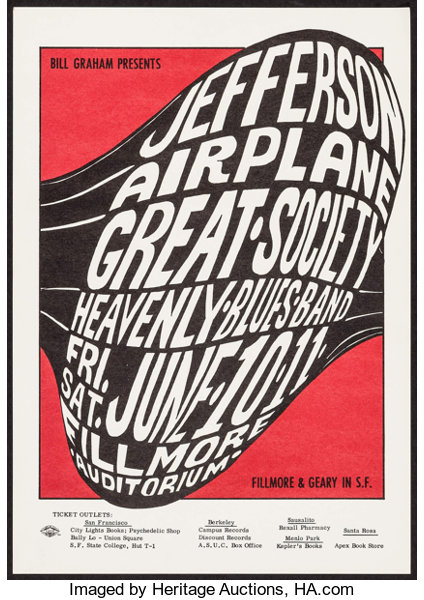 The Great Society didn't record much during their brief lifetime. In October 1965 they entered San Francisco's Golden State Recorders for the first of several sessions that would take place over the next couple of months. Their producer was a young, ambitious rhythm and blues disc jockey named Sylvester Stewart who would, a couple of years later, do just fine for himself under the name Sly Stone.
Listen to the Great Society's "Someone to Love"
Signed to the local Autumn Records, owned by disc jockey Tom Donahue, the Great Society recorded, on Nov. 30, 1965, the only single that would be released while they were in existence, "Someone to Love," written by Darby. While (with a B-side titled "Free Advice") it failed to make any impact outside of the Bay Area, the A-side would have a much greater impact when Grace Slick left the Great Society and took the song with her, renaming it "Somebody to Love." She would also take with her a song she wrote and performed with the Great Society, a bolero called "White Rabbit." Both would make the top 10 when re-recorded by the Airplane, and they remain classic rock staples to this day.
By the summer of 1966, Grace was starting to think more of her own future. When the Airplane's female singer, Signe Anderson, then pregnant, decided to quit the band, it was a no-brainer for Grace Slick to move into her place. The Great Society had little chance of survival once Grace made the jump to the more popular band. In recordings released after their demise, their music, ranging from sloppy/amateur to inspired, is emblematic of the city's psychedelic rock scene, but it was not enough to give them staying power without their focal point.
Related: Jefferson Airplane at Woodstock
The Great Society briefly attempted to continue after Grace jumped ship in October of '66 but when Darby left to travel and study in India, they called it quits. Grace's marriage to Jerry also disintegrated quickly, and while they stayed legally married until 1971, she had relationships with the Airplane's drummer Spencer Dryden and then guitarist/singer Paul Kantner before the divorce papers with Jerry were signed.
The surviving music of the Great Society was later collected on various posthumous album releases, first on the Columbia label and then on other collector labels. Jerry Slick joined a short-lived San Francisco band called the Final Solution, which was not successful, and he returned to his first love of filmmaking. A commercial he made, aimed at recruiting San Francisco police, won a Clio award in 1971.
Listen to the Great Society's version of "White Rabbit" (with Grace Slick on melodica and vocals)

Latest posts by Jeff Tamarkin
(see all)