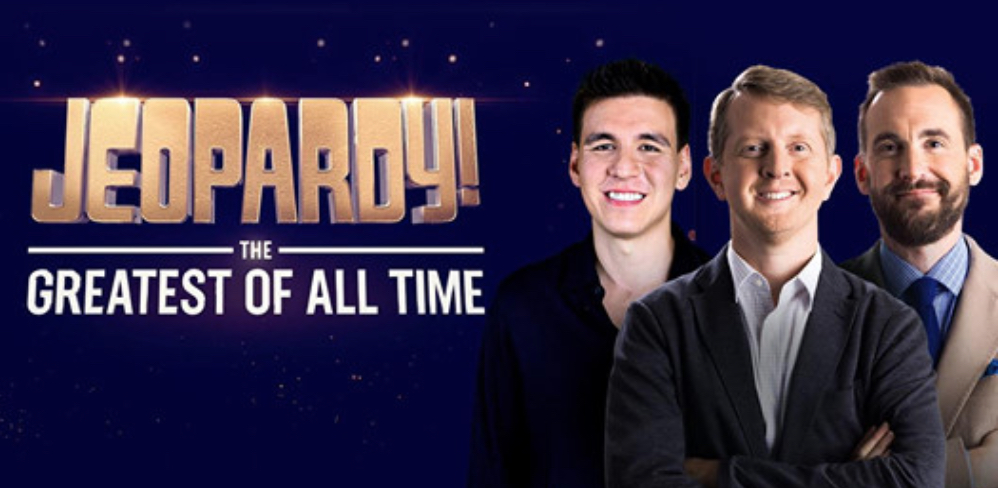 On the heels of the recent Tournament of Champions, Jeopardy is coming to ABC in a prime time event over multiple nights with Jeopardy! The Greatest of All Time, premiering Jan. 7, 2020, at 8 p.m. ET. The hour-long programs will be hosted by Alex Trebek.
The epic television event brings together the three highest money winners in the long-running game show's history: Ken Jennings, Brad Rutter and James Holzhauer. The Jeopardy fan favorites will compete in a series of matches; the first to win three receives $1 million and the title of Jeopardy Greatest of All Time. The two runners up will each receive $250,000.
"Based on their previous performances, these three are already the 'greatest,' but you can't help wondering: who is the best of the best?" Trebek said in the announcement.
Trebek, born July 22, 1940, announced in 2019 that he has been diagnosed with stage IV pancreatic cancer. On an episode of the program that aired on Nov. 11, 2019, a contestant offered a heartfelt tribute to the beloved game show host. The hashtag #WeLoveYouAlex began trending immediately.
Jennings, 45, became a household name during his record 74-game winning streak, the longest in Jeopardy history. His winnings total $3,370,700.
Rutter, 41, is the highest money winner of all time across any television game show, with total Jeopardy winnings of $4,688,436. He has never lost Jeopardy to a human opponent.
Holzhauer, 35, holds the record for all 15 of the top single-day winnings records on Jeopardy and just won the 2019 Tournament of Champions. His winnings total $2,712,216.
Jeopardy! The Greatest of All Time will air as follows:
Tues., Jan. 7
Wed., Jan. 8
Thurs., Jan. 9
*Fri., Jan. 10
*Tues., Jan. 14
*Wed., Jan. 15
*Thurs., Jan. 16
*If necessary
USA Today noted that its the first network airing of the syndicated series in 30 years. The special will be taped in early December. Trebek told the paper's Gary Levin, "I think, that Ken and Brad are going to be at a slight disadvantage. They won the majority of their monies 10, 15 years ago, so they've aged a bit. And are their reflexes going to be as good as James Holzhauer's? Who knows?"
Trebek has hosted Jeopardy since the series' syndicated debut in 1984. He has become one of television's most enduring and iconic figures, engaging millions of viewers worldwide with his impeccable delivery of "answers and questions."
He has won six Daytime Emmy® awards for Outstanding Game Show Host as well as a Lifetime Achievement Award from the National Academy of Television Arts and Sciences. He holds a Guinness World Records™ record for Most Game Show Episodes Hosted by the Same Presenter; he has hosted nearly 8,000 episodes of Jeopardy (and counting). In 2013, he was named a member of the Broadcasting & Cable Hall of Fame, and in 2018, he and Jeopardy were inducted into the National Association of Broadcasters (NAB) Broadcasting Hall of Fame. Trebek and Jeopardy received a 2011 Peabody Award for "encouraging, celebrating and rewarding knowledge."
Related: SNL's Jeopardy parody sketch

Latest posts by Best Classic Bands Staff
(see all)