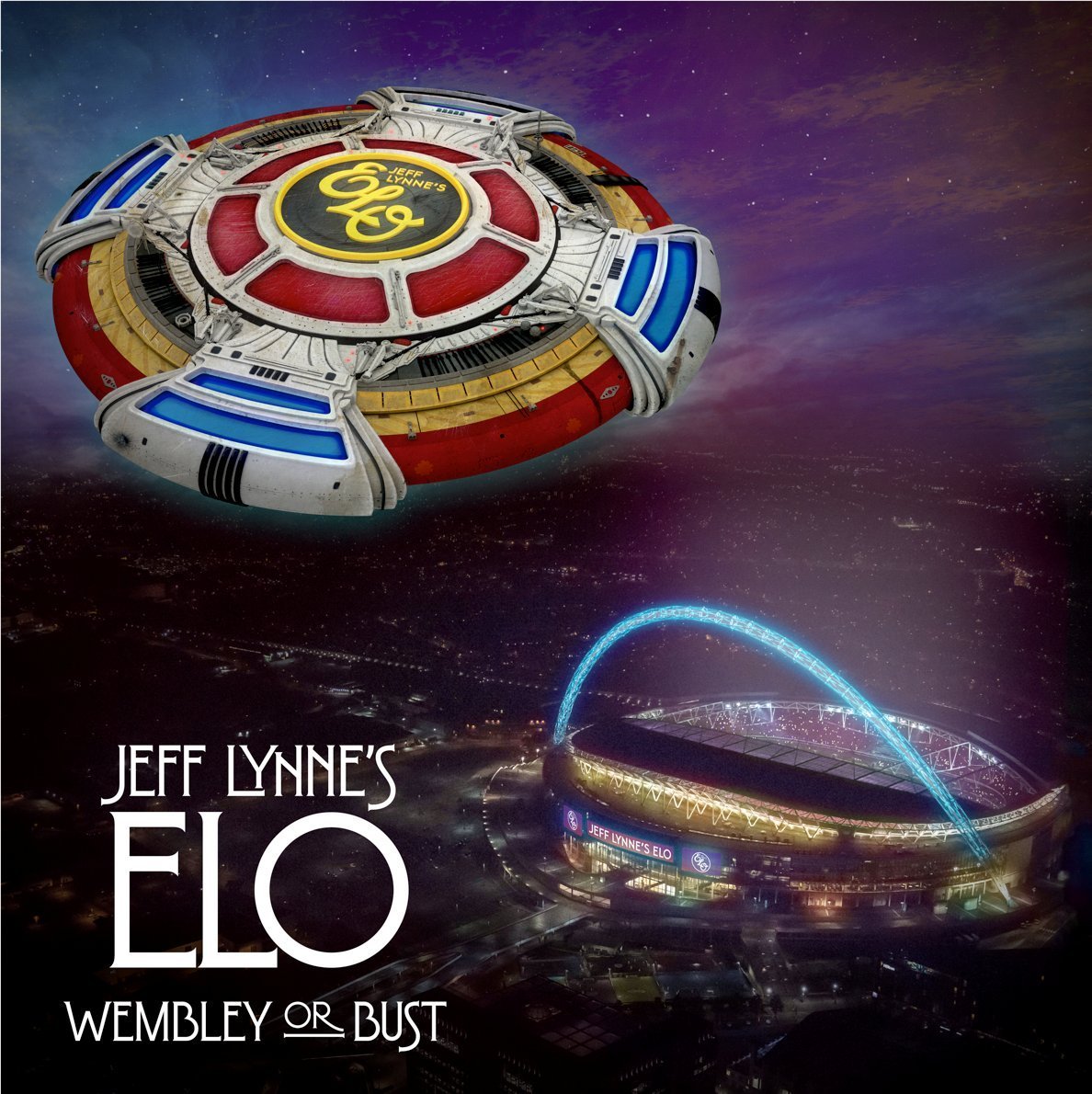 Last month, Jeff Lynne's ELO announced the release of their June 24, 2017, concert at London's Wembley Stadium. Wembley or Bust. The performance, filled with their classic rock hits, will be available on 2-CDs, 2-CDs/1-DVD, 2-CDs/1-Blu-ray and 3-LPs on Nov. 17 on Columbia Records.
To commemorate the release, Best Classic Bands is giving away a copy of the winner's choice of either the 2-CD/DVD or 2-CD/Blu-ray edition.
From the announcement: "Jeff and his remarkable musical ensemble fill Wembley Stadium with one of the greatest rock & roll spectacles of all time, complete with bells, whistles and spaceships in front of a 60,000 capacity crowd."
Says Lynne: "It's the best time I ever had in music… It is beyond anything I could have imagined."
See for yourself! Watch the trailer for the concert film
Related: Lynne has announced a 2018 tour
Watch the performance of "Turn to Stone" from Wembley or Bust
Jeff Lynne's ELO Wembley or Bust Track Listing
1. Standin' In The Rain
2. Evil Woman
3. All Over The World
4. Showdown
5. Livin' Thing
6. Do Ya
7. When I Was A Boy
8. Handle With Care
9. Last Train to London
10. Xanadu
11. Rockaria!
12. Can't Get It Out Of My Head
13. 10538 Overture
14. Twilight
15. Ma-Ma-Ma Belle
16. Shine A Little Love
17. Wild West Hero
18. Sweet Talkin' Woman
19. Telephone Line
20. Turn To Stone
21. Don't Bring Me Down
22. Mr. Blue Sky
23. Roll Over Beethoven
Watch "Evil Woman" from Wembley or Bust
Electric Light Orchestra were inducted into the Rock and Roll Hall of Fame in 2017.
Related: Best Classic Bands' review of Jeff Lynne's ELO September 16, 2016 concert
So what are you waiting for? Enter our contest stat! Since only one of you will win, we'll understand if you can't wait and want to pre-order this great Jeff Lynne's ELO release now via the links below.
No purchase necessary. Deadline for entries is 11:45 PM Eastern time on November 19, 2017. For complete Best Classic Bands contest rules, click here.
[wcc_contest id=52345]

Latest posts by Best Classic Bands Staff
(see all)