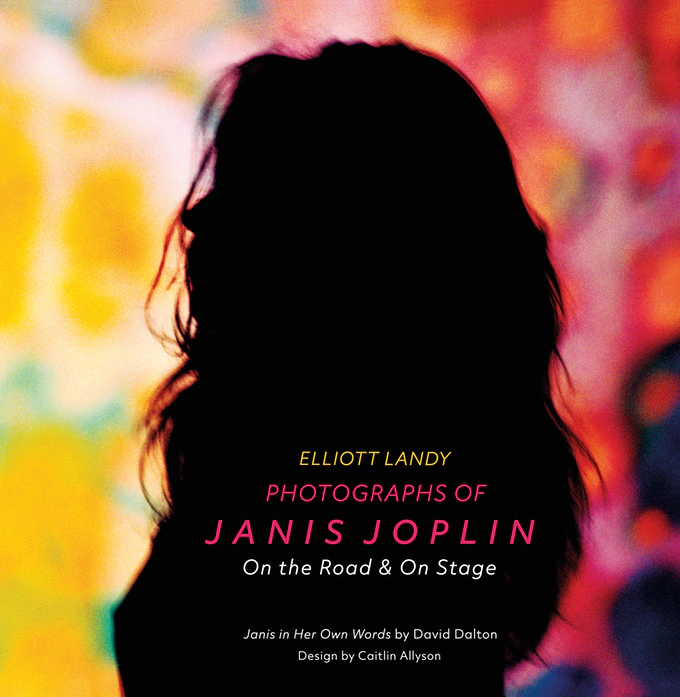 Janis Joplin is the subject of a new book, Photographs of Janis Joplin On the Road & On Stage. The 196-page book features iconic images of the music legend as well as 100 never-before-published photos, all from acclaimed photographer Elliott Landy. The title was released on March 15, 2022, in the U.S. and May 1 in the U.K.
The photographs are accompanied by Joplin's candid thoughts taken from conversations and interviews recorded by David Dalton, a founding editor of Rolling Stone, while on tour with Janis in 1970. Landy's photographs portray Joplin's public and private lives, offering an intimate behind-the-scenes glance at her brief yet groundbreaking years of fame.
The hardcover book measures 10×10 inches, beautifully printed on heavyweight paper with 129 photos.
Landy notes: "I photographed Janis in 1968 and 1969 and over the years I've used maybe 15 or 20 of the photographs in various publications. Until I began putting this book together I didn't realize how many other great photos I had. We looked at every negative and slide I took of her. The text was selected from extensive recordings of conversations and interviews with Janis made by David Dalton during the last year of her life. We matched her words with my photographs to provide a personal insight into her life and career, creating a unique look at Janis."
In the book, Landy writes that he saw her in the Performer's Pavilion at the 1969 Woodstock Festival. "I wandered back there and ran into Janis, just hanging out, drinking champagne as if it were a calm day on the Champs-Elysee rather than in the midst of one of the most intense music festivals of the era. She was as gracious to me as she had been to everyone I saw her interact with.
"I took a few photos, chatted about what an amazing thing was going on and then moved along. I went onstage late that night for her performance and was completely blown away by it. It was one of the most memorable music experiences of my life and also one of the most memorable photographic experiences."
In the book, Landy pairs his photos with quotes from Dalton's conversation with Joplin to display a very powerful visceral experience of her, which communicates much more about her being, than just a photo or a quote alone.
"If I met anybody who treated me good I'd be bored out of my skull in a couple of weeks. I read a story about some old opera singer once, and when a guy asked her to marry him, she took him backstage after she had sung a real triumph, with all the people calling for her, asked, 'Do you think you could give me that?'
"That story hit me right, man," Joplin continued. "I know no guy ever made me feel as good as an audience. I'm really far into this now, really committed."
[To purchase a Janis Joplin fine art print hand signed by Elliott Landy, click here and select the size. Then click "Add to cart." Best Classic Bands readers will receive a 10% discount on prints and framing by putting the code BCB in the promotional code box and clicking "Apply Coupon."]
"It's a thing I do — not in defiance, it's a side trip — you know, I figure if you can take an audience that have been told what to do all their lives and they're too young or too scared or whatever… they get, 'Do this, do that!' It's never occurred to them that they could not go in the army. They were told to go in the army. They do not know there is another way of life.
"If you can get them once, man, get them standing up when they should be sitting down, sweaty when they should be decorous, smile when they should be applauding politely… and I think you sort of switch on their brain, man, so that makes them say, 'Wait a minute. Maybe I can do anything.'
"Whoooooo! It's life.
"That's what rock 'n' roll is for, turn that switch on, and man, it can all be. I hate to tell you that it can, but it could be, and you're a fool not to try. I mean you may not end up happy, but I'm f**ked if I'm not going to try."
Landy is best known for his classic rock photographs. His celebrated works feature portraits of Bob Dylan (including the Nashville Skyline album cover), The Band (the Music From Big Pink and The Band album covers), Joplin, Van Morrison (the Moondance album cover), Jimi Hendrix, Jim Morrison, and The Who. He was one of two official photographers of the 1969 Woodstock Festival.
Landy's work has been exhibited in galleries and museums worldwide and published on covers of major U.S. and international magazines and newspapers including The New York Times, Life, Rolling Stone, and the Saturday Evening Post. He has published 11 books of his photographs including, The Band Photographs, 1968-1969, which was the highest funded photographic book in Kickstarter history at that time.
He is also the architect of a new App, LandyVision® which blends still and moving imagery with music to create a new type of interactive sound and visual experience.
Related: We spoke with Landy about the day he shot Dylan's Nashville Skyline album cover

Latest posts by Best Classic Bands Staff
(see all)