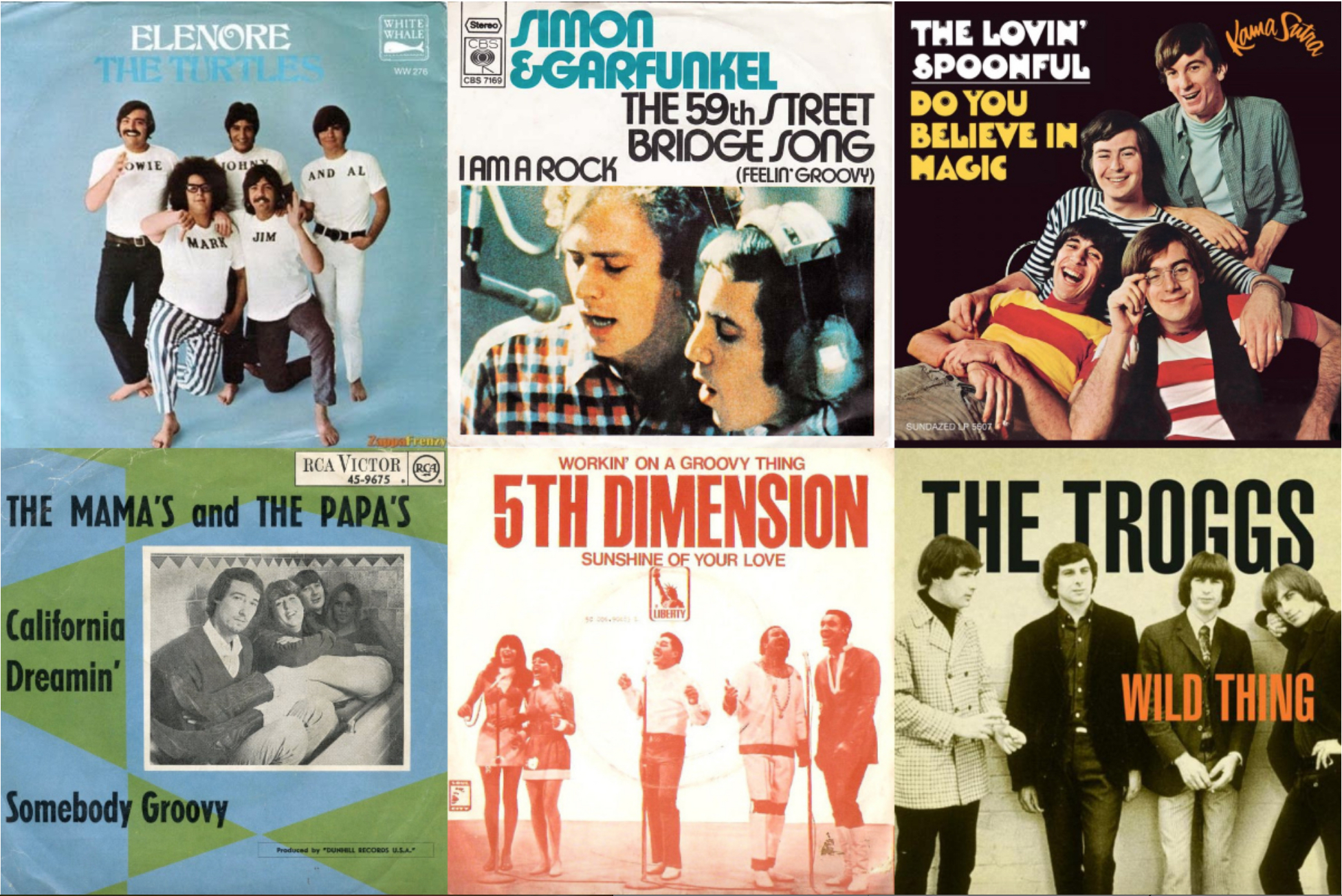 Hippies might think they coined the word groovy, but its origin stretches all the way back to the 1850s. By the 1920s it had found its way into the jazz lexicon and everyday conversation. By the mid-'60s, the word—meaning excellent or fashionable, as in being in a groovy place, digging the groovy sounds, etc.—had been co-opted by the rock 'n' roll generation. To be groovy was to be a cool person ("You're groovy, baby"), while one could also use it to express an overall happy state of mind ("I'm feelin' groovy today").
Songwriters of the era tucked it into many a tune, some of them big hits, others not so much. Here are some of our favorites, starting with a handful that know a groovy rhyme when they see one.
GROOVY MOVIES
Only one word really rhymes well with groovy, and it's a good one. So when you're a songwriter and you need to go there, you figure out a way to work in the word movie. Like these folks did…
The Turtles—"Elenore"
This 1968 top 10 hit came off the L.A. band's album The Turtles Present the Battle of the Bands. It was written in a half-hour by their lead singer, Howard Kaylan, after The Turtles' record label, White Whale, complained that they didn't hear a hit and needed another "Happy Together." In his memoir, Shell Shocked, Kaylan said he virtually rewrote the earlier hit as a joke, in order to show the label executives "what dicks they were." He threw in some nonsense like "pride and joy, etcetera" and "I really think you're groovy" to make the song, in his own words, "cheesier." And what do you rhyme with that? "Let's go out to a movie," of course. Record-buying kids loved it.
The Lovin' Spoonful—"Do You Believe in Magic"
New York's Lovin' Spoonful called their sound "good-time music" and that it was. Coming out of a stew of influences ranging from jug bands to early rock 'n' roll, they exuded a sunny outlook right from the start. "Do You Believe in Magic" was their first single, written by singer John Sebastian and released on the Kama Sutra label in 1965. It reveled in the freeing powers of rock 'n' roll: "And it's magic," Sebastian sang in the #9 hit, "if the music is groovy/It makes you feel happy like an old-time movie." And it did. It still does.
Classics IV—"Spooky"
What a fine band. From Florida, the Classics IV scored three top 10 singles in 1968-69, sung by the underrated Dennis Yost. "Spooky" was the first, originally performed as a jazzy, saxophone-based instrumental written by Mike Shapiro and Harry Middlebrooks Jr. Lyrics were added by the band's James Cobb and producer Buddy Buie, opening with the line "In the cool of the evening when everything is getting kind of groovy, I call you up and ask you if you want to go and meet and see a movie." Awkward phrasing, but good enough to get the song, on the Imperial label, to #3.
Related: Looking back at the Classics IV
The Kinks—"Groovy Movies"
But it took The Kinks, among Britain's finest, to elevate the rhyme to a song title. The song's lineage is a bit muddled. Many sources credit it to Ray Davies. Others say that brother Dave wrote "Groovy Movies" and intended it for a solo album that never came to be (he definitely sings it). In any case, it finally landed on 1973's The Great Lost Kinks Album, the tale of a wannabe film director "searching for acceptance in this big, wide world." And how to achieve that goal? By "making groovy movies," of course.
GROOVY KINDS OF SONGS
Not every songwriter of the classic groovy era felt the need to rhyme the word with movie. Some just used it the way that nature intended, to indicate that something or someone was, well, really groovy.
The Mindbenders—"A Groovy Kind of Love"
Wikipedia informs us that "A Groovy Kind of Love" was "heavily based on the Rondo movement of Sonatina in G major, op. 36 no. 5, by Muzio Clementi." We have no idea if it is or isn't, but we love its easy-swaying ways and unabashed sentimentalism: "Wouldn't you agree, baby you and me got a groovy kind of love?" Written by Toni Wine and Carole Bayer Sager, the ballad was released by the British group the Mindbenders in 1966, after they'd broken away from lead singer Wayne Fontana. Where the earlier incarnation had claimed the #1 spot in 1965 with "Game of Love," the '66 followup had to settle for #2. In 1988, Phil Collins' cover out-performed the original.
Related: We took a deep-dive into the Mindbenders
Simon and Garfunkel—"The 59th Street Bridge Song (Feelin' Groovy)" and "We've Got a Groovey Thing Goin'"
Once there was a time when Paul Simon really liked the word groovy. So much so that he wrote two different songs with the word in the title. He even spelled it two different ways! First came "We've Got a Groovey Thing Goin'," a rocking song on the duo's second album, Sounds of Silence, from early 1966. (The unusual spelling of the song title was later changed on some versions.) In this saga, our narrator laments his girl's decision to dump him: "You must be out of your mind/Do you know what you're kickin' away," he sings. "We've got a groovy thing going baby." Yeah, not too convincing, Paul. Way more famous and durable is "The 59th Street Bridge Song," better known by its subtitle, "Feelin' Groovy." This light little sing-along romp, from Simon and Garfunkel's 1967 Parsley, Sage, Rosemary and Thyme LP (and also covered by Harpers Bizarre, who took it to #13), attaches no particular sentiment to the word. It's used to convey nothing more than the state of enjoying one's life at a given moment: "Life I love you, all is groovy," they sing in harmony at the end, throwing comforting "ba da da da da"s in for added good feelings. There's no reason to doubt them.
The Troggs—"Wild Thing"
The first hit by the British band went wild, stomping its way to #1 in 1966 and inspiring covers by Jimi Hendrix and others (even a jokey one by a Bobby Kennedy sound-alike). "Wild Thing," written by Chip Taylor, is such a simple and beautiful thing, really: a few chords hashed out in plodding dinosaur steps, Troggs singer Reg Presley drawling on about what the wild thing of his dreams does to him: "Wild thing, you make my heart sing/You make everything groovy, wild thing." Could there be a higher compliment?
The Mamas and the Papas—"Somebody Groovy"
They were the epitome of grooviness, this quartet of husband and wife John and Michelle Phillips plus Denny Doherty and Cass Elliot. They embodied the peace-and-love vibe. Heck, the cover of their 1966 debut album, If You Can Believe Your Eyes and Ears, even depicted them sharing a bathtub. So it should not come as a surprise that the The Mamas & the Papas took to the G-word in a John Phillips track on that album. "Somebody Groovy" expresses the singers' desires for a lover who fits that description: "I need somebody groovy, someone who's able to move me, yeah."
SOULFUL GROOVES
Thus far our survey has concentrated on rock and pop numbers from the 1960s, the uncontested peak of the Groovaceous Era. But that doesn't mean groovy's placement in song was limited to that time and genre. Here are three R&B/soul hits that get a good groove going.
Lou Rawls—"Groovy People"
Lou Rawls was such a cool cat. One of only a few R&B artists to perform at the Monterey Pop Festival, he enjoyed big crossover hits with songs like "Love Is a Hurtin' Thing," "Dead End Street" and, finally, in 1976, his highest-charter, the disco-informed "You'll Never Find Another Love Like Mine." His followup, "Groovy People," didn't do nearly as well, but it's a great tune. "Groovy people/I like to be around/Groovy, groovy people," sang Lou, and who doesn't?
Gene Chandler—"Groovy Situation"
Gene Chandler rolled out with a smash in 1962, the #1 "Duke of Earl." Many don't remember anything else by him, although the Chicagoan placed some 32 singles on the Billboard chart over two decades. His second-highest-climber, hitting #12, was this one, from 1970, the singer over the moon at his good fortune: "Whoa, it's a groovy situation, a splendid combination/That we should meet at a time like this/Whoa, it's a groovy situation, a splendid combination/You're something that I just can't miss."
The 5th Dimension—"Workin' on a Groovy Thing"
The 5th Dimension had superb taste in song material, making hits out of compositions by Jimmy Webb, Laura Nyro and others. This #20 single, which fell between two #1s in 1969, was co-written by the great Neil Sedaka with Roger Atkins. Simply, it's a paean to the concept of taking it slow, working on a relationship and letting it take its course. Groovy, baby.
POST-GROOVY-ERA HONORABLE MENTIONS
As we were saying, groovy things didn't just happen in the '60s…

The Clash—"Groovy Times"
What was the The Clash, the U.K.'s reigning angry young political punk band, doing honoring the world of the groovy in 1979? They weren't. The title is ironic, its titular lyric punctuating the song's main notion that everything was basically falling apart. Not so groovy times, in other words.
The Smithereens—"Groovy Tuesday"
New Jersey's own Smithereens were not revivalists but they openly displayed their allegiance to the pop-rock of the '60s. This beat-heavy tune from their third album, 1986's Especially for You, co-written by singer Pat DiNizio, Steve Forbert and Mark Johnson, could easily have come from the Troggs. Despite its ebullient drive though, there's a darkness lurking: "Woke up on a groovy Tuesday, everything is not the same." It never is, is it?
ZZ Top—"Groovy Little Hippie Pad"
Whatever else they might be, ZZ Top is no one's idea of hippies. And their "Groovy Little Hippie Pad," from 1981's El Loco album, is not about wanting to join a commune and get back to the land. Or is it? "I'm gonna find me a groovy little hippie pad/I work a hundred grand scam from a border town." Sinister dudes.
AND FINALLY…
The Young Rascals—"Groovin'"
OK, so it breaks our rule and doesn't use the word groovy either in the title or the lyrics. But will anyone dare say that "Groovin'" isn't one of the grooviest tunes of all time?
Related: We'd be remiss if we didn't at least mention the Flamin' Groovies

Latest posts by Jeff Tamarkin
(see all)