How Wayne Fontana and the Mindbenders Led to 10cc: A Groovy Kind of Story
by Jeff Tamarkin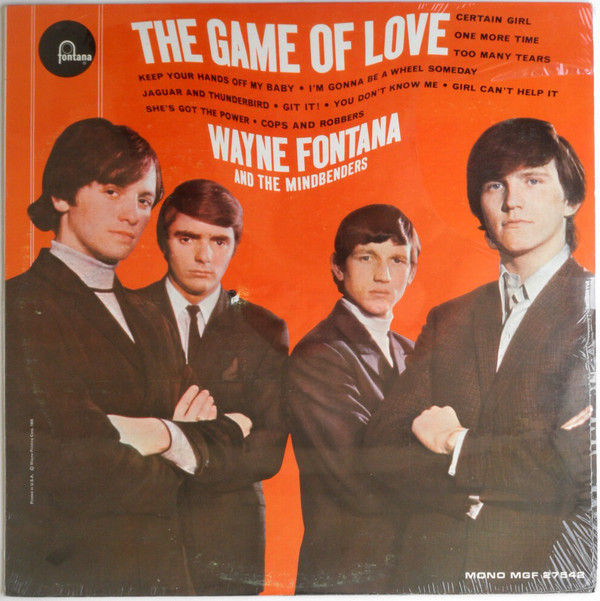 Rock music in the 1960s was all about evolution. Often a band updated its sound (and look) so quickly and completely it was difficult to believe that the same people were involved.
As is frequently the case with '60s rock, one need look no further than the Beatles to make the case: How was it even possible that the same quartet that arrived in 1963-64 with songs like "She Loves You" and "I Want to Hold Your Hand" produced "Strawberry Fields Forever" and "I Am the Walrus" only four/five years later? It still boggles the mind.
Or take the Moody Blues, who first came to our attention in 1964 with an appropriately bluesy cover of Bessie Banks' R&B tune "Go Now," powered by a bold, descending piano figure (and elegant solo) and the commanding voice of Denny Laine. After a couple more tries with that configuration, they went into hibernation for a few years before re-introducing themselves—with new frontman Justin Hayward—as pioneers of orchestral rock with the Days of Future Passed album and its hit single "Nights in White Satin."
One of the most curious then-and-now stories, however, belongs to the band we first knew as Wayne Fontana and the Mindbenders. The Manchester, England-based group first came to the attention of American record-buyers in the spring of 1965 with the thumping, soulful rocker "Game of Love," written by Clint Ballard (whose credits would also include, years later, "You're No Good," the Linda Ronstadt smash).
"Game of Love" was notable for its hard-hitting drumming, bluesy lead guitar line and the assertive lead vocal of Mr. Fontana. Its signature opening lyric—"The purpose of a man is to love a woman, and the purpose of a woman is to love a man"—might seem somewhat dated in today's more sexuality-conscious era, but in 1965 no one gave it that much thought, and in just six weeks the record sailed all the way to #1 on April 24, in Billboard. (Besides, who wouldn't love another line in the song that went, "It started long ago in the Garden of Eden, when Adam said to Eve, baby, you're for me"?)
Wayne Fontana didn't start out as Wayne Fontana. He was originally Glyn Ellis, born in October 1945. Taking his stage name from Elvis Presley's drummer, D.J. Fontana, the singer had already been in a band called Wayne Fontana and the Jets before forming the Mindbenders (their name came from a 1963 film, The Mind Benders), which also included bassist Bob Lang, drummer Ric Rothwell and guitarist Eric Stewart, about whom stay tuned.
Related: Fontana died in August 2020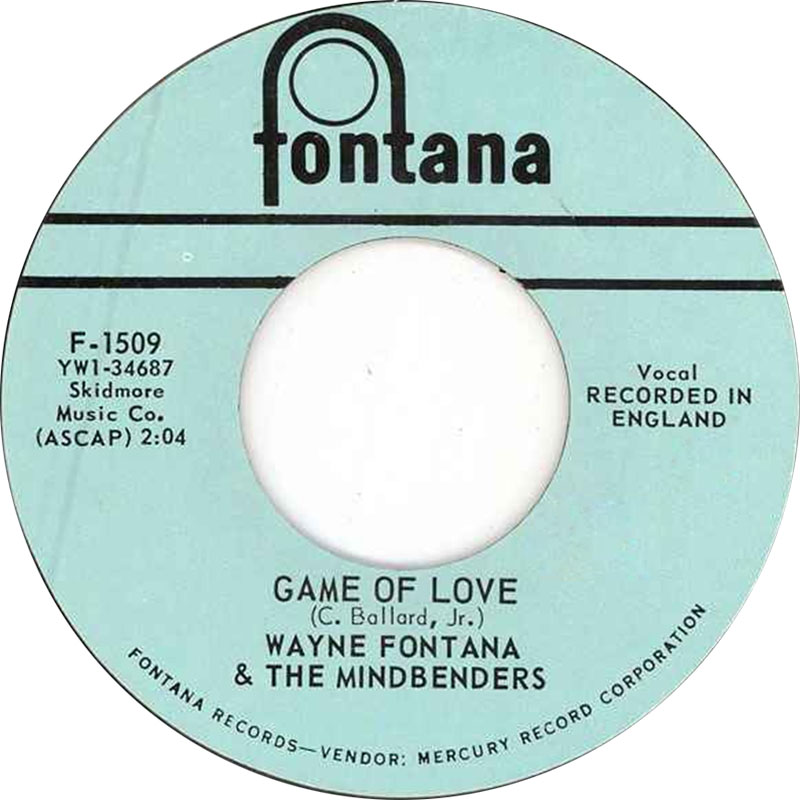 Signed to Fontana Records—it was, apparently, just a coincidence—Wayne Fontana and the Mindbenders first charted in the U.K. with a few R&B covers, including the Major Lance hit "Um, Um, Um, Um, Um, Um," which peaked at #5 in Britain. Fontana Records' U.S. branch picked up "Game of Love" for stateside distribution and sat back as it bounced to the top of the Billboard chart. The single debuted at #63 in the chart dated March 20, 1965, rose to #40 the following week, then #17, #7, #3 and, during the week of April 24, #1, replacing Freddie and the Dreamers' "I'm Telling You Now."
Check out this great live clip of Wayne Fontana and the Mindbenders performing "Game of Love"
The single only stayed on top for one week before Herman's Hermits, another British Invader, pushed it out of the way with their "Mrs. Brown You've Got a Lovely Daughter," and if the Fontanas—singer and label—had high hopes for a sustained career they were quickly dashed when the followup record, "It's Just a Little Bit Too Late," stalled at #45, effectively ending the career of Wayne Fontana and the Mindbenders in the United States.
Well, the end of Wayne Fontana's career, anyway. (He managed a few more solo chart placements in the U.K., notably the #11 "Pamela Pamela," a Graham Gouldman composition.)
Although we no longer heard from the vocalist following "Game of Love," the Mindbenders still had more to say. Just a year after "Game of Love" had entered the American chart, the band—sans its original singer—returned for an encore, "Groovy Kind of Love," which nearly replicated the success of the earlier song.
Related: 16 songs that will make you feel "groovy"
It wasn't exactly an amicable parting. Wayne Fontana, it seems, had been increasingly frustrated as the band proved unable to score another hit. In the midst of a concert late in 1965, he decided he'd had enough and left the band unceremoniously. Fine, said the others, but rather than pack it in along with their leader, they decided to remain together as a trio, with guitarist Stewart assuming the role of lead vocalist.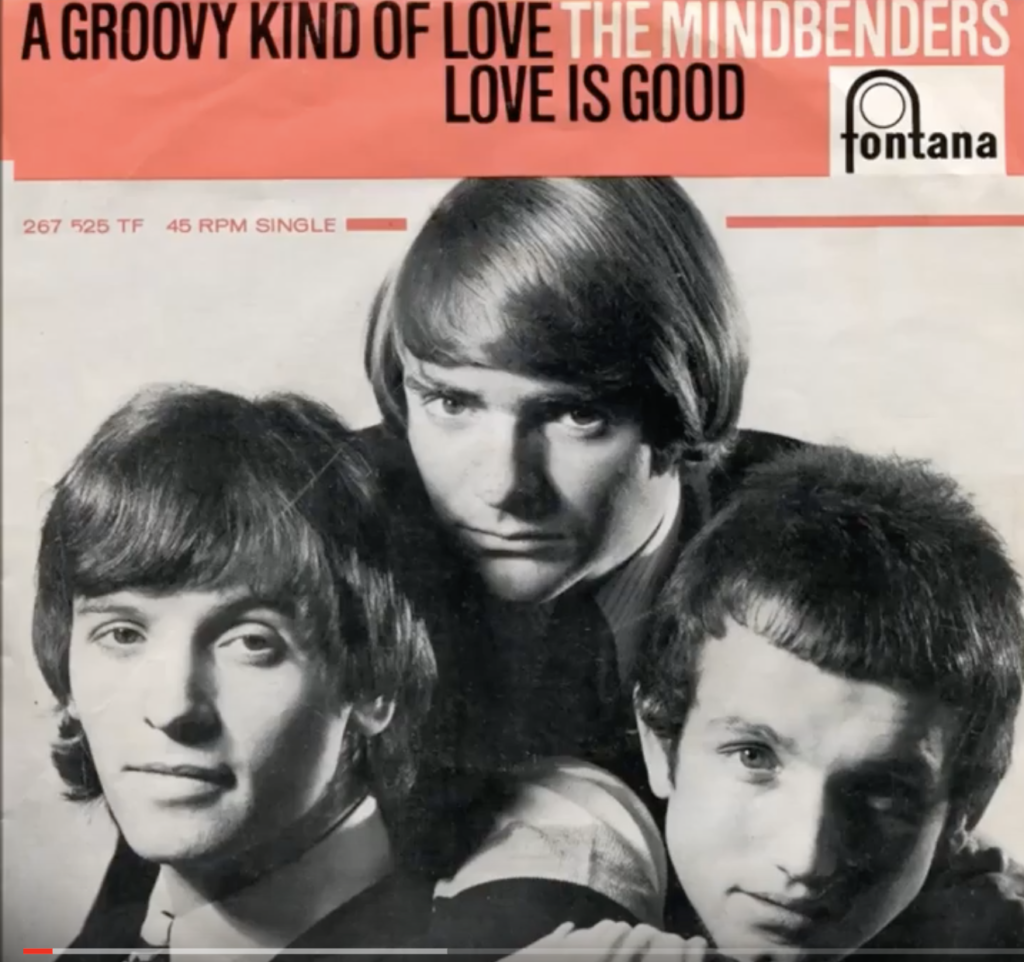 Remaining on Fontana Records, for their first single the Mindbenders recorded a song written by two teenagers who were relative newcomers to the music business, Carole Bayer Sager and Toni Wine. Based on a melody by the classical composer Muzio Clementi, "A Groovy Kind of Love" had been discovered by record executive Jack McGraw, who felt that Stewart and the others could do a nice job with it. The song, McGraw correctly reasoned, fit right in with the prevailing peace-and-love ethos of the day: "Anytime you want to, you can turn me onto, anything you want to, anytime at all," sang Stewart, with backing vocals from Lang and Rothwell and a female chorus repeating the title of the song and the phrase "you and me." The recording resonated with radio programmers, climbing to #2 in both the U.K. and America.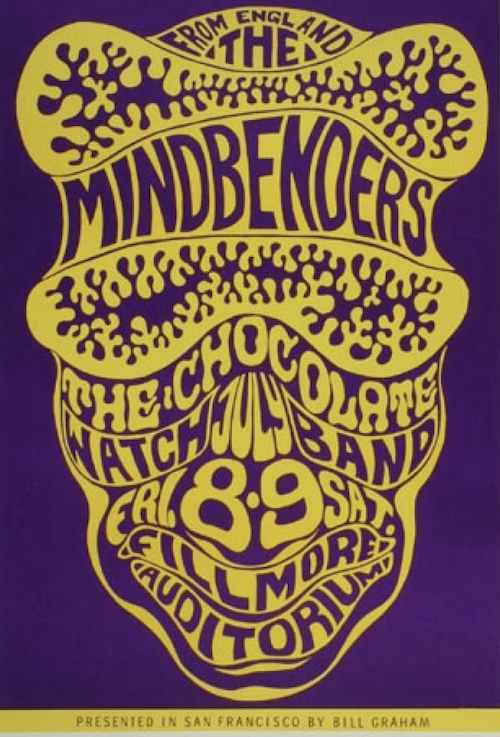 The Mindbenders toured America, even playing the fabled Fillmore Auditorium in San Francisco, but, just as a year earlier, the group was unable to sustain its popularity. At the same time that Wayne Fontana was struggling as a solo act, the Mindbenders were fizzling as a group. An album they released to capitalize on "A Groovy Kind of Love" fared even worse on the charts than the Game of Love LP had for Wayne Fontana and the Mindbenders, and a second album by the Fontana-less trio, With Woman in Mind, fizzled altogether in 1967 in the U.K. and wasn't even released in America. Despite an appearance in the hit film To Sir With Love that year, that was that. In late 1968, following a tour opening for the Who, the Mindbenders went their separate ways.
Watch the Mindbenders' appearance in To Sir With Love
Lang and Rothwell basically disappeared from the pop scene after the band's breakup, but Eric Stewart was only getting started. Entering into a business partnership in 1970 with songwriter Graham Gouldman (who had co-written some songs with Stewart for the Mindbenders, as well as hits for the Yardbirds, Hollies and others), Stewart formed a new band called Hotlegs, including musicians/songwriters Lol Creme and Kevin Godley. They enjoyed some success with the single "Neanderthal Man," which peaked at #22 in the U.S., but couldn't get much further—even after Gouldman joined them on bass.
That could very well have been the end, a career as brief as that of the Mindbenders, but even after Hotlegs declared themselves defunct, they weren't ready to quit quite yet. In 1972, Hotlegs rebranded as 10cc, with the same four musicians/songwriters—Stewart, Gouldman, Godley and Creme—working together on new material, largely in pairs: Stewart/Gouldman and Godley/Creme.
Signed to Jonathan King's UK Records, they released their first single in Britain, "Donna," in late 1972, and watched happily as it rose to #2.
America was quick to follow. In 1973, "Rubber Bullets" became the first 10cc single to chart in Billboard, peaking at #73. There would be many personnel changes in the subsequent years, with Godley and Creme going off on their own, but 10cc ultimately proved the ticket to longevity for Stewart, who continued to co-lead the band until 1983.
Two more top 10 singles—"I'm Not in Love" (#2, 1975) and "The Things We Do for Love" (#5, 1977)—resulted, as did 11 chart albums, the biggest of which was 1975's The Original Soundtrack, which peaked at #15.
Related: Our interview with Graham Gouldman
It had taken a full decade for Eric Stewart to find a true home for his talents. Eventually, he left 10cc behind, going off on his own; his most recent solo album was released in 2009, with a comprehensive Anthology following in 2017.
Wayne Fontana has continued performing, mostly as part of the Solid Silver 60s Shows packaged oldies tours in Europe, but has also found himself in legal and financial trouble more than once. According to one report, in Wikipedia, "He poured petrol on the bonnet of a bailiff's car and set it alight with the bailiff still inside. Fontana was remanded in custody on 25 May 2007. He later appeared at Derby Crown Court dressed as Lady Justice, complete with a sword, scales, crown, cape and dark glasses, and claiming "'justice is blind.'" A sad sequel to a mindbending rock 'n' roll story.
But still not the end! In 1988, more than two decades after the original single reached #2 on the charts, "A Groovy Kind of Love" itself found new life when Phil Collins revived it. This time the song hit #1. Pretty groovy, wouldn't you agree?
Bonus video: Watch the Mindbenders perform "A Groovy Kind of Love" live
And well, why not? Introducing Mr. Phil Collins…

Latest posts by Jeff Tamarkin
(see all)