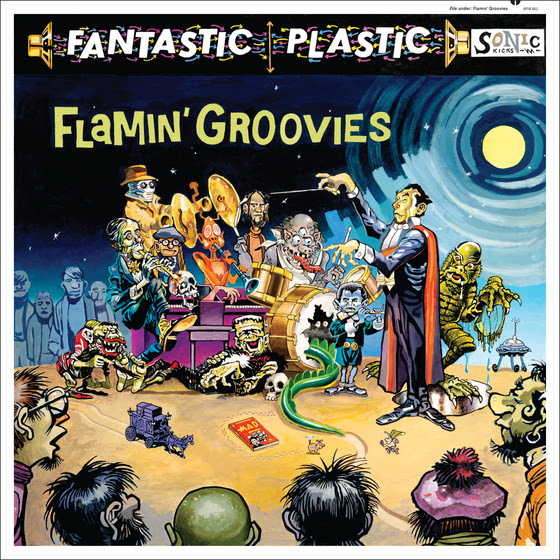 San Francisco's Flamin' Groovies are returning with Fantastic Plastic, an all-new album of original songs that bring together the band's prime movers of the '70s, singers-guitarists-songwriters Cyril Jordan and Chris Wilson, for the first time in 38 years.
Produced by Jordan and Joel Jaffe (who also contributes guitar) mostly at Studio D in Sausalito, Calif., and due Sept. 22, on the band's own independent imprint Sonic Kicks Records and Severn Records (through MRI and RED Distribution), the collection features 10 fresh compositions co-written by Jordan and Wilson, plus covers of the Beau Brummels' "Don't Talk to Strangers" and NRBQ's "I Want You Bad." Pre-order it here.
The set reconvenes the driving forces of the Groovies' storied Sire Records lineup, which cut the album Shake Some Action (1976) and its follow-ups Flamin' Groovies Now (1978) and Jumpin' in the Night (1979).
Jordan and Wilson parted company in 1980, and both men went on to enduring work as keepers of the rock 'n' roll flame, the former with the Groovies and his successor act, Magic Christian, the latter with England's Barracudas and his own solo albums. The two musicians were reunited in 2013 in London, Wilson's home at the time, where Jordan and co-founding Groovies singer-guitarist Roy Loney played a show backed by Miriam Linna and the late Billy Miller of Brooklyn's A-Bones with Ira Kaplan of Yo La Tengo.
Related: The 10 greatest power pop songs
Jordan and Wilson began writing together again without missing a beat. "It was 33 years that we hadn't seen each other—we're talking three decades," says Jordan. "But when we got back together and I started showing him the musical ideas I had for [the new song] 'End of the World,' he immediately came up with the second verse. It was as if time and space hadn't affected us. It was the same as it was back in 1979 when we were writing the songs for Jumpin' in the Night. We went back and locked into that. It's really amazing."
Fantastic Plastic was recorded mainly with founding Groovies bassist George Alexander and the band's latter-day drummer Victor Penalosa, with assistance from members of the Fabulous Thunderbirds; the instrumental "I'd Rather Spend My Time With You" was cut with bassist and noted producer-archivist Alec Palao and Tubes drummer Prairie Prince.
The album includes the 2016 single "Crazy Macy" and the new lead-off track "What the Hell's Going On," blends classicist touches of the Beatles, Stones and Byrds with the group's immediately recognizable sound.
The vinyl single for "Crazy Macy" b/w "Let Me Rock" was released last year on Burger Records, which will also be releasing additional 45s, as well as the cassette version of the album.
Jordan also contributed the album's cover illustration: an homage to Mad magazine veteran Jack Davis' artwork for the 1959 novelty album Monster Rally.
The Flamin' Groovies' forthcoming summer/fall 2017 tour dates on the East Coast, in Europe and in the Midwest will introduce the band's new rhythm section: bassist and well-known Northern California power-pop singer-songwriter Chris von Sneidern and drummer Tony Sales, son of the like-named veteran of David Bowie and Iggy Pop's bands.
TOUR DATES

EAST COAST:
Tues., Aug 22 Worcester, MA Ralph's Diner
Wed., Aug 23 New Haven, CT Cafe Nine
Thurs., Aug 24 Philadelphia, PA Johnny Brenda's
Fri., Aug 25 Brooklyn, NY Rough Trade
Sat., Aug 26 Washington DC Hill Country Live
Europe:
Thurs., Aug. 31 Malmo (Swe) Moriska Paviljongen
Sat., Sept. 2 Roskilde (Dk) Gutter City Festival
Mon., Sept. 4 La Coruna (Sp) Garufa Club
Wed., Sept. 6 Aviles (Sp) Niemayer
Thurs., Sept. 7 Bilbao (Sp) Cafe Antzokia
Fri., Sept. 8 Madrid (Sp) Sala Caracol
Sat., Sept. 9 Sait Boix (Sp) Festival Altaveu
Tues., Sept. 12 Toulouse (Fr) Connexion
Wed., Sept. 14 Paris (Fr) La Maroquinerie
Fri., Sept. 15 Nancy (Fr) Chez Paulette
Sat., Sept. 16 Montbeliard (Fr) Atelier Des Moles
Tues., Sept. 19 Manchester (UK) Ruby Lounge
Wed., Sept. 20 Bristol (UK) The Fleece
Thurs., Sept. 21 London (UK) Under The Bridge
Fri., Sept. 22 Amsterdam (Nl) Q-Factory
Sat., Sept. 23 Groningen (Nl) Vera
Midwest:
Thurs., Oct. 19 Chicago, IL S.P.A.C.E. In Evanston
Fri., Oct. 20   Newport, KY Southgate House Revival
Sat., Oct. 21 Cleveland, OH Beachland Ballroom
Wed., Oct 24 Nashville, TN Basement East
Thurs., Oct 25 St. Louis, MO Ready Room
Fri., Oct 26 Kansas City, MO Knuckleheads
Watch the video for the Flamin' Groovies' "Crazy Macy"

The BCB team brings you the latest Breaking News, Contests, On This Day rock history stories, Classic Videos, retro-Charts and more.

Latest posts by Best Classic Bands Staff (see all)