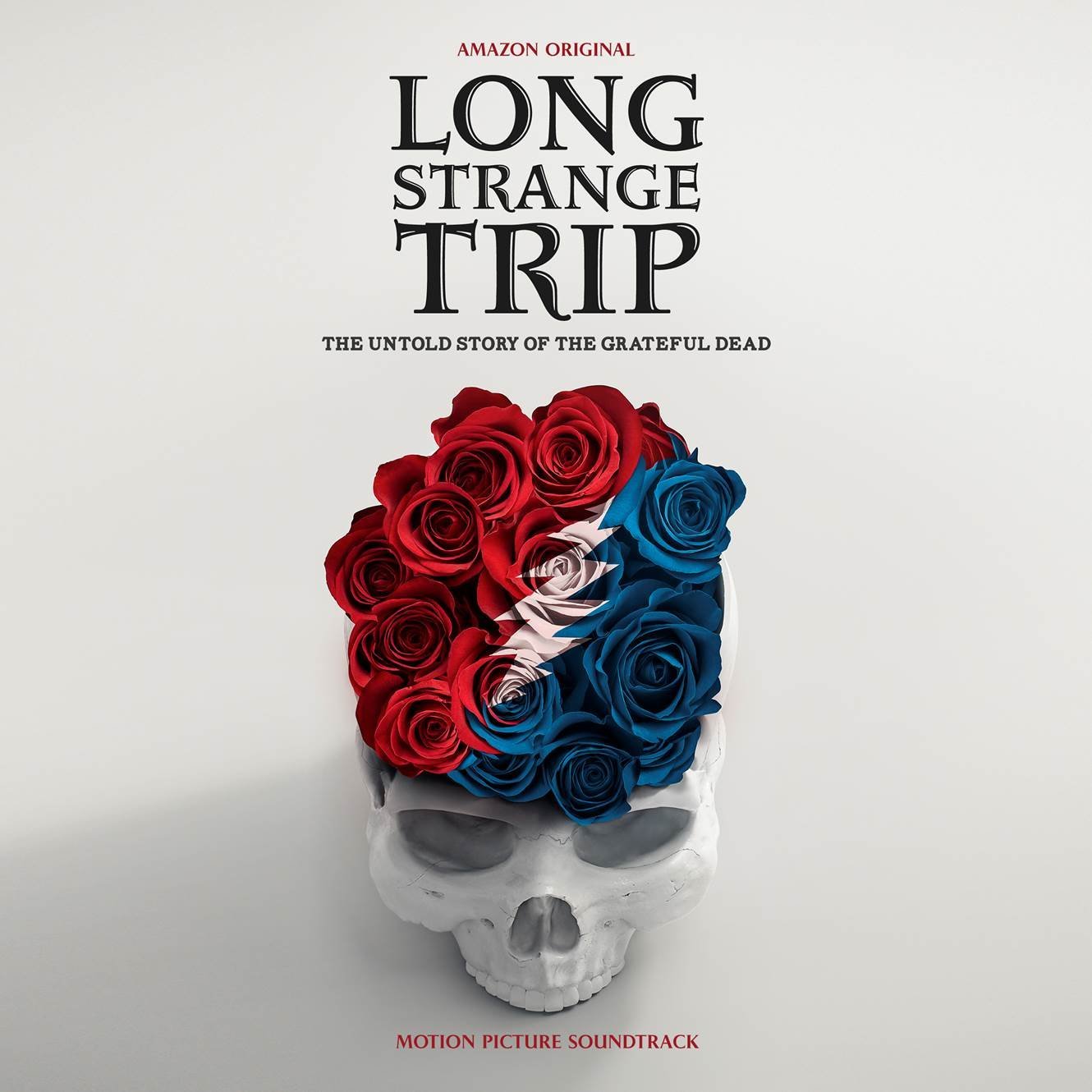 Long Strange Trip, Amir Bar-Lev's critically acclaimed documentary about the Grateful Dead, will be released theatrically on May 26 in New York and Los Angeles, before coming exclusively to Amazon Prime Video on June 2. Rhino will celebrate the premiere by releasing the soundtrack to the documentary, a career-spanning collection of studio and live recordings that includes several unreleased performances, on May 26.
Two versions of the Long Strange Trip soundtrack will be released on CD. The first is a 2-CD set, which will also be available on digital and streaming services. The other is an expanded version that's available exclusively from Amazon as a 3-CD set, digital download and streaming.
Later this summer, highlights from the 2-CD version will be released on vinyl as a 2-LP set and the full audio from the Amazon exclusive version will be available as a mammoth 6-LP collection, limited to 2,500 copies. (Release dates are TBD.)
Grateful Dead archivist David Lemieux and director Bar-Lev co-produced the soundtrack.
"All in all, this is unlike any other Grateful Dead release we've ever produced–just as the film is unlike any other Grateful Dead audiovisual document ever made. Then again, it's simply unlike any other music documentary ever made, which is appropriate considering that there's no band like the Grateful Dead," said Lemieux in the announcement.
"This is music from the time before selfies, when things were more fun and commercial-free," said Bar-Lev. "It's just right for these troubled times and I'm honored to be a tiny part of getting it out there."
"Long Strange Trip expertly captures the story of the Grateful Dead and at the center of it all is the true star of the film: the music," says producer Alex Blavatnik. "This soundtrack gives you a taste of everything that makes the band magical, from their uniquely crafted studio recordings to their unparalleled live performances."
The two-disc version of the Long Strange Trip soundtrack spans the band's career and captures many of their greatest studio recordings alongside several of their most dynamic performances. Among the live highlights are "He's Gone," "St. Stephen" and the "Scarlet">"Fire" jam from the mythic 1977 Barton Hall concert at Cornell University, which will be released commercially for the first time just weeks prior on May 5. Along with classic studio tracks like "Ripple" and "Touch Of Grey," the soundtrack also features unreleased performances like the legendary "Dark Star" from February 14, 1970, at Fillmore East in New York and the magnificent "Dear Mr. Fantasy">"Hey Jude" jam recorded on July 2, 1989, at Sullivan Stadium in Foxboro, Mass.
The Amazon-exclusive version of the Long Strange Trip soundtrack goes even deeper into the band's history, with nine additional tracks. Much like the Dead's legendary second sets, the third disc is packed with jams, including an epic version (nearly 20 minutes) of "Eyes of the World," recorded on August 6, 1974, at Roosevelt Stadium in New Jersey. Also included are two unreleased performances: "Stella Blue" from July 5, 1981, in Oklahoma City and "Days Between" from October 18, 1994, at Madison Square Garden in New York.
Long Strange Trip is the first full-length documentary to explore the fiercely independent vision, perpetual innovation and uncompromising commitment to their audience that made the Bay Area band one of the most influential musical groups of its generation. Artfully assembling candid interviews with the band, road crew, family members and notable Dead Heads, Bar-Lev reveals the untold history of the Dead and the freewheeling psychedelic subculture that sprouted up around it. The film also provides poignant insight into the psyche of late lead guitarist Jerry Garcia, whose disdain for authority clashed with his de facto leadership of the sprawling collective that kept the show on the road.
Following its theatrical release, Long Strange Trip will be available via Amazon Prime Video on June 2. The documentary was acquired by Amazon Studios ahead of its world premiere at the 2017 Sundance Film Festival. The film is directed by Amir Bar-Lev, executive produced by Martin Scorsese and produced by Eric Eisner, Nick Koskoff, Justin Kreutzmann, Ken Dornstein and Alex Blavatnik. Long Strange Trip is executive produced by Emma Tillinger Koskoff, Rick Yorn, Thomas J. Mangan IV, Alicia Sams, Phil Lesh, Bob Weir, Mickey Hart, Bill Kreutzmann, Andy Heller and Sandy Heller. Long Strange Trip is co-executive produced by Trixie Garcia.
Watch Best Classic Bands for a review of the film just prior to its opening date.
Long Strange Trip Motion Picture Soundtrack Track Listing
Disc One
"Death Don't Have No Mercy" (Live/Dead, Live At The Fillmore West, San Francisco, CA, 2/27/1969)
"St. Stephen" (Live/Dead, Live At The Fillmore West, San Francisco, CA, 2/27/1969)
"Uncle John's Band" (Workingman's Dead, 1970)
"Dark Star" (Live At The Fillmore East, New York, NY, 2/14/1970)*
"Easy Wind" (Workingman's Dead, 1970)
"Candyman" (American Beauty, 1970)
"China Cat Sunflower" (Live At Chateau d'Herouville, Herovuville, France, 6/21/1971)*
"I Know You Rider" (Live At Chateau d'Herouville, Herovuville, France, 6/21/1971)*
"Morning Dew" (Europe '72, Live At The Lyceum Theatre, London, England, 5/26/1972)
Disc Two
"He's Gone" (Sunshine Daydream, Live At Veneta, OR, 8/27/1972)
"The Music Never Stopped" (Live At The Great American Music Hall, San Francisco, CA, 8/13/1975)*
"Scarlet Begonias" ( Cornell 5/8/77, Live At Barton Hall, Cornell University, Ithaca, NY, 5/8/1977)
"Fire On The Mountain" (Cornell 5/8/77, Live At Barton Hall, Cornell University, Ithaca, NY, 5/8/1977)
"Althea" (Go To Nassau, Live At Nassau Coliseum, Uniondale, NY, 5/16/1980)
"Touch Of Grey" (In The Dark, 1987)
"Dear Mr. Fantasy" (Live At Sullivan Stadium, Foxboro, MA, 7/2/1989)*
"Hey Jude" (Live At Sullivan Stadium, Foxboro, MA, 7/2/1989)*
"Ripple" (American Beauty, 1970)
"Brokedown Palace" (American Beauty, 1970)
Disc Three – Amazon Exclusive (CD and LP)
"Playing In The Band" (Europe '72: The Complete Recordings, Live At Beat-Club, West Germany, 4/21/1972)
"Eyes Of The World" ( Dick's Picks, Vol. 31, Live At Roosevelt Stadium, Jersey City, NJ, 1974)
"St. Stephen" (Cornell 5/8/77, Live At Barton Hall, Cornell University, Ithaca, NY, 5/8/1977)
"Not Fade Away" (Cornell 5/8/77, Live At Barton Hall, Cornell University, Ithaca, NY, 5/8/1977)
"St. Stephen" (Cornell 5/8/77, Live At Barton Hall, Cornell University, Ithaca, NY, 5/8/1977)
"Dark Hollow" (Reckoning, 1981)
"Stella Blue" (Live At Zoo Amphitheater, Oklahoma City, OK, 7/5/1981)*
"Days Between" (Live At Madison Square Garden, New York, NY, 10/18/1994)*
2-LP Track Listing
"Death Don't Have No Mercy" (Live/Dead, Live At The Fillmore West, San Francisco, CA, 2/27/1969)
"St. Stephen" (Live/Dead, Live At The Fillmore West, San Francisco, CA, 2/27/1969)
"Easy Wind" (Workingman's Dead, 1970)
"Dark Star" (Live At The Fillmore East, New York, NY, 2/14/1970)*
"China Cat Sunflower" (Live At Chateau d'Herouville, Herovuville, France, 6/21/1971)*
"I Know You Rider" (Live At Chateau d'Herouville, Herovuville, France, 6/21/1971)*
"The Music Never Stopped" (Live At The Great American Music Hall, San Francisco, CA, 8/13/1975)*
"Touch Of Grey" (In The Dark, 1987)
"Dear Mr. Fantasy" (Live At Sullivan Stadium, Foxboro, MA, 7/2/1989)*
"Hey Jude" (Live At Sullivan Stadium, Foxboro, MA, 7/2/1989)*
"Ripple" (American Beauty, 1970)
"Brokedown Palace" (American Beauty, 1970)
*Previously unreleased
Watch a trailer for Long Strange Trip

Latest posts by Best Classic Bands Staff
(see all)