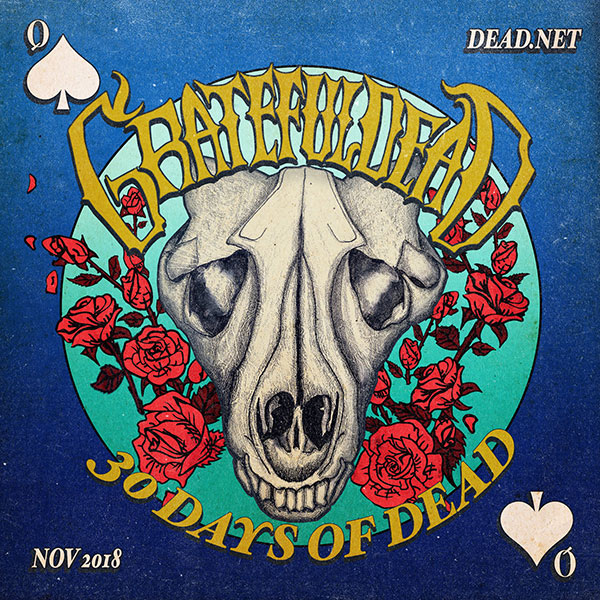 It's that time of year again. The Grateful Dead are once again offering "30 Days Of Dead," a free track every day for a month. The band issued the following statement:
"As a token of our appreciation for making 2018 an epic year, we're giving away a high-quality 320Kbps MP3 download every day this month. That's 30 days of unreleased Grateful Dead tracks from the vault, selected by Dead archivist David Lemieux! Intrigued? We're also going to put your knowledge to the test and give you a chance to win prizes, not to mention bragging rights."
"Here's the drill," it continues, and then asks fans to participate in an identify-this-song contest:
"You know your Ables from your Bakers from your C's, but can your finely tuned ears differentiate the cosmic 'comeback' tour from a spacey '70s show? Each day we'll post a free download from one of the Dead's coveted shows. Will it be from that magical night at Madison Square Garden in '93 or from way back when they were just starting to warm it up at Winterland? Is that Pigpen's harmonica we hear? Brent on keys? Step right up and try your hand all November long."
Related: Our review of David Browne's So Many Roads bio of the band
Finally: "Guess the venue and date correctly and you'll be automatically entered to win the prize of the day—a 2019 Grateful Dead Wall Calendar. Each day a winner will be selected at random, so take your time and make your best guess! Answer correctly, and you will also be automatically entered for our Pacific Northwest '73-'74 The Complete Recordings boxed set.
Click here each day.
The Dead were well known for their generosity in allowing their fans to set up elaborate recording equipment at their concerts and then trade the live music among one another. They also recorded most of their shows on professional equipment, giving them what is believed to be the most comprehensive live archive of any rock band.
Related: Review of 2017's Long Strange Trip documentary
Watch the band perform in 1977

Latest posts by Best Classic Bands Staff
(see all)