'All Things Must Pass'–George Harrison's Crowning Solo Set
by Sam Sutherland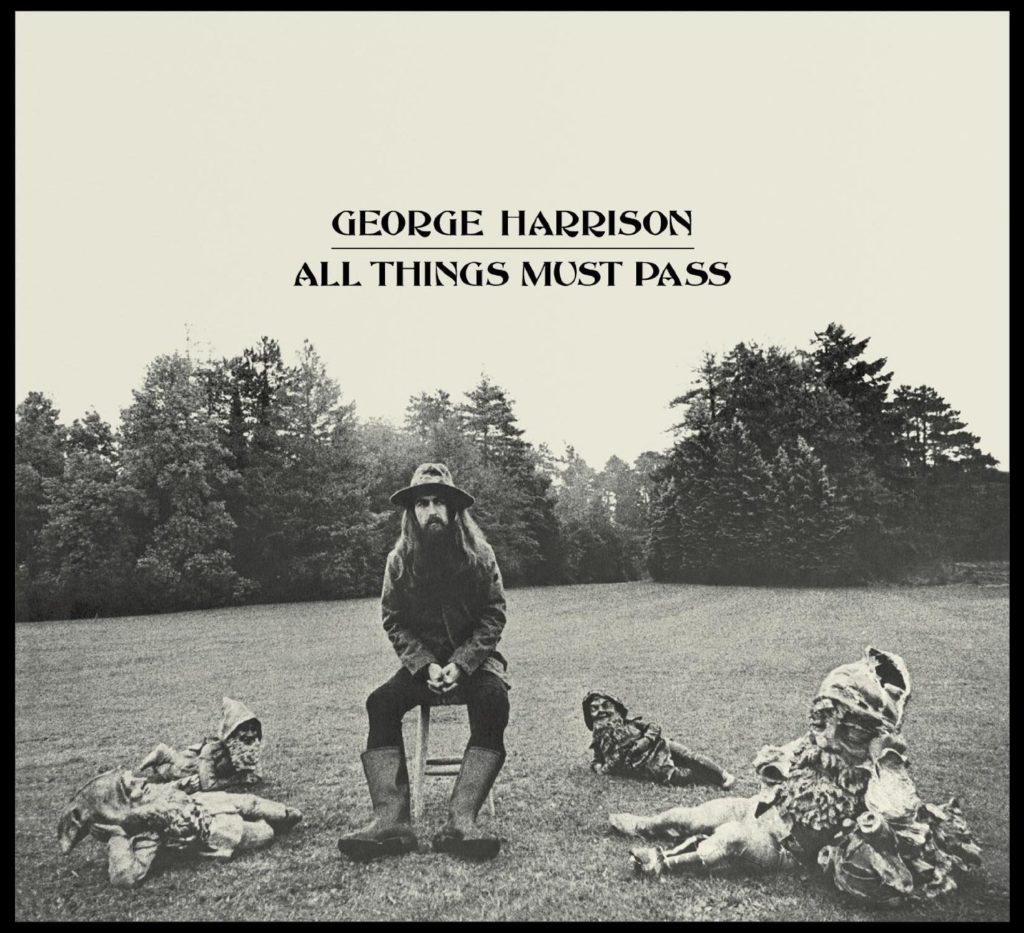 More than a half century after its November 27, 1970, release, All Things Must Pass remains a conundrum, alternately exhilarating and exhausting. Epic in ambition and triumphant in its success, George Harrison's triple album surprised fans with its religious subtext and sonic maximalism, executed with a battalion of studio guests marshaled by Harrison and co-producer Phil Spector. Released in 1970 as the Beatles officially split and all four dropped solo albums, Harrison's mammoth boxed set was a dark horse: Against expectations, the "quiet Beatle" spoke the loudest at the cash register, banking the highest sales of any of his former bandmates' solo projects.
Its best songs still charm through Harrison's transparent sincerity and craftsmanship, yet the frequent all-hands-on-deck ensemble assault nearly drowns out the front man. Not unlike his old band's eponymous "white" album, All Things Must Pass invites critical listeners regarding its sprawling track list to wonder whether less might have been more.
Listen to an early take of "Awaiting on You All," an album track on All Things Must Pass
Related: All Things Must Pass received a 50th anniversary edition in 2021
If Lennon and McCartney were alpha Beatles, Harrison spent his early years with the band honing his skills as a guitarist. Even after A Hard Day's Night established the Beatles as a self-contained group, Harrison's songwriting output was modest, constrained initially by his own reticence and then by Lennon and McCartney's more prolific pace and de facto lock on single releases. Two B-sides were the lead guitarist's only seven-inch features, until the ravishing 1969 A-side of "Something" confirmed the beta Beatle was more than capable of crafting songs every bit as enduring as Lennon and McCartney's.
Where his partners wrote and sang about matters of the heart, Harrison wrote about matters of the spirit. His fascination with Indian music, already audible in Revolver's "Love You To" and "Within You, Without You" on Sgt. Pepper, had led him into Hindu mysticism, a passion that afforded tabloid fodder during the Beatles' flirtation with Maharishi Mahesh Yogi. What proved fleeting for the other three proved more lasting for Harrison. Eight of the 17 songs that comprise the first two LPs in the boxed set were explicit in their religious fervor, including what Spector insisted was the most commercial candidate for the lead single, "My Sweet Lord."
Harrison was skeptical that his hymn to a Hindu god could be a breakout hit, but fans swiftly ratified Spector's conviction: Topping charts in the U.S., the U.K. and across Europe, it became the first #1 solo single for any Beatle. Against a scrum of acoustic guitars, Harrison croons his praise, punctuating his lyrics with gleaming slide guitar figures. Behind him, a backing choir's "Hallelujah" transforms into a "Hare Krishna" chant that should have passed its sell-by date decades ago, yet still invites smiles. Older pop fans can derive an unintended irony in the song's resemblance to the Chiffons' 1963 hit, "He's So Fine," for which Harrison was successfully sued for "subconscious plagiarism" by publishers for its Brill Building songwriter, Mack Rice—a plausible connection, given the Beatles' own contemporaneous Brill Building and early Motown covers.
Harrison's slide guitar signature offered an aural clue to Harrison's outside influences. His attraction to stateside R&B had prompted him to sign and produce Billy Preston and Doris Troy for the Beatles' newly harvested Apple imprint. More crucially, he was drawn to the earthy fellowship of The Band, a passion shared with close friend Eric Clapton that influenced their decision to join a 1969 European tour for Delaney & Bonnie and Friends. It was Delaney Bramlett who urged Harrison to polish his slide technique, which he refined beyond its usual country blues axis into a sleeker, more melodic touch. The brief busman's holiday with the Bramletts in turn led to recruitment of Clapton and all five of the musicians in the Friends band for the All Things Must Pass sessions.
Related: Our Album Rewind of Delaney & Bonnie's Accept No Substitute
Joining them was a murderer's row of rockers including Ringo Starr, Dave Mason, Gary Wright, Gary Brooker, Alan White, Klaus Voormann, Pete Drake and all four members of Badfinger, as well as Billy Preston and at least two uncredited future stars, Peter Frampton and Phil Collins. At least two dozen musicians would contribute, with as many as 15 playing live on basic tracks.
Many arrangements embraced Spector's "Wall of Sound" ethos, combining multiple drummers, massed guitars and keyboards, and backing choruses into sonic juggernauts, heard through canyons of echo. At its most unbridled, the approach overwhelms with blunt force, most glaringly on "Wah Wah," a blitzkrieg of jangling guitars, thundering drums, blaring horns, and chanted vocal choruses that surely pinned the needles into the red on the recording console. The final mix is so instrumentally dense as to verge on distortion; Harrison himself was reportedly conflicted in his initial reactions to that track, the first recorded for the project.
Elsewhere, the symphonic weight attainable through force of numbers is managed more effectively. "What is Life" harnesses its orchestral firepower more elegantly, pulling back on the verses to let its lead vocals breathe before adding horn and choral fanfares to punch up its joyous choruses. "Awaiting on You All" shares the same balance of uptempo energy while delving more directly into its religious subtext.
Harrison's forthright meditations include three portentous songs, risky in the context of a secular rock record, that he manages to pull off with subdued arrangements. "Isn't it a Pity," a stately inventory of human failure, is the album's longest vocal track at over seven minutes, reprised in a second version later in the set.
Restraint likewise frames "Beware of Darkness," a minor-keyed warning against lost dreams and encroaching demons.
Beyond the lamentation of "Isn't It a Pity" and the threat of "Beware of Darkness" lies the reflective acceptance of the title track, the least doctrinaire and most durable of the three. Had Harrison not chosen to stretch beyond two LPs of songs to add a third disc of instrumental jams, "All Things Must Pass" would have gained added impact as the album's final statement.
Joining the Maharishi, Phil Spector and the ur-Americana of The Band and the Bramletts as influences here is no less an icon than Bob Dylan, whom Harrison had bonded with during a visit to Woodstock.
The collaboration between the future Wilburys yielded two co-writes that represent the two most straightforward love songs on All Things Must Pass, the album opener, "I'd Have You Anytime," and "If Not For You," which Dylan himself would also record for his New Morning album.
George Harrison's overall success with All Things Must Pass surely drew from confidence gained in producing two earlier instrumental albums, while his eagerness to collaborate outside the Beatles' rarefied fellowship translated to the scale and party atmosphere of the project's sessions. That he recognized its importance as his first solo statement as singer, songwriter and producer prompted his involvement in a remastered and expanded version completed a year before his death. In that context, the instrumental jams that comprise the original third LP are worthwhile mementos of those fateful sessions, yet it's fair to admit that at the time of its original release only a minority of fans spent as much time spinning those loose workouts as the more coherent songs on the first two discs.
Bonus Video: Watch Harrison and Leon Russell perform "Beware of Darkness" live at the Concert for Bangla Desh

Latest posts by Sam Sutherland
(see all)