While fans wait to see if Genesis will be releasing a live album of their 2021-2022 reunion tour, the band has combed their archives for a new album of live recordings that originally aired on the BBC. BBC Broadcasts is described as an extensive collection of material from numerous broadcasts including performances from their appearances at the Knebworth festival. Curated by Genesis founding member Tony Banks and the group's long-time engineer and producer Nick Davis, it arrives March 3, 2023, as a 53-track 5-CD set and 24-track triple LP.
Both formats contain a selection of previously unreleased Genesis recordings for the BBC from the period 1970-1998. BBC Broadcasts also includes concert recordings from Knebworth in 1978 and 1992, London's Lyceum Theatre in 1980 and their stretch of Wembley 1987 shows, amongst many more performances. Surprisingly, the band hasn't shared the material on any streaming platforms.
[For context, the band's acclaimed 1977 live album, Seconds Out, featured concert recordings from 1976 and 1977, in Paris.]
Listen to an unofficial audio recording from the band's 1978 performance at Knebworth
The set features notes by Michael Hann and is packaged with a 40-page booklet.
The band's Instagram post features some of the official audio.
View this post on Instagram
The complete track listing appears below the Amazon links.
Genesis BBC Broadcasts CD Track Listing
Disc 1
1 Shepherd (Live on Night Ride, BBC Radio Two, 1970)
2 Pacidy (Live on Night Ride, BBC Radio Two, 1970)
3 Let Us Now Make Love (Live on Night Ride, BBC Radio Two, 1970)
4 The Fountain of Salmacis (Live at Paris Studios, London, UK, 1972)
5 The Musical Box (Live at Paris Studios, London, UK, 1972)
6 Stagnation (Live on Sounds of the 70s, BBC Radio One, 1971)
7 Harlequin (Live on BBC Radio One John Peel Session, 1972)
8 Get 'Em Out By Friday (Live on BBC Radio One John Peel Session, 1972)
9 Harold the Barrel (Live on BBC Radio One John Peel Session, 1972)
10 Twilight Alehouse (Live on BBC Radio One John Peel Session, 1972)
11 Watcher of the Skies (Live on BBC Radio One In Concert, 1975)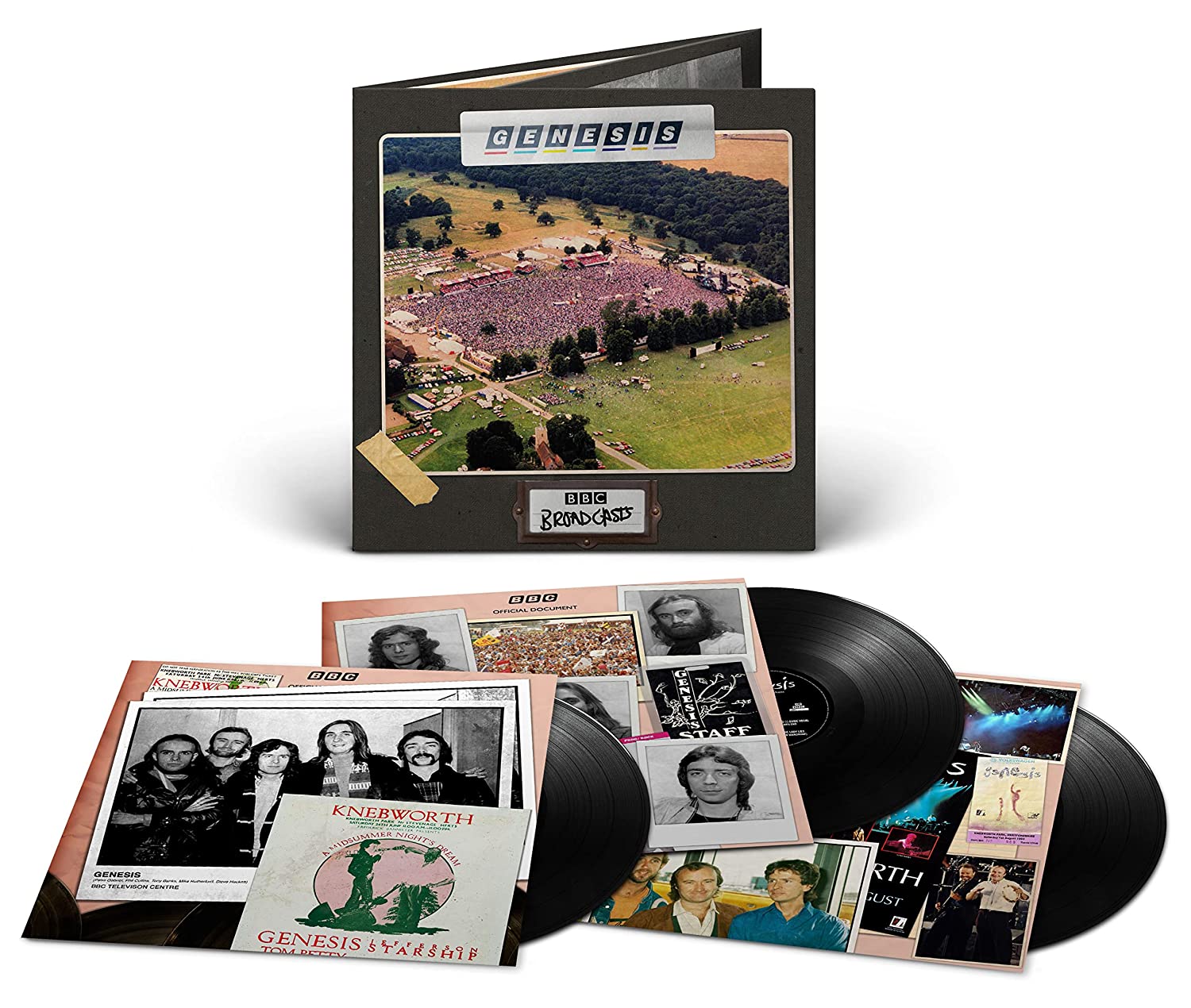 Disc 2
1 Squonk (Live at Knebworth Festival, UK, 1978)
2 Burning Rope (Live at Knebworth Festival, UK, 1978)
3 Dance on a Volcano (Live at Knebworth Festival, UK, 1978)
4 Drum Duet (Live at Knebworth Festival, UK, 1978)
5 Los Endos (Live at Knebworth Festival, UK, 1978)
6 Deep in the Motherlode (Live at the Lyceum Theatre, London, UK, 1980)
7 Dancing with the Moonlit Knight (Live at the Lyceum Theatre, London, UK, 1980)
8 The Carpet Crawlers (Live at the Lyceum Theatre, London, UK, 1980)
9 One for the Vine (Live at the Lyceum Theatre, London, UK, 1980)
10 Behind the Lines (Live at the Lyceum Theatre, London, UK, 1980)
11 Duchess (Live at the Lyceum Theatre, London, UK, 1980)
12 Guide Vocal (Live at the Lyceum Theatre, London, UK, 1980)
13 Turn It On Again (Live at the Lyceum Theatre, London, UK, 1980)
14 Duke's Travels (Live at the Lyceum Theatre, London, UK, 1980)
15 Duke's End (Live at the Lyceum Theatre, London, UK, 1980)
Watch Genesis perform "The Carpet Crawlers" at the Lyceum Theatre in 1980 (Note: not the official release from this collection)
Disc 3 – Live at the Lyceum Theatre, London, UK, 1980
1 Say It's Alright Joe
2 The Lady Lies
3 Ripples
4 In the Cage
5 The Raven
6 Afterglow
7 Follow You Follow Me
8 I Know What I Like (In Your Wardrobe)
9 The Knife
10 Mama
11 Domino
Disc 4
1 That's All (Live at Wembley Stadium, London, UK, 1987)
2 The Brazilian (Live at Wembley Stadium, London, UK, 1987)
3 Throwing It All Away (Live at Wembley Stadium, London, UK, 1987)
4 Home By the Sea (Live at Wembley Stadium, London, UK, 1987)
5 Second Home By the Sea (Live at Wembley Stadium, London, UK, 1987)
6 Invisible Touch (Live at Wembley Stadium, London, UK, 1987)
7 Drum Duet (Live at Wembley Stadium, London, UK, 1987)
8 Los Endos (Live at Wembley Stadium, London, UK, 1987)
9 Not About Us (Live at Birmingham N.E.C., UK, 1998)
10 The Dividing Line (Live at Birmingham N.E.C., UK, 1998)
Disc 5 – Live at Knebworth Festival, UK, 1992
1 No Son of Mine
2 Driving the Last Spike
3 Old Medley
4 Fading Lights
5 Hold On My Heart
6 I Can't Dance
Related: Our recap of the final performance of their 2022 reunion tour

Latest posts by Best Classic Bands Staff
(see all)