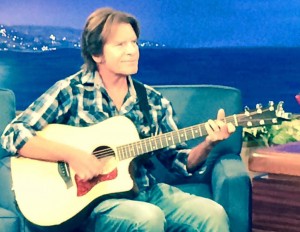 John Fogerty wasn't the official musical guest on Monday night's (10/19) episode of Conan – but that didn't stop the onetime Creedence Clearwater Revival rocker from busting out a song on guitar. (Andy Richter's guitar, actually.)
"What would you like, a little 'Louie Louie' maybe?" Fogerty quipped, before playing a spirited rendition of the classic "Have You Ever Seen the Rain?" complete with fist pumps and a crowd singalong.
The rock 'n' roll superstar, now 70, has been busy promoting his memoir Fortunate Son: My Life, My Music which was released earlier this month. One of the highlights of his Conan appearance was an amusing anecdote about how difficult it was to follow the Grateful Dead at Woodstock.
"We were promised a prime time on a Saturday night, like nine o'clock," recalls Fogerty. "What they didn't tell me was 'You're gonna follow the Grateful Dead'… The Dead didn't go on 'til about midnight, but what they didn't tell us until the nineties was that they'd all taken LSD… About the middle of their set, it went dead silent. I think. I don't really know what happened since I wasn't watching the stage. I was only hearing. Anyway, it was quiet for about an hour, and then they started playing again."
Suffice it to say, Creedence finally ended up playing around 2:30 in the morning – to quite the unexpected crowd. "There's half a million people there," he says. "I come running out, and I look down there, and I see a bunch of people that look a lot like me except they're naked. And they're asleep. They were all kind of piled together. It looked like one of those pictures of the souls coming up out of hell, like Dante's Inferno."
"Finally, I went up to the mic, kind of apologetically… and I said, 'Well, hope you're enjoying some of this!'" he continues. "Way out there about a quarter mile, some guy's flicking his lighter. He says, 'Don't worry about it, John! We're with ya!' So, in front of a half a million people for the rest of my big Woodstock concert, I played for… that guy."
Fogerty's upcoming residency in Las Vegas, John Fogerty: Peace, Love and Creedence, begins January 8th of next year.

Latest posts by Best Classic Bands Staff
(see all)