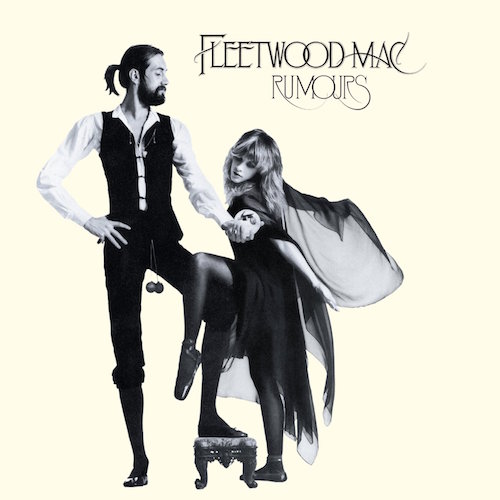 Talk about persistence; theirs is the textbook tale of the value of stick-to-itiveness. For nearly a decade, Fleetwood Mac had been slogging it out as a respected but commercially lackluster British blues band. Their musicianship had always been superb—they had one of the tightest rhythm section in bassist John McVie and drummer Mick Fleetwood—and they'd given a home to some of the most accomplished guitarists in the U.K.: Peter Green, Danny Kirwan, Jeremy Spencer. They'd placed 10 albums on the American Billboard chart between 1968 and 1974, but none had made a significant dent—the most recent, Heroes Are Hard to Find, had been the highest-charter, reaching #34 in '74.
Still, they remained kind of anonymous in the eyes of the rock-consuming public; there had even been a fake Fleetwood Mac on the road and few had noticed or cared.
Then came Lindsey Buckingham and Stevie Nicks. When Bob Welch, the latest guitarist/vocalist, left the band in late '74, Fleetwood, McVie and keyboardist/vocalist Christine McVie went in search of a replacement. Fleetwood heard some tracks from an album called Buckingham Nicks, by the couple belonging to those surnames. The drummer asked guitarist-singer-songwriter Lindsey Buckingham to join Fleetwood Mac. He agreed, but only if his girlfriend, vocalist Stevie Nicks, could also join.
It was the smartest move the band ever made. In 1975, the new quintet released the eponymously titled Fleetwood Mac In July of that year and it proved the breakthrough they had been looking for. Although they had largely abandoned the group's blues roots for a more pop-oriented sound, it caught on, and the album began its climb. It spent 37 weeks in the top 10 before finally hitting #1. The album spawned three top 20 singles as well: "Over My Head," "Rhiannon" and "Say You Love Me." (Hard as it is to believe in retrospect, none of them went higher than #11.)
The sole week spent at #1 for Fleetwood Mac—out of 148 total weeks on the chart—was a great accomplishment for the resilient outfit, but nothing compared to what was coming up next.
On Feb. 4, 1977, Fleetwood Mac released their next studio album, their eleventh in all, titled Rumours. With the band having switched from their longtime home of Reprise Records to the parent company Warner Bros., the album, co-produced by Fleetwood Mac with Ken Caillat and Richard Dashut, found immediate success. Record buyers related to the intimate songs, several of which were inspired by romantic entanglements and disentanglements (the McVies had divorced while Buckingham and Nicks were having their own spats).
The first single released from the album, "Go Your Own Way," written and sung by Buckingham, made it to #10, but it was the next, "Dreams," written and sung by Nicks, that landed Fleetwood Mac at #1 in the United States for the first and (thus far) only time.
Listen to an outtake of "Dreams" from the album's expanded edition
There would be two more Top 10 singles—"Don't Stop" and "You Make Loving Fun"—but the real story was the album itself. Rumours reached #1 in Billboard with the chart dated April 2, 1977. It remained on top for a whopping 31 weeks.
Related: Only 5 albums topped the U.S. album chart in 1977
Rumours ultimately stayed on the album chart for a total of 134 weeks (actually fewer than its predecessor). It won the Grammy Award for Album of the Year in 1978, and to date has sold over 40 million copies worldwide, making it, as of now, the ninth best-selling album of all time.
Watch the video for "Go Your Own Way"

Latest posts by Best Classic Bands Staff
(see all)