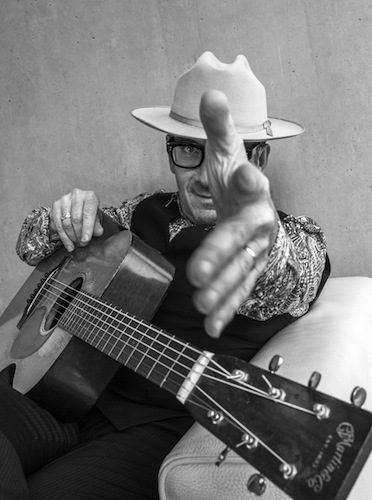 Elvis Costello announced on July 6 that the six remaining dates of his European tour have been canceled for medical reasons. In a note posted on his social media platforms, he described the reason as "a small but very aggressive cancerous malignancy."
On July 12, a post on his Facebook page promoted his North American tour, scheduled to begin on Nov. 2.
Costello was a constant presence on the U.K. charts with dozens of songs, beginning with 1977's "Watching the Detectives." He enjoyed only one real pop hit in the U.S., 1989's "Veronica," his first for Warner Bros. Records following his departure from his longtime home, Columbia Records.
The complete announcement revealing the news of his cancer diagnosis was posted July 6 on Costello's Facebook page:
"Elvis Costello has been forced to cancel the remaining 6 dates of his current European tour on medical grounds. His doctor has strongly advised him to take a break from his current tour itinerary and rest. Ticket holders should go to point of purchase for refunds.
"Elvis apologises to his fans and releases the following statement:
"Six weeks ago my specialist called me and said, 'You should start playing the Lotto.' He had rarely, if ever, seen such a small but very aggressive cancerous malignancy that could be defeated by a single surgery.
"I was elated and relieved that our European summer tour could go ahead.
"Post-surgical guidelines for such surgery recommend three weeks to four weeks recovery depending on whether you are returning to a desk job or an occupation that involves physical work or travel.
"It was impossible to judge how this advisory would line up with the demands on a traveling musician, playing 90-minute to 2-hour plus performances on a nightly basis, but by the time we reached the Edinburgh Playhouse, I was almost fooled into thinking that normal service had been resumed.
"I have to thank our friends attending last night's show in Amsterdam and those in Antwerp, Glynde and at Newcastle City Hall for bearing me up. The spirit has been more than willing but I have to now accept that it is going to take longer than I would have wished for me to recover my full strength. Therefore, I must reluctantly cancel all the remaining engagements of this tour.
"My apologies go to our ticket holders in Manchester, Pula, Graz, Vienna, Tysnes and Rattvik but I would rather disappoint our friends there by not appearing than in pressing on with a show that is compromised and eventually puts my health at risk.
"My deep thanks go to Pete Thomas, Steve Nieve and Davey Faragher of The Imposters for all their deep friendship, love and support during this upsetting time. Thanks also to Kitten Kuroi and Briana Lee whose beautiful voices have spurred me on to do the singing that I've managed, whatever the cost. It goes without saying that there are many others who have worked to get us to the stage and from town to town to whom I am also deeply grateful.
"To leave you with some more optimistic news, The Imposters and I – together with several of our other friends – have made a magnificent new record of which we are truly proud. It will be issued in October, I believe. We will return at the soonest opportunity to play that music and your favourite songs that still make sense to us all.
"Take very good care of your loved ones but Gentleman, do talk to you friends – you'll find you are not alone – seek your doctor's advice if you are in doubt or when it is timely and act as swiftly as you may in these matters. It may save your life.
"Believe me, it is better than playing roulette.
"Yours through music. Elvis Costello"
Elvis Costello 2018 Dates Affected
June 27 – Southend, UK – Cliffs Pavilions
June 28 – Plymouth, UK – Plymouth Pavilions
July 06 Manchester, UK – Castlefield Bowl
Jul 08 –  Pula, Croatia – Pula Arena
Jul 09 – Graz, Austria – Kasematten – Schlossberguhne
Jul 11 – Vienna, Austria, – Konzerthaus
Jul 14 – Tysnes, Norway – Tysnesfest Gjesrstad Arena
Jul 16 – Rattvik, Sweden – Dalhalla
Related: The inside story of Costello's 1977 U.S. introduction

Elvis Costello 2018 North AmericanTour Dates (Tickets are available here and here)
Nov 02 – Bethlehem, PA – Sands Bethlehem Event Center
Nov 04 – Washington, DC – DAR Constitution Hall
Nov 06 – Asbury Park, NJ – Paramount Theatre
Nov 07 – Verona, NY – Turning Stone Resort Casino
Nov 09 – Wallingford, CT Toyota Presents Oakdale Theatre
Nov 10 – Boston, MA – Boch Center Wang Theatre
Nov 11 – Buffalo, NY – Shea's Performing Arts Center
Nov 13 – Detroit, MI – The Fillmore Detroit
Nov 15 – Minneapolis, MN – Northrop Auditorium
Nov 17 – Grand Rapids, MI – 20 Monroe Live
Nov 19 – Memphis, TN – Orpheum Theatre
Nov 21 – St. Louis, MO – Peabody Opera House
Nov 23 – Thackerville, OK – WinStar World Casino
Nov 25 – Denver, CO – Fillmore Auditorium
Nov 27 – Phoenix, AZ – Comerica Theatre
Nov 28 – Anaheim, CA – House of Blues Anaheim
Nov 29 – Los Angeles, CA – The Wiltern
Dec 01 – San Francisco, CA – The Masonic
Dec 03 – Seattle, WA – Paramount Theatre
Dec 04 – Vancouver, BC – Queen Elizabeth Theatre

Latest posts by Best Classic Bands Staff
(see all)