Elton John's 'Tumbleweed Connection': Raising the Stakes
by Sam Sutherland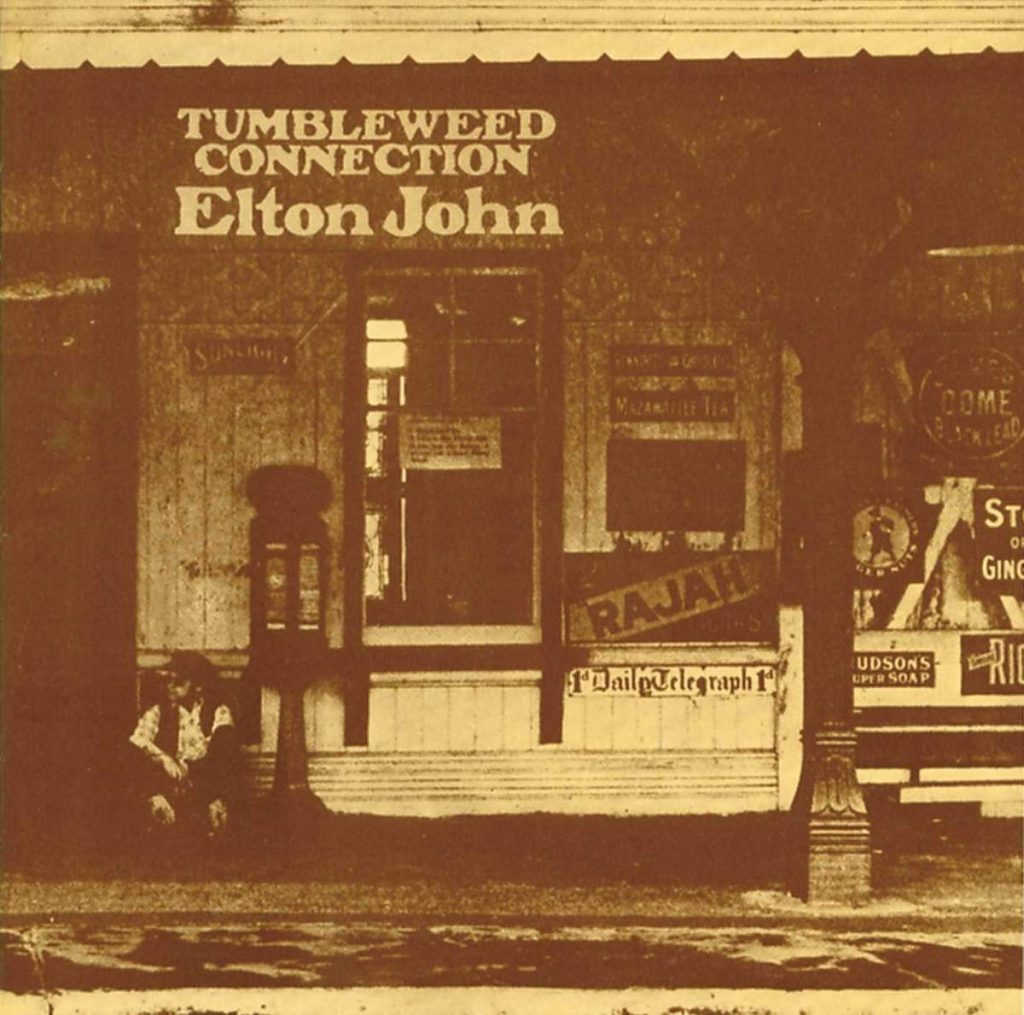 In 1970, Elton John found his groove. After an eight-year gestation from precocious pub pianist, studio musician and fledgling songwriter to solo act, Reggie Dwight grounded his new persona in a personal style primed for fans on both sides of the Atlantic. John's self-titled second album, released in April, ignited interest that had eluded an earlier debut set, buttressed by his American label's pre-emptive superstar hype justified that August with a live U.S. debut that galvanized an audience of influential elites with rafter-shaking performances. The October release of "Your Song" would bring him his first international single hit, followed days later by the U.K. release for his third album, Tumbleweed Connection, which would reach U.S. fans in early January 1971 just as "Your Song" was peaking at #8 and album cuts from Elton John were percolating on FM rock stations.
By March, Tumbleweed Connection had been certified as a gold record, punctuating John's meteoric rise and signaling his vaulting creative ambitions. At its core was the writing partnership begun in 1967 with lyricist Bernie Taupin, which had progressed from anodyne pop songs intended for other artists to songs that John would sing and play. After stumbling through experiments in psychedelia and the kitchen-sink debut, John and Taupin found success with producer Gus Dudgeon and arranger Paul Buckmaster, who swiftly proved potent allies in the studio.
Starting with Elton John, John and Taupin would trust Dudgeon, Buckmaster and a deep bench of London's best musicians to bring their songs to life. The duo's creative process began with Taupin's lyrics, from which John built the songs through an arresting synthesis of rhapsodic pop with soulful R&B, blues and gospel flourishes, deepened by classical training that would enable him to break beyond conventional song structure. With Tumbleweed Connection, they raised the stakes with a concept album steeped in mythic Americana, pushing love songs to the margins to evoke an imagined diorama of Civil War and Wild West fables.
Its conceptual scale was new, but the album's musical influences were not. To the jazz, blues and rhythm & blues that had shaped his teenaged apprenticeship with Bluesology, the band he co-founded in the early '60s, John subsequently fell under the spell of American artists including Leon Russell (discovered alongside Delaney and Bonnie), Laura Nyro and singer-songwriter David Ackles. Casting the longest shadow was The Band, whose haunting amalgam of American roots style forged through Bob Dylan's "basement tapes" and the group's debut album. "When I heard The Band's Music from Big Pink, their music would change my life," he later affirmed.
Nowhere does the Canadian-American quintet's influence loom as vividly as it does on Tumbleweed Connection. From its sepia-toned gatefold cover, with John and Taupin brooding outside a rural train station, to its cast of rebels, farmers and cowboys inhabiting rustic locales, the album seeks to conjure a lost, imagined America much as The Band's eponymous second album had. "Ballad of a Well-Known Gun" provides a lively entry point, the funky lament of a gunslinger on the run, with John's Southern-fried drawl and gospel piano flourishes answered by Caleb Quaye's darting guitar figures and a plush, soulful backing chorus led by Dusty Springfield and Madeline Bell. In producer Dudgeon's mix, the rhythm section and instrumentalists are pushed to the foreground with immersive detail.
The album's conceptual framework is sketched loosely by its imagery and an array of fictional characters rather than any central narrative, as demonstrated on "Son of Your Father" and "My Father's Gun"; both allude obliquely to the opener while otherwise standing alone. Eight of the 10 songs explore that imagined world, leaving room for two freestanding love songs, both featuring the front man on vocals only. "Come Down in Time," which would prove one of Elton John's more frequently covered tracks, leans away from piano in a spacious arrangement decorated with harp, acoustic guitar and oboe, with a string arrangement from Buckmaster adding a romantic bloom to its later verses. Later, John would cede the songwriting to Lesley Duncan's spare, lovely "Love Song," sung as a duet with its author.
Already familiar from Rod Stewart's pre-emptive cover version, "Country Comfort" typifies Taupin's reliance on imagery and archetypes verging on cliché, sometimes sacrificing realism for romance, as in a baffling prediction that "Soon the pines will be falling everywhere," a line that might have made sense had he worked a sawmill into his landscape. No matter: John's warmly affectionate vocal and the floating ease of the arrangement and Gordon Huntley's gleaming pedal steel carry the song to sentimental victory much as Stewart had on Gasoline Alley.
Taupin's recurrent glimpses of violence, whether on the killing fields of the Civil War or the streets of frontier towns, provide dramatic highlights. The original album's side one closer, "My Father's Gun," follows a young Confederate as he takes up his fallen father's weapon to join the war. "Where To Now, St. Peter?" might be heard as the father's dying meditation as he faces death.
From hushed verse to urgent chorus, the singer confronts his fate in the afterlife: "If it's true, I'm in your hands," he allows, going on to plead, "I may not be a Christian, but I've done all that I can." One of Taupin's more deftly drawn internal dialogues, the song's feverish imagery is served handsomely by the backing ensemble, with Quaye reinforcing a claim as one of the album's MVPs on both acoustic and electric guitars.
Leon Russell's spirit, hovering over many of John's piano voicings, prevails on "Amoreena," a carnal paean to its title siren "living like a lusty flower, running through the grass for hours, rolling through the hay…like a puppy child." If the lyrics are cringeworthy post-#MeToo, the song inhabits the same erotic realm as Russell's "Delta Lady" and Van Morrison's "Brown-Eyed Girl," and inaugurated John's collaboration with bassist Dee Murray and drummer Nigel Olsson, who would anchor his live band.
The album's most subdued track, "Talking Old Soldiers," offers a melancholy barroom conversation inspired directly by California-based singer-songwriter David Ackles, whose eclectic style confined him to cult status while earning plaudits from John, Elvis Costello and Phil Collins. It's a useful pause before John launches the album's most ambitious song, "Burn Down the Mission."
Taupin's lyrics conjure a frontier saga with cinematic sweep with spare, ambiguous details. There's a hero's call to a desperate community to rise against a rich oppressor, followed by his capture and possible martyrdom as he pleads with his neighbors to "burn down the mission." Taupin leaves it to John's music to mine its drama in an orchestral suite that expands beyond conventional song form, using multiple key and tempo changes that peak in a propulsive instrumental section showcasing John's formal training. If he once preferred blues to Bartok, his piano arrangement splices giddy gospel flourishes with classical arpeggios, framed by Buckmaster's opulent string charts and Herbie Flowers' ripe, melodic electric bass. Running nearly six-and-a-half minutes, the track closes the album with a fanfare.
Tumbleweed Collection would carry Elton John to the next level both creatively and commercially, marking the first of his string of platinum long-players and further strengthening his bonds with Taupin and producer Dudgeon, who would be at the board for eight more albums. John's visual style would morph from rustic to raucous, in keeping with his extroverted stage persona, but the musical language can be heard fully established here.
Related: Our Album Rewind of 1971's Madman Across the Water
Watch a 1970 trio performance of "Burn Down the Mission" where Elton introduces Dee Murray and Nigel Olsson as his new band
Elton John continues his farewell tour. Tickets are available here and here.

Latest posts by Sam Sutherland
(see all)