ELP 'Brain Salad Surgery': A Brainstorm of the Highest Order
by Lee Zimmerman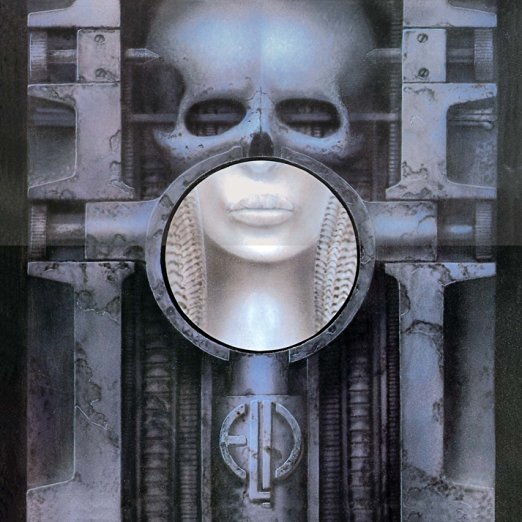 With the release of Brain Salad Surgery, Emerson, Lake and Palmer had outgrown any initial perceptions that they were simply a trendy supergroup possessing limited commercial appeal. Instead, they were now finding themselves well positioned on the precipice of mainstream success. To be sure, they were still seen as something of a phenomenon; after all, Keith Emerson's over-the-top keyboard antics, Greg Lake's engaging croon and Carl Palmer's thunderous percussion placed them within a decidedly higher musical pantheon, one that found them capable of attracting audiences of stadium-sized proportions.
Thanks to the success of their preceding live album, Pictures at an Exhibition, Emerson, Lake and Palmer had become accredited practitioners of a prototypical prog/classical crossover configuration, one that boded well for continued accreditation. Emerson had initiated that stance with his previous group, the Nice, only to have it further realized with ELP, courtesy of a refined and sophisticated sound accompanied by a solid instrumental undertow. The fact that the three musicians were capable of such an achievement had never been in doubt, but with Brain Salad Surgery, that reputation was indelibly entrenched in both pedigree and practice.
Released on November 19, 1973, in the U.K. (and in early December in the U.S.), Brain Salad Surgery didn't contain the same variety of instantly accessible music that songs like "Lucky Man" and "Take a Pebble"—both culled from ELP's eponymous debut—had offered early on. Like the ELP albums that followed in its wake, it bore a sound that was increasingly more complex, built on majestic motifs that were far removed from what most people would have ever identified as an easy listening experience.
And yet, it did have one singular song in particular—"Still…You Turn Me On," a wistful ballad that Lake sang with a certain soothing assurance—that offered the promise of garnering more mainstream appeal. Given the fact that Palmer played no part in its recording, the idea of releasing the track as a single was nixed entirely. So, too, because at least half the album consisted of elegiac suites (dubbed "Impressions"), part of an extended work titled "Karn Evil 9," there was very little material that could be considered a possible choice as far as selection as a single.
"Benny the Bouncer," composed by Lake and his one-time King Crimson colleague, lyricist Pete Sinfield, might have been an option, but the hokey theme and fickle approach didn't really represent the band's artful approach, their purpose or their prowess, and, as a result, it was never a real contender.
"Jerusalem" was the consensus pick, but the BBC quickly vetoed that idea due to its refusal to play anything that was perceived to be sacrilegious. Although the album reached the upper tiers of both the British and American charts—and sold well enough to be certified gold—the lack of a viable single seemed to hinder its overall possibilities. Palmer still laments the fact that "Jerusalem" was stillborn as far as a singles candidate was concerned. "We wanted to put it out as a single," Wikipedia quotes him as saying. "We figured it was worthy of a single…I think there was some apprehension [as] to whether or not we should be playing a hymn and bastardizing it, as they said, or whatever was being called at the time … We thought we'd done it spot-on, and I thought that was very sad…I actually thought the recording and just the general performances from all of us were absolutely wonderful. I couldn't believe the small-mindedness…It got banned and there was sort of quite a big thing about it. These people just would not play it. They said no, it was a hymn, and we had taken it the wrong way."
Another portion of the album initially presented a problem as well. "Toccata" was a piece Emerson had first considered for the Nice, but the idea of doing it with ELP hadn't surfaced until Palmer suggested spicing it up with an extended drum solo. However, its complexity proved to be a handicap due to the fact that Lake didn't read music and Palmer couldn't find a musical score that adapted the piano arrangements for drums. Those difficulties were overcome, but the real problem lay in the fact that the publisher of the piece refused to grant the group permission to do an adaptation. That led to Emerson flying to Geneva to personally play the group's arrangement for the publisher's representatives, in hopes of persuading them to change their minds. The tack worked, and the publishers, duly impressed with what they heard, eventually allowed ELP to proceed. "Toccata" would eventually coalesce into a spectacular mesh of sound, fury, flash and finesse, a standout selection that ranks as one of the highpoint of the entire LP.
The aforementioned "Karn" suite became notable in its own right, due not only to the trio's usual over-the-top instrumental antics, but also because the computerized voice featured in its third movement gives Emerson his only vocal credit of the entire ELP lexicon. Likewise, the second section of the first movement boasts the lyric that would become one of the most famous lines in the entire prog rock canon: "Welcome back my friends, to the show that never ends." It would famously become the title of the band's epochal three-LP live album a few years later.
The fold-out cover sleeve, designed by the Swiss artist H.R. Giger, was also notable and, in fact, considered quite innovative as well. Given that the working title of the album had been Whip Some Skull On Ya—shorthand slang for fellatio—the skull triptych designs Giger was working on at the time seemed to find a perfect fit, even after the title was changed to Brain Salad Surgery. Not that the meaning had changed; rumor has it that it was appropriated from a lyric in Dr. John's signature song "Right Place, Wrong Time" ("I've been running trying to getting up in my mind, just need a little brain salad surgery, got to cure this insecurity.")
Related: Carl Palmer talks about ELP
Hmmm. Was it a coincidence? We think not. Whatever the origin of the name may have been, the combination of high concept, grandiose execution and ELP's usual artistic ambition made Brain Salad Surgery a mind-blowing effort, one that's effectively represented with every note and nuance.
Listen to "Jerusalem" performed live in 1974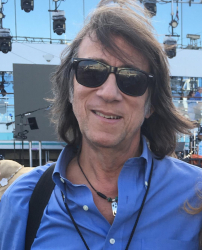 Latest posts by Lee Zimmerman
(see all)