Elliott Landy has announced a second volume of photos that he took of The Band. Eight years after the first edition that has long since sold out, the legendary photographer has begun a Kickstarter campaign to publish The Band Photographs: Volume 2. The hardcover title, 12×12 inches, will be beautifully printed on heavy weight paper, with an anticipated 160 pages.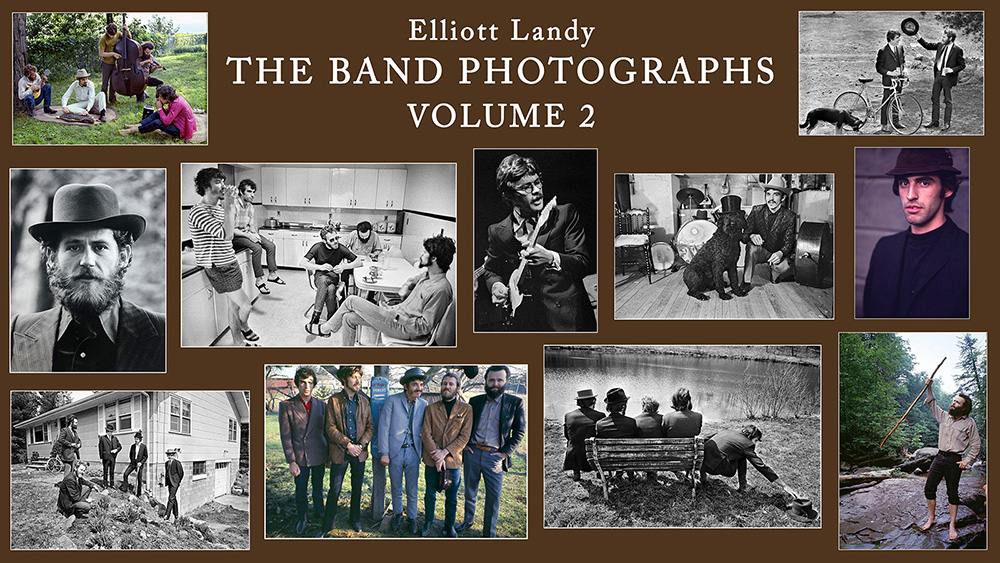 When you picture The Band, you have Landy's photographs in your mind. He took the legendary photos in their 1968 debut album, Music From Big Pink, and The Band, their self-titled 1969 follow-up. "I was the only photographer who had access to The Band during that period while living in Woodstock, NY," he says. "Because we were friends I had the freedom to hang out and take whatever pictures I wanted. I shot more than 10,000 frames of film of The Band during this period. Of these, fewer than 25 had been published prior to my 2015 book, The Band Photographs 1968-1969, which contained 200 photographs—most of which had never been published before."
The earlier title became the highest funded music photography book in Kickstarter history. The Band has become one of the most celebrated groups in rock 'n' roll history: for their own groundbreaking work, for their integral role in Bob Dylan's development and for the all-star concert film The Last Waltz. The fertile period of 1968-69 – which produced Big Pink, The Band and The Basement Tapes – is steeped in mystery and has been subject to countless articles, essays and books. But other than the music itself, only Landy's photographs bring it to life.
Volume 2 of The Band Photographs began when Landy started going through some old boxes of prints, and discovered shots from the same period that he thought were as good or better than the ones he'd just published: "really great images that definitely deserved to be seen." They capture an innocence and excitement particular to their hermetic environment, before success started to tear them apart.
"Because of the unfettered access I had as a friend, the photographs bring us into their lives from the mundane chores of grocery shopping to the fun of playing football in the backyard to the sublime moments of creation in the studio and onstage. You will be transported back to their homes in Woodstock and invited to gather on Levon's bed as they discuss lyrics.
"At the time I was photographing them they were thrilled with the music they were making together. These photographs of Garth, Levon, Richard, Rick and Robbie are testimony to their camaraderie and love of life which were the seeds from which their music sprung."
The Kickstarter campaign for Volume 2 of The Band Photographs 1968-69 went live on February 7 and continues until April 8.  The book will be printed in two formats: a Signature Edition and a Deluxe Edition. There are a variety of rewards offered for pledges, that include signed editions, limited edition prints, lithos and more.
Landy took some of the most iconic photographs in rock 'n' roll history. He was the official photographer at the 1969 Woodstock festival. His portraits of Bob Dylan and Van Morrison are on the covers of Nashville Skyline and Moondance, respectively. His work has been featured in major magazines. exhibited in museums and galleries worldwide for over 50 years. He has published 12 books devoted exclusively to his photographs.
Related: Our interview with Landy about his first volume of photographs of The Band

Latest posts by Best Classic Bands Staff
(see all)