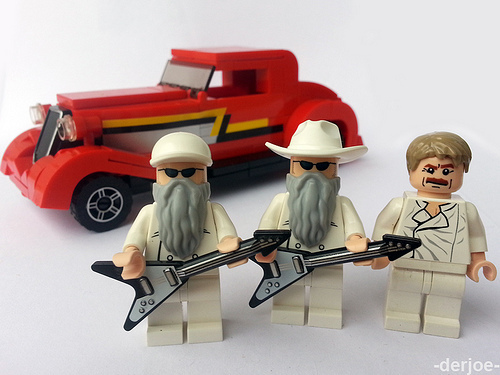 Fellow rockers are paying tribute to ZZ Top bassist Dusty Hill, who died in his sleep overnight on July 28, 2021, at age 72. When his bandmates, Frank Beard and Billy Gibbons shared the news of his passing, they closed with "You will be missed greatly, amigo."
Below are tributes from several fellow musicians who wrote about Hill's "beautiful soul," calling him "a rock and roll institution."
Fogerty toured with ZZ Top many times. They performed together at Hill's final concert.
We are devastated to hear about Dusty's passing. We were so blessed to share the stage with the great Dusty and ZZ Top many times, and if that wasn't Rock and Roll heaven, I don't know what is. The show we did together just last week would be his last. So heartbreaking. pic.twitter.com/oKKslJ2U9M

— John Fogerty (@John_Fogerty) July 28, 2021
In 2018, the legends hit the road on the "Blues & Bayous" tour.
Watch Fogerty and the Top's Billy Gibbons rehearse favorites from both bands.
Fellow bassist Flea of the Red Hot Chili Peppers wrote, "Ahhhh man, I love Dusty Hill. A true rocker. What a straight jammer."
Blue-eyed soul singer Paul Young paid tribute to the member of "the coolest band on the planet."
It's with heavy heart that I have to say goodbye to one member of That Lil' Ol Band From Texas: RIP Dusty Hill from ZZ Top. I have loved this band since I was 14 & they are without doubt the coolest band on the planet! My condolences to his family, Frank & Rev. Billy G pic.twitter.com/mSTLZ7Id1y

— Paul Young (@PaulYoungParlez) July 28, 2021
Brian May wrote, "No! It cannot be. I'm so sad. RIP Dusty Hill."
So Very Sad To Hear Dusty Has Passed…Beautiful Soul…🙏🙏🙏 pic.twitter.com/QkodF7jTKx

— David Coverdale (@davidcoverdale) July 28, 2021
Who knew?
Just devastated to hear of the death of Dusty Hill. We knew each other since high school, when my then-boyfriend was the drummer in 1 of Dusty's early bands w his brother, Rocky. Spent many an evening at those early gigs together. RIPDusty #RIPDustyHill pic.twitter.com/HMmwv95s3Y

— Morgan Fairchild (@morgfair) July 28, 2021
Paul Stanley wrote, "What an icon. @ZZTop's bassist forever. So unique. Always a gentleman from the days of us opening for them through the recent days of them opening for us. I don't know what to say but "Thank you" and "Rest however you damn well choose!"
So sad to hear about Dusty Hill. An all-time great bass player, and a rock and roll institution. Breaks my heart. @ZZTop

— Jason Isbell (@JasonIsbell) July 28, 2021
The Allman Brothers Band Family is saddened to learn of the recent passing of fellow musical traveler Dusty Hill, bassist extraordinaire of our friends ZZ Top. pic.twitter.com/ZZqq9xSQzW

— Allman Brothers Band (@allmanbrothers) July 28, 2021
Kenny Wayne Shepherd wrote, in part, "RIP Dusty Hill. The soundtrack of my life has been heavily influenced by your music. Thank you my brother."
Danggit! We lost another loving Giant legend of the Rock & Roll Empire, Mr. Dusty Hill.🙏😧 Prayer's going out to his Family & Friends…Thx u for blessing us all with ur gifts. R.I.P. pic.twitter.com/ks06yMtwjq

— Bootsy Collins (@Bootsy_Collins) July 29, 2021
Related: Musicians we've lost in 2021

Latest posts by Best Classic Bands Staff
(see all)