Doug Sahm's Groove Captured in 2015 Documentary
by John Swenson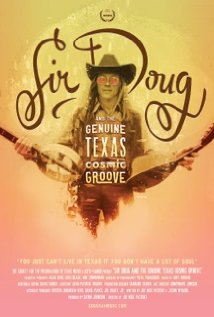 Doug Sahm died at age 58 in November of 1999. You could say he passed before his time, or maybe he was just so much of his time, the last half of the 20th Century, that he just didn't want any part of the New Millennium. For those of us who saw him as the spirit of Austin, which he dubbed "Groover's Paradise," Sahm's passing left a gaping hole in American culture.
The problem is that very few people outside of his fans know who Sahm is, much less his prodigious, varied and highly musical output (even though he appeared twice on the cover of Rolling Stone in the magazine's early years). That's why one of those fans, journalist and author Joe Nick Patoski, decided to make a film about him: Sir Doug and the Genuine Texas Cosmic Groove. "We had to make a film about Doug Sahm, because words can't adequately describe him," said Patoski during a panel discussion during the 2015 South By Southwest (SXSW) Music Conference about the making of the film. "You have to see him, you have to hear him, you have to bear witness…"
The movie starts with a montage of performances of the 1965 hit Sahm recorded with the Sir Douglas Quintet, "She's About a Mover," and could have taken a tragic trajectory as it cataloged the ups and down of Sahm's career and personal life. Instead, it's a knee-slapping comedy, animated by the whimsical aspects of Sahm's devil-may-care existence and sheer love of playing music for its own sake. Doug's sidekick, Augie Meyers, is the film's secret star, spinning droll one-liners throughout. And the section of Sahm's career as a hitmaker for Sweden's Sonet records drew howls of laughter from the appreciative crowd at the mere mention of tracks like "Meet Me In Stockholm" and "Ballad of the Wasa." And happily, his later years saw success with the Texas Tornados.
Patoski grabs the essential thread that explains Sahm's prime directive in his life and music – which over the years ranged from the polka pop of "She's About a Mover" to big-band blues, country, psychedelic jazz, Tex-Mex, numerous shades of rock and combinations and variations thereof and more – which was "the groove." If the music or vibe or situation was a groove for Sahm, he was personally and creatively happy and inspired. If it wasn't, he was on to the next thing.
Austin's Paramount Theater was packed for the premiere screening of the film on Thursday during SXSW Music, and was packed again Saturday night for a Sahm tribute concert that featured the Texas Tornados (now led by his near-exact genetic copy son Shawn), Freda & the Firedogs, Roy Head, The Iguanas, and numerous other legendary Texas musicians. They played material from every corner of Sahm's career and then finished the show with everyone on stage playing "She's About a Mover," bringing it all back home.

Latest posts by John Swenson
(see all)