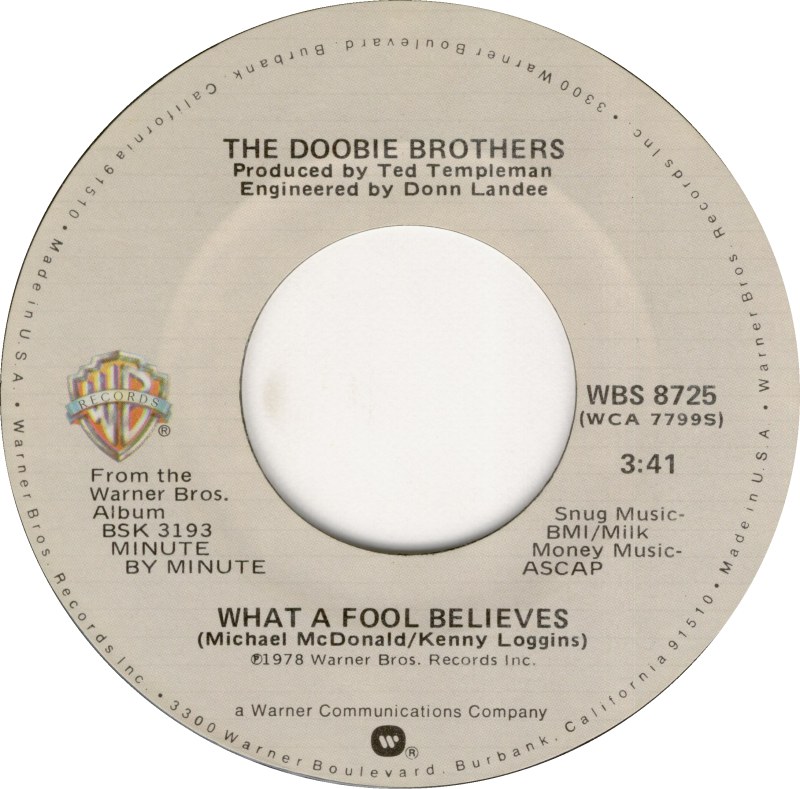 The Doobie Brothers were in a precarious spot by the end of the 1970s. Midway through the decade, co-founder Tom Johnston, who had shared most of the songwriting and lead vocal duties with fellow original member Patrick Simmons, had left the band, due to a medical situation. He'd contributed a bit to their 1976 album Takin' It to the Streets, but that LP's hit title track had been written and sung by Michael McDonald, a keyboardist the Doobies had added to the band the year before.
McDonald had come to them by way of Steely Dan—he'd been a member of that outfit's touring lineup but then Steely Dan had decided to give up live performances altogether. McDonald welcomed the new gig with the Doobies, and was blown away when, a few years later, he was asked how he felt about becoming their go-to lead singer. Although Livin' on the Fault Line, the band's 1977 album, had reached the top 10, there were no hit singles coming from it, and it was apparent to all involved that the band needed a reboot. It was felt that McDonald's soulful singing and compositional skills would be just the ticket.
As the Doobie Brothers started work on their next album in 1978, McDonald began thinking of new song ideas. He'd done a little work on one, but there wasn't much to it yet. In a new interview conducted during a break in the Doobies' 2021 reunion tour, McDonald picked up the story for Best Classic Bands:
"'What a Fool Believes' is a song that I wrote with Kenny Loggins. Oddly enough, that's a song that might've never have gotten written. I had the little piano riff and some lyrics in the first verse, and that was about it. I would play it periodically for [producer] Ted Templeman, and he went, 'Man, you've got to finish that song because I'm telling you, that's a hit!' I said, 'One of these days, something will pop up,' and he goes, 'I'm telling you. Finish that song and let's cut it with the band.' Most of my songs write themselves; I always try to let a song dictate its own future.
"I was getting ready to write with Kenny Loggins for the first time, and we made an appointment to get together at my house. He drove down from Santa Barbara and my sister heard he was coming over to the house to write, so she showed up and decided she wanted to clean up my house. I'm a pig—I had ashtrays full of cigarettes and empty Coke bottles on the piano, beer cans, dirty underwear. So she's picking up socks off the floor and I'm playing her little snippets of stuff on the piano I had set up a couple hours early just to go through lyrics I had written on scraps of paper in notebooks. I had little piano things in my head that I'd been working on.
Related: Our interview with Patrick Simmons and Tom Johnston
"While she's cleaning the ashtrays, I'm going, 'Hey, what do you think about me playing this for Kenny?' I played that little riff from 'What a Fool Believes,' and just a little bit of the lyrics, and she goes, 'No, I don't know about that one. That sounds like circus music or something. I don't know if Kenny would like that.' Right at that moment, the doorbell rings, and she's going into shock because Kenny Loggins is at the door. Kenny's got all this stuff, his guitar, and I said, 'Come on, man, let me help you out.' I grabbed one of his guitars. And he said, 'Before we say anything, you were just playing something on the piano when I rang the doorbell. Is that something new?'
"I said, 'As a matter of fact, I was just playing it for my sister to see if maybe she thought it was something that I might play for you, to get your opinion.'
"He said, 'Fantastic. I want to work on that first.' So 'What a Fool Believes' is the first song we wrote."
The song was recorded first by Loggins on his album Nightwatch in the summer of 1978, but it was not released as a single. The Doobie Brothers—at that stage consisting of McDonald, Simmons, guitarist Jeff "Skunk" Baxter, bassist Tiran Porter and drummers John Hartman and Keith Knudsen—then cut it for their Minute by Minute album, released in December 1978. The album reached #1 in Billboard and remained there for five weeks. "What a Fool Believes," picked as a single, debuted on that  chart in January, at #73, and by April it was the #1 single in the country.
Related: So you thought you knew the lyrics to the Doobies' "China Grove"?
It later received Grammy awards for Song of the Year and Record of the Year, and remains a perennial favorite on radio stations of several formats.
It is unknown whether Michael McDonald ever asked his sister's opinion again.
Listen to Loggins' own version of the tune.
Tickets for the Doobie Brothers' tour are available at Ticketmaster.com and here.
Watch the Doobie Brothers perform "What a Fool Believes" on the 1979 Grammy Awards program
Related: Listings for 100s of classic rock tours

Latest posts by Best Classic Bands Staff
(see all)