Oh, for the days back when rock music was still disreputable enough that very idea of cinematic grande dame Meryl Streep playing a singer/guitarist in a rock'n'roll band in a mainstream Hollywood movie would have been someone's idea of a hilariously bad joke. Well, it's now here, real and in theaters as Ricki and the Flash. So let's deal with it.
The tale: Ricki Randozzo (Streep) ditched her husband (the ever reliable Kevin Kline) and kids in the Midwest to chase rock stardom on the Left Coast. Now she's not quite over the hill and still rocking out with her band the Flash in a San Fernando Valley bar. A call comes from back home: Her estranged daughter tried to off herself after being dumped by her husband for another woman.
On paper, the team behind it reads well. Directed by Johnathan Demme, whose credits include such winners as Melvin and Howard, Something Wild, Married to the Mob, Silence of the Lambs and Philadelphia as well as Stop Making Sense and not one but two Neil Young docs. Written by Tinseltown's hip-chick-flick it girl of the moment Diablo Cody, writer of Juno and creator of Showtime's United States of Tara.
The best news: Demme's smart enough to finally be the one to have a real rock live band playing onscreen to bring the energy at the core of the music to the film. And what a band it is: drummer Joe Vitale, whose resume sports time with Joe Walsh, The Eagles, Crosby, Stills and Nash and sometimes Young in various configurations; sometimes Young bassist Rick Rosas; keyboard player Bernie Worrell of Parliament/Funkadelic and Talking Heads fame. And….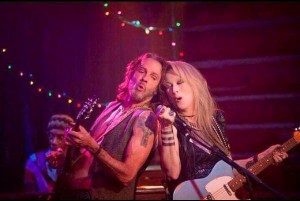 The audience award goes to: Rick Springfield, the onetime pop teen heartthrob ("Jessie's Girl"). After playing a contemptibly ego-ridden version of himself on the HBO series Entourage, he nails it down cold as Ricki's lead guitarist and younger boink bud who secretly adores her. A star is reborn, all grown up now with some serious guitar and acting chops.
Good and maybe not so good: Steep, who shines in the scenes with her onscreen daughter, played by Mamie Gummer, her real-life daughter. Go figure, right? But the lady's got too much class to totally convince as an aging rock chick, despite her dramatic talents. She learned her few chords well, but she hasn't the sass, seasoned stage moves or most of all the pipes to rock like the real deal. (Hello? Central Casting? Get me a real life rock gal who fled the Midwest. Like, say, Chrissie Hynde. Or her type.)
The score: Some good laughs leavened by fun yet believable bits of family drama, and the – no spoiler here – patented big Hollywood final heartwarming resolution that's thankfully largely free of stinky cheese and and gut-plaguing saccharine. A pleasant-enough diversion at the multiplex, and a few kinda medium cool hours after it hits the home market.
And the band (sans Streep) seriously rocks. If it helps stop the lip-syncing in Tinseltown rock flicks, Demme deserves some kinda special Academy Award.

Latest posts by Rob Patterson
(see all)