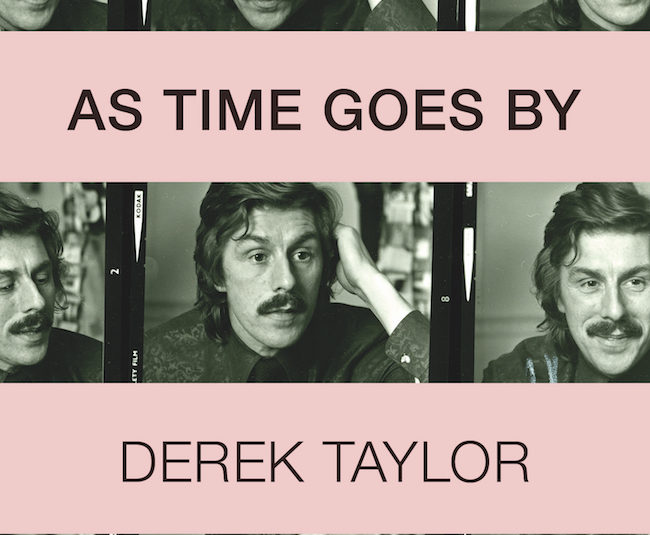 As Time Goes By, the memoir of The Beatles publicist, Derek Taylor, first published in 1973, has been reissued. Described in the announcement by publisher Faber Social as "one of the first sixties pop-cultural history books to be published," the new edition features an introduction by writer Jon Savage and new artwork. The title was released April 5 in the U.K. (order) and arrived May 5 in the U.S. (order).
Taylor was The Beatles' press officer in 1964 and Apple Records Ltd.'s press officer between 1968 and 1970. In between, he represented many California-based acts including the Beach Boys, the Byrds and the Mamas and the Papas. He continued to work with The Beatles in the 1980s and 1990s, particularly on the Anthology book and film project. He authored six books; As Time Goes By was the first.
From the announcement: "As Time Goes By is primarily about The Beatles and Apple but it also takes in Taylor's sojourn in radical mid-sixties Los Angeles. The 26 chapters include material about The Beatles' frenetic summer 1964 World Tour, The Byrds and the Sunset Strip in 1966 and 1967, and the changes that occurred in Apple between its utopian beginnings in 1967 and The Beatles' break-up in 1970."
The book's sub-title tells it all: "Living in the Sixties with John Lennon, Paul McCartney, George Harrison, Ringo Starr, Brian Epstein, Allen Klein, Mae West, Brian… Los Angeles, New York City, and on the Road."
"Taylor shares anecdotes and reminiscences so vivid and immediate that you find yourself plunged into the beating heart of 1960s counterculture," says the announcement.
Dubbed as one of many described as "the Fifth Beatle," he remained friends with the members of The Beatles through the years. Taylor, born May 7, 1932, died in 1997 while working on The Beatles Anthology book, which was ultimately published in 2000.
Related: Taylor collaborated on George Harrison's I Me Mine book
As The New York Times wrote in his obituary: "It was Mr. Taylor's task to explain everything from John Lennon and Yoko Ono's early peace campaigns and solo recordings to increasingly persistent rumors — many of them occasioned by the Beatles' own unguarded comments in interviews — that personal and business problems were driving the band members apart."

Latest posts by Best Classic Bands Staff
(see all)