The #1 Singles of 1971: Maggie May, Shaft and Jeremiah
by Greg Brodsky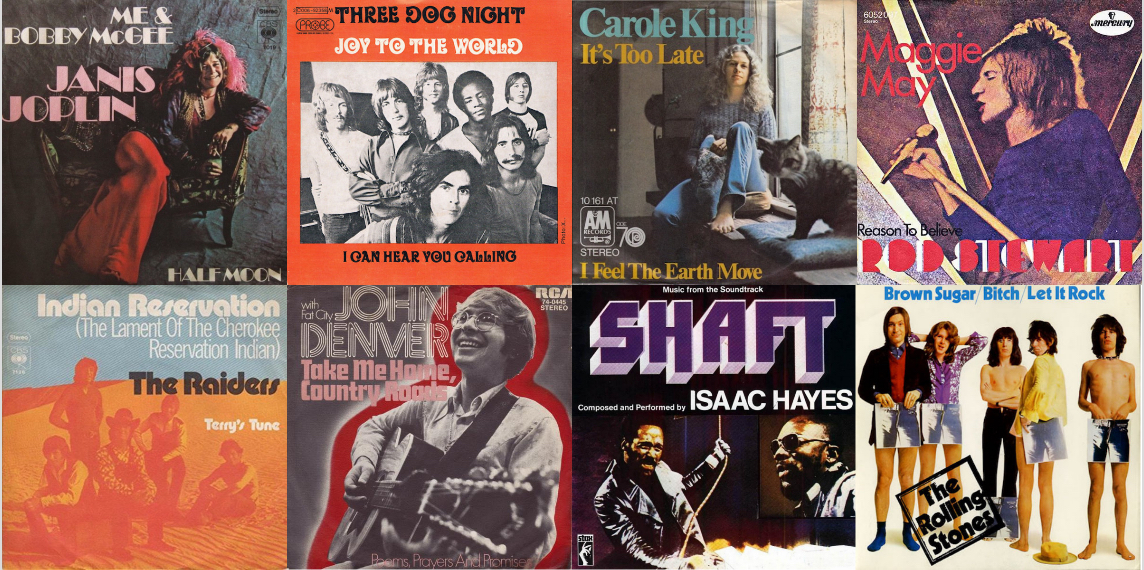 Fellow chart nerds unite! Best Classic Bands readers can't seem to get enough of our frequent takes at the classic rock era's "year's biggest" lists. So we've introduced (yet) another way of looking at them. The topic, as you know by the headline is singles and while we have done stories on the biggest hits of the year, this series slices things a bit differently. Here, we look at the year's #1 pop hits in the U.S.–in this case, 1971–according to Record World, a competitor of Billboard.
Earning a #1 single is an achievement that goes on an artist's permanent biography. And in the classic rock era, Top 40 radio programmers were still playing rock music alongside R&B, country, and other genres.
In '71, only 3 songs stayed at the top for four weeks or more. And thus, no less than 31 singles reached #1 that year, including a nifty feat by the members of the Beatles. While we're not going to write about all of them, they're all listed below. Our recap begins in reverse, and alphabetically by artist, starting with the 19 that grabbed the top spot for a single week. (Note: Many of the chart numbers will differ with those compiled by Billboard.)
1 Week
Lynn Anderson – "Rose Garden"
The singer was a regular on the country charts for well over two decades, but this recording of Joe South's composition was her only pop hit.
Joan Baez – "The Night They Drove Old Dixie Down"
The folk singer was never considered a singles artist but she scored mightily with her cover of The Band's own superb 1969 recording.
The Bee Gees – "Lonely Days" and "How Can You Mend a Broken Heart"
The singles reached the top six months apart and represented a bit of a comeback for the trio. Things would slow down once more for them until they reinvented themselves in the mid-'70s.
The Carpenters – "Superstar"
Brother Richard seized upon this song after seeing Bette Midler perform it on The Tonight Show. The duo had numerous signature songs and their version of this Bonnie Bramlett – Leon Russell composition certainly deserves to be on that short list.
Cher – "Gypsies, Tramps & Thieves"
Aretha Franklin – "Spanish Harlem"
Lady Soul's Atlantic era kept bearing fruit including this cover of the Jerry Leiber – Phil Spector composition, recorded initially by Ben E. King in 1960.
George Harrison – "My Sweet Lord"
This one deserves an asterisk because it ended 1970 with two weeks at #1 and then began the new year on top. It's included in our story, 11 Surprising '70s Radio Hits.
Tommy James – "Draggin' the Line"
Janis Joplin – "Me and Bobby McGee"
The queen's cover of Kris Kristofferson's song became the second posthumously released single to reach #1. What a vocal.
Tom Jones – "She's a Lady"
Jean Knight – "Mr. Big Stuff"
John Lennon – "Imagine"
Purists will argue that this classic wasn't a #1 hit because it topped out at #3 in Billboard. Purists be damned.
Paul & Linda McCartney – "Uncle Albert / Admiral Halsey"
The answer to a trivia question: What was McCartney's first of many post-Beatles #1 singles? It won for the unique Grammy category, Best Arrangement Accompanying Vocalists.
Melanie – "Brand New Key"
The unique song topped the final chart of 1971. When Melanie Safka proposed that the girl with her skates, a boy with a key required to attach said skates to her shoes "get together and try them out, to see," was it something more?
Related: We talked to Melanie about this song and many others
Partridge Family – "Doesn't Somebody Want to Be Wanted"
Ringo Starr – "It Don't Come Easy"
How cool is this? All four Beatles had #1 singles in '71. This toe-tappin' stone cold classic was written by Mr. Starkey and an uncredited George Harrison.
Rod Stewart – "Maggie May"
Rod the Mod's breakthrough solo hit from his outstanding Every Picture Tells a Story album was actually the B-side of his cover of "Reason to Believe." The LP and single were simultaneously #1 in Record World's Oct. 2 issue, which arrived several days earlier, thus making the lyric "it's late September…" prophetic.
Listen to the extended album version with the great intro
Temptations – "Just My Imagination (Running Away With Me)"
The ballad with the beautiful vocal became the group's third to top the pop chart.
2 Weeks
The Chi-Lites – "Have You Seen Her"
John Denver – "Take Me Home, Country Roads"
Many of us were introduced to the folk-rock singer with this song, which Denver wrote with two members of the Starland Vocal Band. It's a great performance and is deservedly one of his most beloved songs.
Isaac Hayes – "Theme From Shaft"
If you're looking for the coolest single on this list, look no further. They say this cat Shaft is a bad mother (Shut your mouth)
Honey Cone – "Want Ads"
Carole King – "It's Too Late"
From the singer-songwriter's Tapestry, still one of the best selling albums of all-time. She earned a boatload of Grammys for the effort, including Album of the Year, and Song of the Year for this track.
Related: The #1 Albums of 1971
The Osmonds – "Yo-Yo"
Sly and the Family Stone – "Family Affair"
3 Weeks
The Raiders – "Indian Reservation (The Lament of the Cherokee Reservation Indian)"
Mark Lindsay was looking for material for a new solo single and was turned onto this unique song written by John D. Loudermilk. Members of the Wrecking Crew were selected for the session. That's the great Hal Blaine on those amazing drums. At the time, "it was the biggest-selling 45 in the history of CBS Records," Lindsay told us, proudly.
Related: Our interview with Lindsay about this classic
The Rolling Stones – "Brown Sugar"
No one has more signature songs than the World's Greatest Rock and Roll Band and this 3-minute and 50-second number is certainly one of them. We love this performance from Britain's Top of the Pops.
Related: 1971 in rock music
4 Weeks
Dawn – "Knock Three Times"
Record executive Tony Cassavitas had to secretly record songs under the made up group name Dawn in order to avoid a professional conflict of interest. This November 1970 release quickly ran the table and stayed on top for pretty much the entire month of January. He soon wisely quit the day job and enjoyed a run of hits.
The Osmonds – "One Bad Apple"
The song was written with the Jackson 5 in mind but Berry Gordy apparently turned it down. Rick Hall produced it at his FAME studios in Muscle Shoals, Ala., and things turned out pretty well. Someone with a good sense of humor chose their recording of "He Ain't Heavy, He's My Brother" as the B-side.
5 Weeks
Three Dog Night – "Joy to the World"
The group were in the midst of their 1969 – 1974 chart run when they had no less than eighteen Top 20 singles. That's a lot of hits, including one that begins with the unlikely lyrics, Jeremiah was a bullfrog. Listen to Chuck Negron's gutsy vocal on a song the group has disparaged as a "kid's song."
Related: See how the songs ranked overall in 1971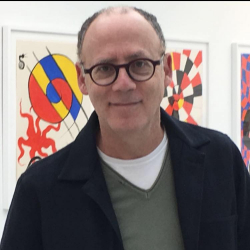 Latest posts by Greg Brodsky
(see all)