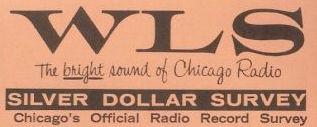 At the risk of boring a younger generation with "back in my day" stories, we submit for your consideration this survey for mid-September 1964 from Chicago Top 40 powerhouse WLS, which featured career-defining hits by many future classic rock stars.
Taking a big leap from #25 to #19 were the Four Seasons with "Save It For Me." The song would eventually peak at #10 nationally.
Bubbling under were Martha & The Vandellas with "Dancing in the Street," which took a huge jump from #28 to #14. The song, co-written by Marvin Gaye, would reach #2 in the U.S.
Moving up to #12 from #18 was Johnny Rivers' second hit of the year with a Chuck Berry cover. The first was "Memphis"; this time it was "Maybelline."
At #10 was the title track from the Beatles' hit movie, A Hard Day's Night, on its way to becoming their fifth chart-topper and at a time when Top 40 radio would also turn a 45's B-side – in this case in the U.S., "I Should Have Known Better" – into a hit, but that's a story for another day.
While fellow British Invasion band the Dave Clark Five only achieved one U.S. #1, they enjoyed a boatload of Top 10 hits including the ballad, "Because," at #7 this week, and which peaked nationally at #3. (Their "Over And Over" topped the chart in '65.) Most of the group's biggest hits were uptempo rock 'n' roll numbers, but we can only imagine the slow grinds that must've taken place at high school dances to "Because."
At #6, Chad & Jeremy's "A Summer Song" remains a guilty pleasure for many of us. No less than authority than Dick Clark called it "one of the prettiest songs ever written." When the duo sing the wistful lyric "They say that all good things must ennnnd somedaaayyyy… autumn leaves must fall," who among you doesn't sing along to the car radio?
One of the fun things about writing these historical charts posts is discovering something new while researching them. If you knew that Manfred Mann's "Do Wah Diddy Diddy" – at #5 this week – was penned by the hugely successful songwriting duo of Jeff Barry and Ellie Greenwich, raise your hand! For the rest of you: it became the group's only U.S. #1 hit (though they would return to the top some 12 years' later as Manfred Mann's Earth Band with "Blinded By The Light").
Related: Our deep dive into Manfred Mann
At #2 was yet another British Invasion band, the Animals, with their signature hit, "The House Of The Rising Sun." Eric Burdon's distinctive growl took this one all the way to the top.
Topping the chart this week was "Oh, Pretty Woman," the last big solo hit from Roy Orbison. Twenty-four years would go by before he reached the pop Top 20 again, this time as a member of the Traveling Wilburys. Mercy…
19. "Save It For Me" – The Four Seasons (Philips)
14. "Dancing in the Street" – Martha & The Vandellas (Gordy)
12. "Maybelline" – Johnny Rivers (Imperial)
10. "A Hard Day's Night" – The Beatles (Capitol)
9. "Car Hop" – The Exports (King)
8. "Where Did Our Love Go" – The Supremes (Motown)
7. "Because" – The Dave Clark Five (Epic)
6. "A Summer Song" – Chad & Jeremy (World Artists)
5. "Do Wah Diddy Diddy" – Manfred Mann (Ascot)
4. "Remember (Walking In The Sand)" – The Shangri-Las (Red Bird)
3. "Last Kiss" – J. Frank Wilson and the Cavaliers (Josie)
2. "The House Of The Rising Sun" – The Animals (MGM)
1. "Oh, Pretty Woman" – Roy Orbison (Monument)

Latest posts by Best Classic Bands Staff
(see all)