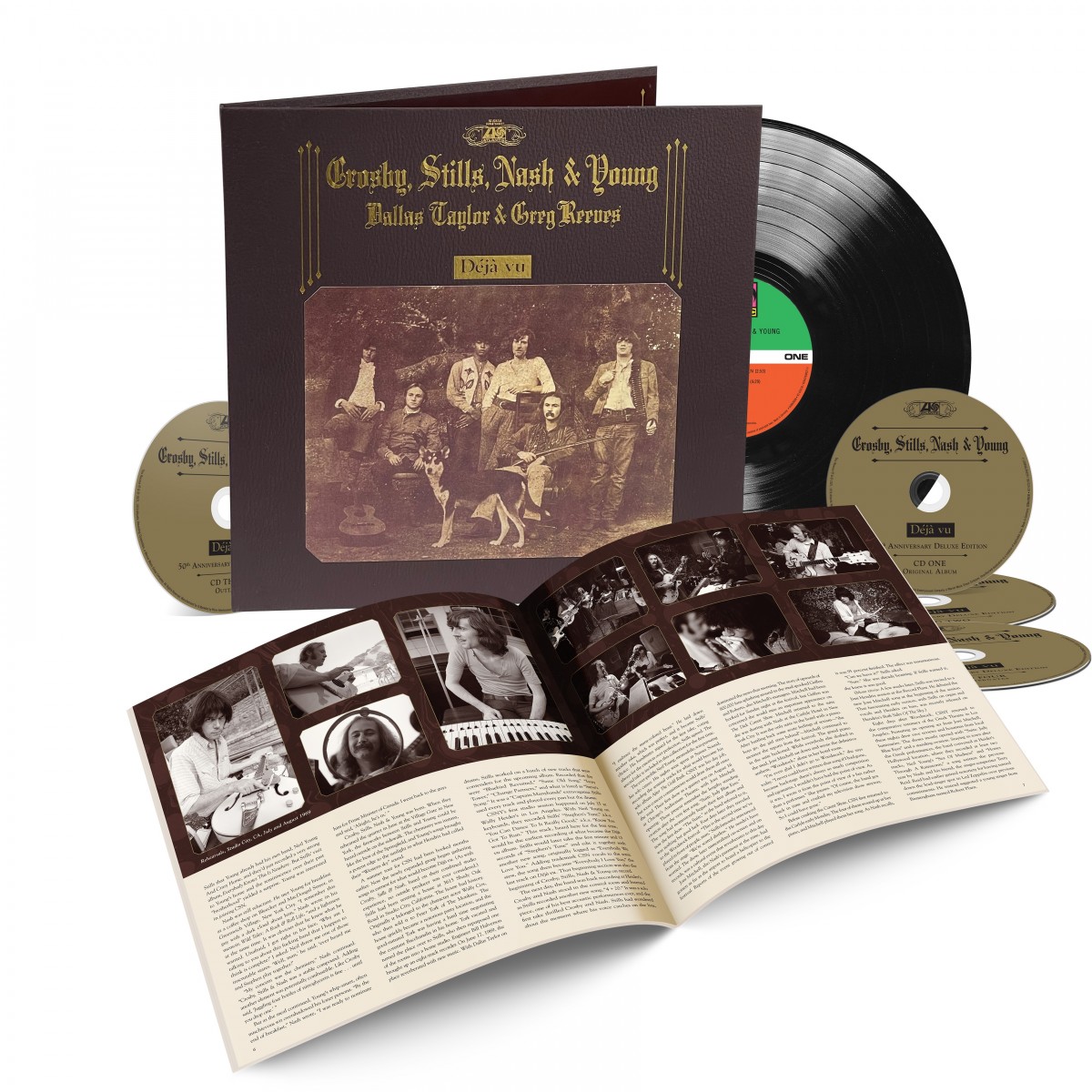 One year after its actual golden anniversary, Crosby, Stills, Nash & Young's Déjà Vu has received a 50th Anniversary deluxe edition with hours of rare and unreleased studio recordings. The March 17, 2021 announcement described the original as "the most-anticipated new album in America in 1970." The album includes such legendary songs as "Carry On," "Teach Your Children," "Our House" and "Woodstock."
Rhino released an expansive 4-CD/1-LP collection on May 14 that includes a "pristine" version of the original album on both 180-gram vinyl and CD, plus hours of rare and unreleased studio recordings "that provide incredible insight into the making of the record." Hear many of the tracks and see the complete track listing is below.
Listen to an early version of "Our House"
Scroll down to also listen to the outtake "Ivory Tower," the previously unreleased demo for "Birds," and the David Crosby and Graham Nash demo of the title track recorded during the sessions, and many others.
From the announcement: Déjà Vu: 50th Anniversary Deluxe Edition is presented in a 12 x 12 hardcover book. The collection comes illustrated with rarely seen photos from the era and annotated by writer/filmmaker Cameron Crowe, whose revealing liner notes recount the making of the album through stories told by the people who were there, including David Crosby, Stephen Stills, Graham Nash, and Neil Young. On the same day, a deluxe vinyl version was also available with the full content across 5 LPs of 180-gram vinyl.
Best Classic Bands asked Nash his disappointment during the making of Déjà Vu that there wasn't one true standout track yet.
"We were about halfway through the record," he says. "And I said to Stephen, 'Hey, we don't have a "Suite: Judy Blue Eyes."' And he says, 'Are you crazy? We used that already on the CSN record.' I said, 'No, no, we don't have the song that no one is going to get up off the couch and take the needle off the record.' When you heard 'Suite: Judy Blue Eyes,' nobody in the world is going to take the needle off the record. I said, 'We don't have that song.' And Stephen said, 'Yeah, you're right. I understand.' The next day he comes to my room, and he goes, 'Hey, listen to this.' It was 'Carry On.'"
Listen to an early alternate mix of "Carry On"
Listen to their performance of "Woodstock" with alternate vocals
Crowe recalls in the liner notes that "Déjà Vu caught the zeitgeist perfectly" and "might just be the legendary band's most accurate portrait of their fiery individualism." Two months after its release, the original reached #1 on May 16, 1970.
Of this new Deluxe Edition, Crowe says: "50 years later, with the sonic aperture fully opened, it's a wide-screen look at the big picture of Déjà Vu, with more music, including a batch of surprises, unseen photos, and a lot more clarity."
In 2020, Nash, CSNY's de facto archivist, said, "it will have a lot of stuff that people have never heard before. We found that the master tapes… are still fresh."
We asked him why they didn't take all of those outtakes (which are now on the boxed set) and just make another album out of them.
"Neil Young. Neil does what he wants to do. It feels right or it doesn't feel right. And that's great. It fucks people's lives up a little, but you've got to admire that. He is so enamored with the music. If it feels right, he is there a hundred percent, sometimes 110 percent."
"Ivory Tower" was one of Stills' contributions to the Déjà Vu sessions that was ultimately left off of the final album. The song morphed and changed over the years, and was eventually released on a later Stills' solo project as "Little Miss Bright Eyes."
Listen to the outtake "Ivory Tower"
On the new edition, the March 11, 1970 album's original 10 tracks are joined by 38 more to add nearly two-and-a-half hours of music that includes demos, outtakes, and alternate takes – most of which are previously unreleased. Among them is "Know You Got to Run," the first song the quartet recorded during its first session on July 15 at the house Stills was renting from Peter Tork in Studio City.
Listen to "Know You Got to Run" which later evolved to "Everybody I Love You"
Other unreleased highlights include the demo for Crosby's "Almost Cut My Hair"; Stills' outtake for "Bluebird Revisited"; and Young's alternate version of "Helpless" featuring harmonica.
Also making its debut on the set is a delightful version of "Our House" that features Nash singing with the song's inspiration, Joni Mitchell. Listen to it below.
Listen to the previously unreleased demo version of "Birds" from the collection
The complete track listing appears below the links.
Related: Our Album Rewind of CSNY's Déjà Vu
Déjà Vu: 50th Anniversary Deluxe Edition
4-CD/1-LP Track Listing
Disc One: Original Album
1. "Carry On"
2. "Teach Your Children"
3. "Almost Cut My Hair"
4. "Helpless"
5. "Woodstock"
6. "Déjà Vu"
7. "Our House"
8. "4 + 20"
9. "Country Girl"
a. "Whiskey Boot Hill"
b. "Down, Down, Down"
c. "Country Girl" (I Think You're Pretty)
10. "Everybody I Love You"
Related: When Tom Jones sang with Crosby, Stills, Nash & Young
Disc Two: Demos
1. "Our House" – Graham Nash *
2. "4 + 20" – Stephen Stills *
3. "Song With No Words (Tree With No Leaves)" – David Crosby & Graham Nash
4. "Birds" – Neil Young & Graham Nash *
5. "So Begins The Task/Hold On Tight" – Stephen Stills *
6. "Right Between the Eyes" – Graham Nash
7. "Almost Cut My Hair" – David Crosby *
8. "Teach Your Children" – Graham Nash & David Crosby
9. "How Have You Been" – Crosby, Stills & Nash
10. "Triad" – David Crosby
11. "Horses Through a Rainstorm" – Graham Nash
12. "Know You Got To Run" – Stephen Stills *
13. "Question Why" – Graham Nash *
14. "Laughing" – David Crosby *
15. "She Can't Handle It" – Stephen Stills *
16. "Sleep Song" – Graham Nash
17. "Déjà Vu" – David Crosby & Graham Nash *
18. "Our House" – Graham Nash & Joni Mitchell *
Listen to Crosby and Nash's demo of the album's title track
And Nash's playful demo of "Our House" with Mitchell
Disc Three: Outtakes
1. "Everyday We Live" *
2. "The Lee Shore" – 1969 Vocal *
3. "I'll Be There" *
4. "Bluebird Revisited" *
5. "Horses Through A Rainstorm"
6. "30 Dollar Fine" *
7. "Ivory Tower" *
8. "Same Old Song" *
9. "Hold On Tight/Change Partners" *
10. "Laughing" *
11. "Right On Rock 'n' Roll" *
Listen to several of those outtakes
Disc Four: Alternates
1. "Carry On" – Early Alternate Mix *
2. "Teach Your Children" – Early Version *
3. "Almost Cut My Hair" – Early Version *
4. "Helpless" – Harmonica Version
5. "Woodstock" – Alternate Vocals *
6. "Déjà Vu" – Early Alternate Mix *
7. "Our House" – Early Version *
8. "4 + 20" – Alternate Take 2 *
9. "Know You Got To Run" *
Listen to an early version of Crosby's "Almost Cut My Hair"
LP: Original Album
Side One
1. "Carry On"
2. "Teach Your Children"
3. "Almost Cut My Hair"
4. "Helpless"
5. "Woodstock"
Side Two
1. "Déjà Vu"
2. "Our House"
3. "4 + 20"
4. "Country Girl"
a. "Whiskey Boot Hill"
b. "Down, Down, Down"
c. "Country Girl" (I Think You're Pretty)
5. "Everybody I Love You"
* previously unissued

Latest posts by Best Classic Bands Staff
(see all)