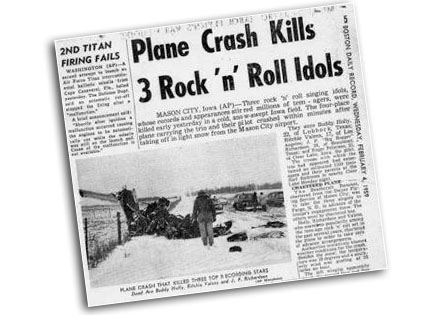 It remains a significant date among rock music fans: the first accidental premature deaths of its stars in the still new style when a single-engine V-tailed Beechcraft 35 Bonanza plane crashed not long after take-off and took the lives of Buddy Holly, Ritchie Valens and J.P. "The Big Bopper" Richardson. Once Don McLean declared it "the day the music died" in his 1971 hit song "American Pie," Feb. 3 has been known by that name to rock fans far and wide.
Holly hired the plane in Clear Lake, IA to get to the next stop, Moorhead, MN, and hopefully catch some needed sleep, maybe do his laundry. The "Winter Dance Party" tour of the midwest was certainly not as billed for the performers. It was 24 shows in as many nights and long rides, sometimes overnight, in a cold, uncomfortable and primitive bus.
He originally figured his band members would take the two other seats in the four-person plane. Holly's bassist was a friend and talented young artist in his own right from Lubbock, TX: Waylon Jennings. He let Richardson, who was suffering from the flu, have his place. It was a decision that haunted Jennings for the rest of his life.
Holly's guitarist Tommy Allsup tossed a coin with Ritchie Valens for the other seat. Valens won the toss, so to speak.
The plane went down soon after taking off at about half-past midnight, crashing into a cornfield some seven miles from the runway. All three performers were thrown from the wreckage; pilot Roger Peterson died inside it. The cause was said to be spatial disorientation, and that Peterson wasn't qualified to fly under the night's conditions. Valens was just 17 years old; the "Big Bopper"… 28. Holly was 22.
Related: 1st-hand recollections of seeing them perform
Watch Buddy Holly and the Crickets performing "That'll Be the Day" on The Ed Sullivan Show, December 1, 1957
Related: Don McLean's "American Pie," the true story about the lyrics

Latest posts by Best Classic Bands Staff
(see all)