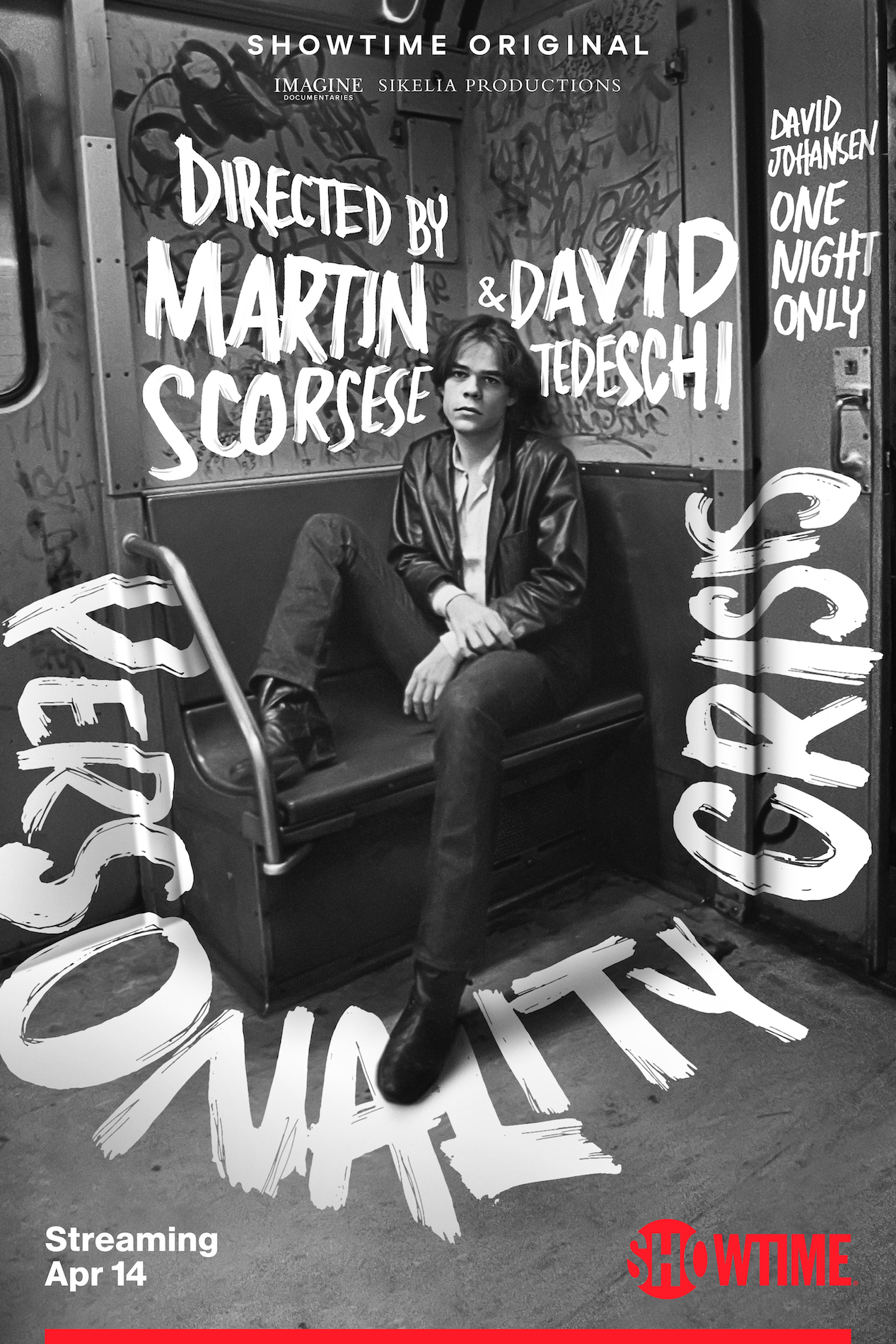 The documentary about New York City music legend, David Johansen, directed by Martin Scorsese and David Tedeschi, is getting its television and streaming premiere. Framed around an intimate cabaret performance filmed in 2020 at New York City's storied Café Carlyle, Personality Crisis: One Night, explores Johansen's enormous influence as he regales the audience with stories and music illuminating the art and cultural evolution of New York City. It debuts on Showtime on April 14, 2023, at 8 p.m. ET/PT, and for streaming and on demand to SHOWTIME subscribers that same day. Watch the official trailer and extended clip below.
"Vegetarian, gay, straight; I just wanted to bring those walls down and have a party," said Johansen, the influential '70s glam punk lead singer of the New York Dolls, whose debut album arrived 50 years ago, in the March 16 announcement. "I was a one-hit-wonder… twice," he says.
"I've known David Johansen for decades, and his music has been a touchstone ever since I listened to the Dolls when I was making Mean Streets," said Scorsese, whose music films include The Last Waltz, No Direction Home: Bob Dylan, and George Harrison: Living in the Material World. "Then and now, David's music captures the energy and excitement of New York City. I often see him perform, and over the years I've gotten to know the depth of his musical inspirations. After seeing his show at the Café Carlyle, I knew I had to film it because it was so extraordinary to see the evolution of his life and his musical talent in such an intimate setting."
Executive producers include Academy Award® winning filmmakers Brian Grazer and Ron Howard.
From the announcement: Scorsese and Tedeschi, working with frequent collaborators, cinematographer Ellen Kuras (American Utopia) and producer Margaret Bodde, capture the entertainer's luminous Cafe Carlyle set, where he performs as his alter ego Buster Poindexter singing the songs of Johansen, bringing downtown irreverence to this storied uptown joint. Presented alongside new and archival interviews, including several filmed by his daughter Leah Hennessey, the concert is marvelously intimate and a testament to both a lost New York and a gifted performer/raconteur who remains as provocative as ever.
Growing up on Staten Island, Johansen landed in the East Village in the late 1960s; a 16-year-old dropped into the epicenter of the counter-cultural revolution in music, theatre, film, fashion, art, writing, and social transformation – a seismic moment that still reverberates today. Johansen's musical career started in the 1970s when he launched the New York Dolls with bandmates Johnny Thunders and Sylvain Sylvain on guitar, Arthur Kane on bass, and Billy Murcia on drums (replaced by Jerry Nolan after Murcia's early death). The documentary takes its title from one of the tracks from the band's debut album.
Related: Our story on the New York Dolls' 1973 debut album
The band became a blueprint for the punk movement to come, and went on to influence The Ramones, KISS, The Damned, The Smiths, and many others. In the 1980s, Johansen helped to usher in the swing revival as Buster Poindexter and dug deep into the blues with the Harry Smiths in the 1990s. Johansen has had memorable appearances in such films as Scrooged, Let It Ride, and Freejack. He currently hosts the weekly show David Johansen's Mansion of Fun on SiriusXM.
Personality Crisis: One Night made its world premiere at the 2022 New York Film Festival and earned a 100% positive rating on Rotten Tomatoes.

Latest posts by Best Classic Bands Staff
(see all)