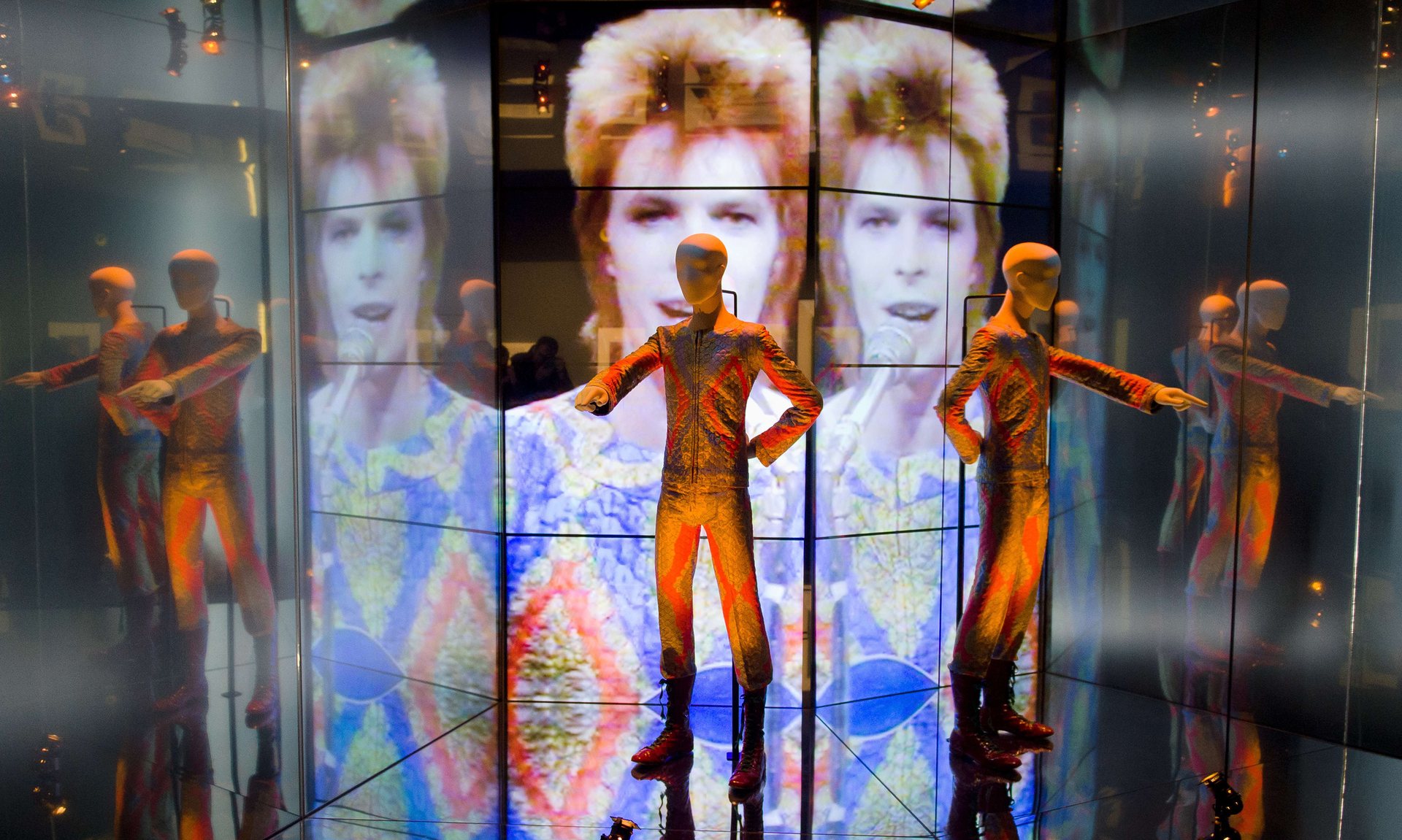 A traveling David Bowie exhibition curated by London's Victoria and Albert Museum (V&A) that closed yesterday (4/10) in the Netherlands will reopen in Japan next year. Titled "David Bowie is," it offers the first international exploration of the musical legend's career, featuring over 300 items from his archives related to the realms of fashion, sound, graphics, theatre, art, film and more. The objects include album covers, videos, drawings, handwritten song lyrics, musical instruments, stage set pieces, costumes and more.
It opens in Tokyo at Warehouse Terrada on January 8th, 2017 – what would have been Bowie's 70th birthday – and runs through April 9th, 2017. Bowie died after a courageous 18-month battle with cancer early this year, just two days after releasing his new album Blackstar.
Read Best Classic Bands' review of Bowie's Blackstar album.
Bowie granted the museum full access to his archives but otherwise stayed hands-off as curators developed the exhibit. "He was very generous and, in a curious way, quite self-effacing," V&A curator Geoffey Marsh told England's Guardian. "I think he was genuinely interested in what someone else might make of it all."
The V&A exhibit kicked off in London in 2013 and has traveled to cities all over the world, including Toronto, Sao Paolo, Berlin, Chicago, Paris and Melbourne. Nearly 1.5 million people saw it before Bowie's death. It sold 15,000 tickets to the Groninger Museum in the Netherlands the day after he died.
Although no further bookings for the exhibit have been set, the V&A expects continuing demand for the show. "Every new generation finds him of interest and I think that will continue," Marsh says. "There are very few performers who engender that kind of love. There are lots of bands that people really like and admire, but the intimacy people feel with Bowie is something very, very rare."
Japan will have the special distinction of being the only Asian country to host the exhibition. "From an early stage and continuing throughout his career, Japan and Japanese culture were fascinating to Bowie and had a great influence on him," says exhibition co-curator Victoria Broackes.
(If you're a new reader of ours, we'd be grateful if you would Like our Facebook page and/or bookmark our Home page.)

Latest posts by Best Classic Bands Staff
(see all)