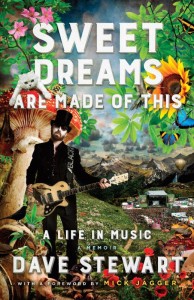 Former Eurythmic Dave Stewart "shares never-before-told stories of his life in music" (says the advance PR) in a book titled – what else? – Sweet Dreams (Are Made of This): A Life in Music. It will debut in hardcover on February 9th of next year from New American Library/Penguin Random House.
In addition to its highly touted forward by Mick Jagger, the memoir will spill details on his five-year relationship with Eurythmics singer Annie Lennox and tell tales from the music biz trenches of his associations as a musician/songwriter/producer with classic rock legends Bono, Jagger, Bob Dylan, Tom Petty, Stevie Nicks and Daryl Hall as well as Katy Perry and Joss Stone.
Stewart and Lennox started working together as The Tourists in the late 1970s while still a couple, and in 1980, after breaking up, formed Eurythmics, whose U.S. Top 10 hits include "Sweet Dreams (Are Made of This)" (#1 in 1983), "Here Comes the Rain Again" (#4) and "Would I Lie to You," (#6), and who enjoyed even more chart songs internationally. In addition to his other producing and songwriting achievements, he introduced innovative thinking and game-changing fundraising methods to Nelson Mandela, has founded ventures like First Artist Bank, an artist-centered bank serving the global creative community, and The Hospital Club, a sanctuary for artists and technologists to collaborate, He created and is co-executive producer of NBC TV's Songland, an upcoming competition show for songwriters, and is also an investor and Creative Director for the creative social network Talent House.
"It has been a mind-blowing experience looking back on all of these adventures and wondering how I managed to survive a lot of them," says Stewart. "Just writing about the wild things that happened to me back in the '70s, '80s and '90s was exhausting. Mind you not much has changed! I must have taken a busy pill somewhere along the ride."

Latest posts by Best Classic Bands Staff
(see all)