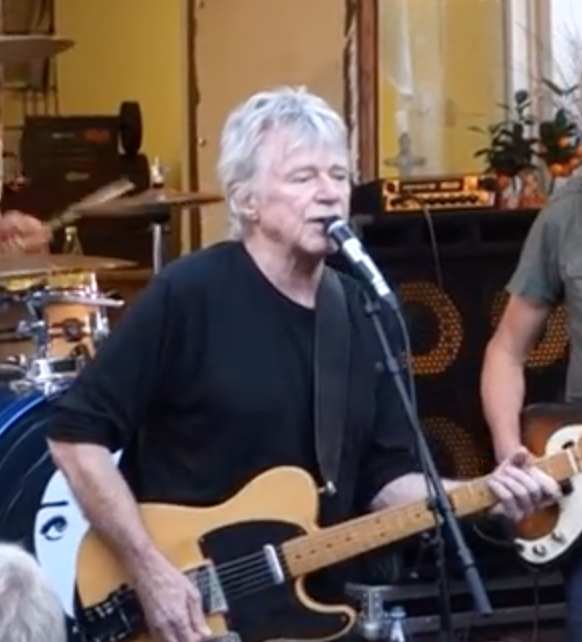 His hair was more gray than the last time we saw him but there's no mistaking that face. One of the unsung greats – Dave Edmunds – made an increasingly rare concert appearance when he appeared in Enköping, Sweden on August 23, 2016. The Welsh singer and guitarist, born April 15, 1944, also performed at the Great British R&B Festival three days later, an appearance that was modestly touted on his Facebook page, which is his only social media touchpoint as he doesn't have a website.
A quick glance at his concert history on his Setlist.fm page shows four performances in 2017 (including what is believed to be his final concert appearance), four in 2015, three in 2014, five in 2013 and no others since 2009. The vast majority of those appearances were in Sweden where he has a band that he works with.
Edmunds' music is often based on 1950s rockabilly style. He famously teamed with Nick Lowe to form Rockpile in 1976 with Billy Bremner and Terry Williams. Though they only have one official album – 1980's Seconds of Pleasure – in fact, the four released many recordings together. Edmunds was signed to the U.S. on Led Zeppelin's Swan Song label via Atlantic in the U.S. Lowe was signed to Columbia.
We're sharing a few of his songs from the August 23, 2016, date which was in front of a packed crowd of roughly 150-200 lucky souls in the backyard of the Toras bodar art gallery. Fortunately, an attendee named Kenneth Löfgren was there to tape the action.
Given his early rock 'n' roll roots, it's not surprising that Edmunds performed many classics. Here's Chuck Berry's "Sweet Little Rock 'n' Roller"…
Related: Edmunds shares two Chuck Berry stories
Who's ready? Dave's ready!
And here are two that Edmunds enjoyed hits with: his cover of "I Hear You Knocking," which was his first – and biggest – hit in 1970 (#1 in the U.K. and #4 in the U.S.) and "I Knew the Bride," written by Nick Lowe.
Want one more? Here's "Sabre Dance," a song covered by countless artists and which showcases Edmunds' great guitar work…
Edmunds' 1978 album Tracks on Wax 4 – which featured such songs as "Trouble Boys" and "Deborah" – and Lowe's 1979 Labour of Lust with the pop hit "Cruel To Be Kind," were essentially Rockpile albums though credited to the two as solo artists.
He later earned modest Top 40 success with "Slipping Away," the John Fogerty composition "Almost Saturday Night" and Elvis Costello's "Girls Talk."
Say it ain't so, Dave! Please do more concerts!

Latest posts by Best Classic Bands Staff
(see all)