Dave Edmunds' 'Repeat When Necessary': Where the New Wave Met the Old
by Sam Sutherland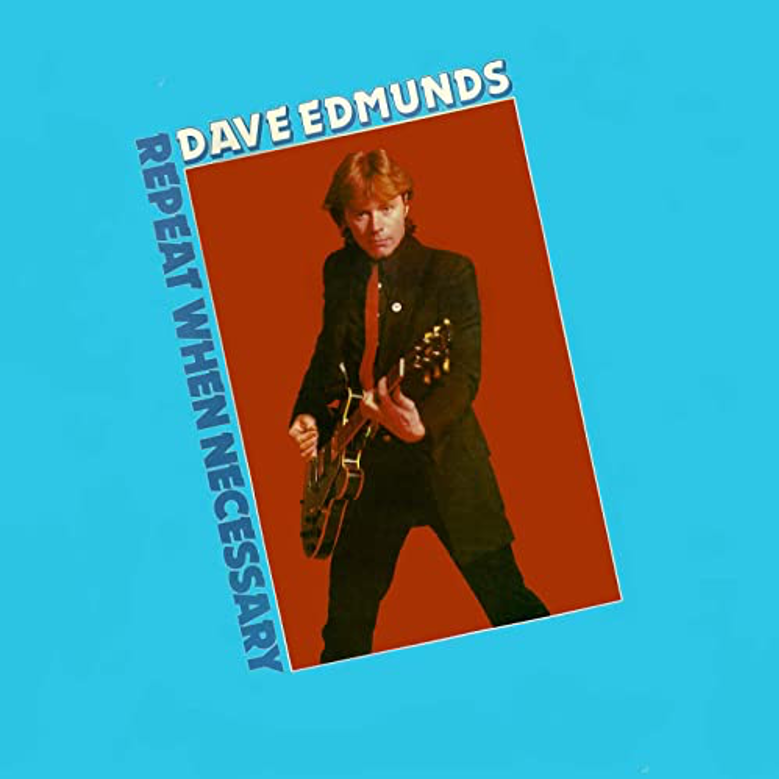 Dave Edmunds' fifth solo album, Repeat When Necessary, captures the Welsh rocker at the pinnacle of his influence as an architect of late '70s new wave. A journeyman multi-instrumentalist and guitar hero, Edmunds had spent much of the decade juggling his own recording career with production for bands aligned with the U.K.'s pub-rock rebellion against prog-rock and glam bombast, an association that paid dividends for Edmunds, reshaping his repertoire and leading to his collaboration with Rockpile, the crack quartet he co-led with Nick Lowe.
A first-generation rock 'n' roll acolyte steeped in Chicago blues, New Orleans R&B, rockabilly and the music of Ray Charles and Chuck Berry, Edmunds had played his first gigs in 1954 at the age of 10. He continued ploughing those furrows in a chain of short-lived bands that stretched to the late '60s while immersing himself in emerging multi-track recording, enabling him to begin building studio tracks singlehandedly. Never a prolific songwriter, he buttressed his slim output of original material with old-school covers and esoteric rarities, exemplified by his first significant hit, "Sabre Dance," a hyperbolic 1968 instrumental adapted from Khachaturian's classical warhorse that became a top five British single but failed to ignite album sales for his blues rock trio, Love Sculpture. In the wake of that band's demise, he followed with 1970's "I Hear You Knocking," a swampy one-man-band recreation of Smiley Lewis' 1955 R&B classic, which hit #1 in the U.K. and scored top five hits in the U.S., Canada and Australia, again failing to translate to LP success.
If his solo career met with fitful traction, his focus on record production proved more fruitful, working from his home base at Rockfield Studios in eastern Wales. His combination of technical expertise and first-generation rock bona fides intersected neatly with the back-to-basics instincts of pub-rockers Ducks Deluxe and Brinsley Schwarz, as well as American power pop pioneers the Flamin' Groovies, and the meat-and-potatoes blues rock of Foghat.
Of those charges, Brinsley Schwarz proved pivotal to Edmunds' career. His production on the quintet's final studio album couldn't keep them together, despite the inclusion of bassist and vocalist Nick Lowe's future evergreen, "(What's So Funny 'Bout) Peace, Love and Understanding," but his subsequent collaboration with Lowe would endure until 1981. With guitarist and band namesake Brinsley Schwarz and keyboard player Bob Andrews departing to join Graham Parker and the Rumour at mid-decade, Lowe began working on his own solo career while playing bass with Edmunds in a new band named for the guitarist's first solo album, Rockpile, featuring second guitarist Billy Bremner and drummer Terry Williams.
By 1976, Edmunds was embarking on a new label deal with Led Zeppelin's Swan Song imprint while Lowe had joined the cheeky brain trust behind Stiff Records, cutting his own solo tracks and producing Elvis Costello and the Damned for that label. Rockpile became the quartet of choice for both artists, each producing their own tracks, with Edmunds relaxing his earlier dependency on classic rock material to cover songs written by Lowe, Bremner, Bob Seger and other contemporaries.
Repeat When Necessary marked the fourth Dave Edmunds album propelled by Rockpile, cut simultaneously with Lowe's second album, Labour of Lust. (Edmunds' arrived on July 7, 1979, one month after Lowe's.) The two albums reflect the two leaders' differing production styles but attest equally to Rockpile's seasoned punch. No better testament can be offered than "Girls Talk," the Elvis Costello song that opens the Edmunds LP.
A galloping rocker, "Girls Talk" opens with massed acoustic rhythm guitars and Terry Williams' hurtling drums before Edmunds enters on vocals, punctuated with twanging electric guitar filigree. Arriving six months after Costello's majestic Armed Forces album, the Edmunds recording would be followed in 1980 by Costello's own version and a Linda Ronstadt cover modeled after the Edmunds track.
Graham Parker's "Crawling from the Wreckage" follows with no loss of headlong energy, merely shifting gears from gallop to sprint in a fast shuffle that evokes Edmunds' ongoing worship of Chuck Berry while savoring Parker's fast and furious wordplay in recounting a car wreck fable that could dovetail with Berry's own four-wheeled adventures in "Maybellene" and "You Can't Catch Me."
Edmunds' choice of contemporary material echoing earlier models is no coincidence. His fondness for rockabilly and country drives "Queen of Hearts," a countryfied earworm written by Hank DeVito, a pedal steel guitarist best known for his work with Emmylou Harris, Rodney Crowell and Rosanne Cash. Another brisk shuffle, the song is spurred by a lattice of electric guitar riffs and acoustic rhythm guitars. Released as a single, "Queen of Hearts" peaked at #11 in the U.K. without making serious inroads elsewhere, but two years later American country-pop singer Juice Newton's virtually note-for-note cover earned gold status after reaching #2 on the U.S. Hot 100.
Watch Edmunds perform "Queen of Hearts" on Top of the Pops
Those tracks all share Edmunds' preference for uptempo rockers, largely sidestepping ballads. It's hard to fault him given the musicianship on offer, which favors ensemble cohesion over solo grandstanding. Lowe and Williams form a formidable rhythm section, while Bremner is a strong foil on guitar who, like Lowe, would provide solid songs over the course of Edmunds' five albums with Rockpile, often under his pseudonym, Billy Murray. Credit Bremner with providing a rare comic departure for Edmunds in "Creature from the Black Lagoon," which riffs on the '50s horror classic's amphibian take on Beauty and the Beast.
Elsewhere, the album features guest slots for virtuoso country and rock guitarist Albert Lee on another DeVito song, "Sweet Little Lisa," while Huey Lewis adds harmonica to "Bad is Bad," written with his bandmates in Clover, the Bay Area band that predated his subsequent outfit, the News.
The partnership between Dave Edmunds and Nick Lowe in Rockpile would last through a lone Rockpile album, 1980's Seconds of Pleasure, but Edmunds' perfectionism increasingly clashed with the looser, livelier approach that earned Lowe's producer nickname of Basher. Lowe's own '79 release, Labour of Lust, sacrifices some of the industrial polish of Edmunds' work but adds more imaginative accents and considerably more humor and attitude. Rockpile effectively disbanded after Edmunds' final Swan Song album, 1981's Twangin', and he began collaborating with other producers including ELO's Jeff Lynne, before dialing back his career in the late '80s, with occasional live performances and recordings thereafter. A final album of instrumentals was released in 2015 before his official retirement in 2017.
Listen to Rockpile perform "Cruel to Be Kind." The video includes exterior footage shot by the pool at the Tropicana Motel in Los Angeles with the Textones' borrowed drum kit.
Related: Dave Edmunds shares his stories of Chuck Berry

Latest posts by Sam Sutherland
(see all)