The Dave Clark Five have released All The Hits – The 7" Collection – a new 7" vinyl box set featuring some of the band's top selling records. The remastered collection arrived Oct. 28, 2022 via BMG.
From the Sept. 22 announcement: All The Hits – The 7" Collection is the definitive selection of their biggest selling singles including "Glad All Over," "Bits & Pieces" and "Do You Love Me." This set features ten double-sided vinyl singles in picture sleeves. It was remastered by Dave Clark at Abbey Road Studios in London, and stands as a testament to the enduring popularity of the group.
Clark says of the reissue, "Everyone knows that the 1960s music explosion really happened on the seven-inch vinyl disc spinning at 45rpm. So, for me it felt right to go back into Abbey Road Studios and remaster the DC5's biggest hits from music's most thrilling decade onto the original vinyl discs – 20 individual hits on 10 double A-side singles in original picture sleeves. It all brings back the fun and excitement we had back then recording these tracks, and I hope you enjoy them too."
Formed in the early 1960s, five working class lads from Tottenham, North London came together to become The Dave Clark Five. The 5-piece consisted of Clark (drums), Mike Smith (vocals, keyboard), Lenny Davidson (guitar), Denis Payton (saxophone), and Rick Huxley (bass).
The Dave Clark Five have sold in excess of 100 million records during their career. Recognized as the band that spearheaded the British invasion of the U.S., they became the first U.K. band to tour there and scored 15 consecutive Top Twenty hits within a two-year period. They also appeared on America's iconic The Ed Sullivan Show a staggering 18 times more than other U.K. act. Their legacy and contribution to music was further cemented when they were inducted into the Rock and Roll Hall of Fame in 2008 by Academy Award Winning actor, Tom Hanks.
All the Hits – The 7" Collection Tracklisting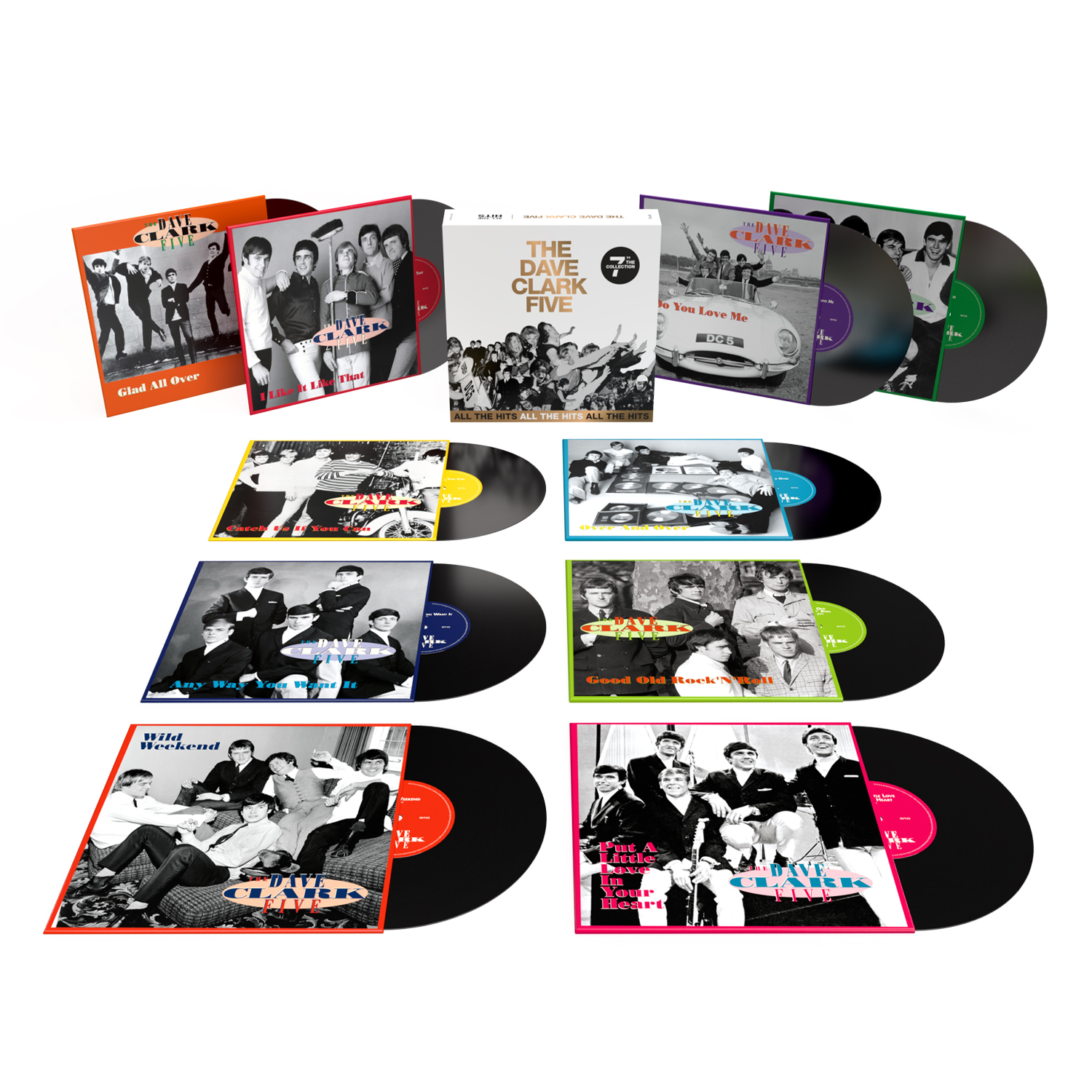 Disc 1
A – Glad All Over / B – Bits And Pieces
Disc 2
A – I Like It Like That / B – Reelin' And Rockin'
Disc 3
A – Do You Love Me / B – Can't You See That She's Mine
Disc 4
A – Because / B – Everybody Knows (I Still Love You)
Disc 5
A – Catch Us If You Can / B – Try Too Hard
Disc 6
A – Over And Over / B – You Got What It Takes
Disc 7
A – Any Way You Want It / B – Come Home
Disc 8
A – Good Old Rock 'N' Roll / B – Nineteen Days
Disc 9
A – Wild Weekend / B – At The Scene
Disc 10
A – Put A Little Love In Your Heart / B – Everybody Get Together
Related: Our interview with Dave Clark on all the hits

Latest posts by Best Classic Bands Staff
(see all)