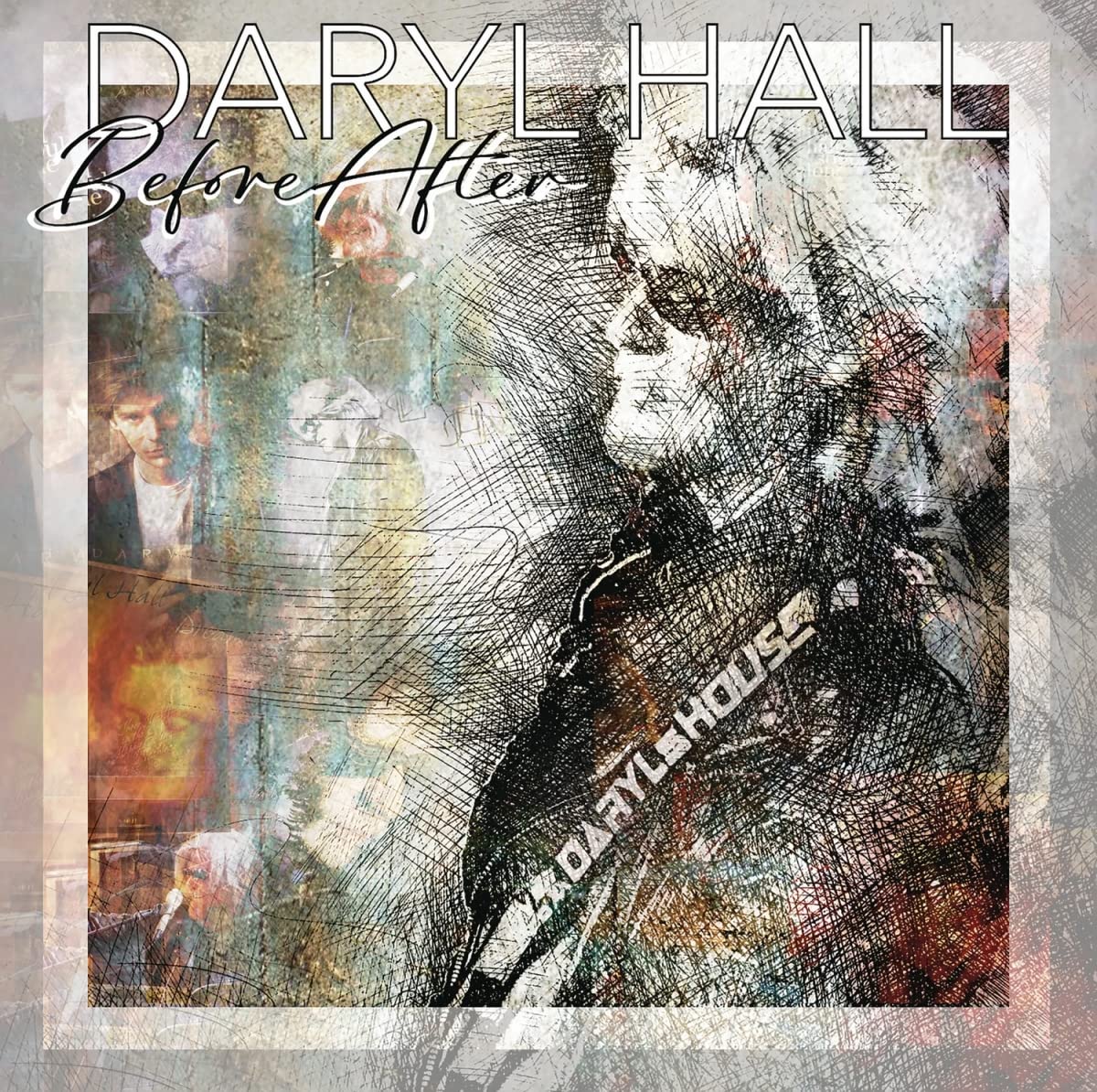 Daryl Hall is the subject of his first solo retrospective with the release of Before After. The two-disc set arrived April 1, 2022 via Legacy Recordings.  On the same date, the Rock and Roll Hall of Famer embarked on his first solo tour in a decade, performing with the Daryl's House Band on historic stages like NYC's Carnegie Hall and Nashville's Ryman Auditorium, with special guest and newly inducted Rock Hall member Todd Rundgren supporting. On opening night at Chicago's Auditorium Theatre, the pair shared the stage during Hall's encore. Watch them perform together below.
From the original Jan. 24 album announcement: Compiled and sequenced by Hall, Before After features 30 tracks spanning all five of his solo albums, from the 1980's Robert Fripp-produced Sacred Songs through 2011's Laughing Down Crying, which was co-produced with longtime Hall collaborator T-Bone Wolk, who passed before the album was released. Additionally, the collection features six never-released performances from the web and television series Live From Daryl's House, which Hall launched in 2007 with the then-novel idea of "playing with my friends and putting it up on the internet."
Watch Hall and Rundgren trade verses on the Hall and Oates song "Wait For Me," on April 1, opening night of the tour
Watch Hall and Rundgren perform the latter's "Can We Still Be Friends" from the new album collection
"I picked this collection of songs from my solo albums because I feel they encapsulate certain periods of my career." says Hall. "It also shows the diversity of working with collaborators like Robert Fripp or Dave Stewart. And, having some tracks from LFDH on it, really makes the compilation complete."
Hall has shared one of the collection's previously unreleased tracks, a recording of Eurythmics' 1984 hit, "Here Comes the Rain Again," performed with that song's co-writer, Stewart.
The version featured on Before After, was performed on Live From Daryl's House Episode 46 in 2012, and reflected Hall and Stewart's deep collaborative roots. Stewart produced Hall's 1986 album, Three Hearts in the Happy Ending Machine, and co-wrote three songs on the album.
See the complete track listing for Before After below.
Watch "Here Comes the Rain Again," with Hall and Stewart
Daryl Hall 2022 Tour (Tickets are available here and here)
Apr 03 – Nashville, TN – Ryman Auditorium
Apr 05 – Atlanta, GA – Atlanta Symphony Hall
Apr 07 – Northfield, OH – MGM Northfield Park
Apr 09 – Philadelphia, PA – The Met
Apr 11 – Boston, MA – Orpheum Theatre
Apr 14 – New York, NY – Carnegie Hall
Apr 16 – National Harbor, MD – The Theatre at MGM National Harbor
May 12 – Paramount Theatre – Seattle, WA
May 14 – Golden Gate Theatre – San Francisco, CA
May 16 – The Wiltern – Los Angeles, CA
May 18 – Paramount Theatre – Denver, CO
May 20 – Tulsa Theater – Tulsa, OK
May 22 – ACL Live at the Moody Theater – Austin, TX
Related: Listings for 100s of classic rock tours
Before After Track List
Disc One:
1. Dreamtime
2. Babs and Babs
3. Foolish Pride
4. Can't Stop Dreaming
5. Here Comes the Rain Again (Live From Daryl's House) with Dave Stewart
6. Someone Like You
7. Talking to You (Is Like Talking to Myself)
8. Sacred Songs
9. Right as Rain
10. Survive
11. North Star (Live From Daryl's House) with Monte Montgomery
12. In My Own Dream (Live From Daryl's House)
13. NYCNY
14. What's Gonna Happen to Us
Disc Two:
1. Love Revelation
2. Fools Rush In
3. I'm in a Philly Mood
4. Send Me
5. Justify
6. Borderline
7. Stop Loving Me, Stop Loving You
8. Eyes for You (Ain't No Doubt About It)
9. The Farther Away I Am
10. Why Was It So Easy
11. Can We Still Be Friends (Live From Daryl's House) with Todd Rundgren
12. Cab Driver
13. Our Day Will Come (Live From Daryl's House)
14. Laughing Down Crying (Live From Daryl's House)
15. Problem with You (Live From Daryl's House)
16. Neither One of Us (Wants To Be the First to Say Goodbye) (Live From Daryl's House)

Latest posts by Best Classic Bands Staff
(see all)