Creedence's 'Green River': Admit It, You Don't Know the Lyrics
by Greg Brodsky
John Fogerty has a unique way of pronouncing certain words. Take the word "bend," for instance. When he sings it in his 1970 recording with Creedence Clearwater Revival, "Up Around the Bend," he extends the word, giving it a hard "e" rather than a soft "e."
Creedence released the Green River album in 1969, the group's second of three studio LPs that year, and their first to reach #1. That same year, they began a stretch of Top 5 singles that still rivals any band's success, including such classic rock favorites as "Proud Mary," "Bad Moon Rising" and "Down on the Corner." Chances are you've heard Fogerty's 1969 composition, "Green River," hundreds of times and have sung along to it dozens of times on the car radio. But given Fogerty's creative imagery and his unique vocal style, do you know the actual lyrics?
The song begins with a great guitar intro and then…
Well, take me back down where cool water flows, yeah… Hmm… knew the beginning but not the "cool water" part…
Let me remember things I love… Pretty much knew that…
Stoppin' at the log where catfish bite… The "log"??? Really???
Walkin' along the river road at night,
Barefoot girls dancin' in the moonlight. Okay, knew both those lines…
I can hear the bullfrog callin' me. Aced that…
Wonder if my rope's still hangin' to the tree…. Kinda sorta knew that part…
Love to kick my feet 'way down the shallow water. Easy breezy…
Shoefly, dragonfly, get back to your mother.
Pick up a flat rock, skip it across Green River. It all makes sense now.
Up at Cody's camp I spent my days, oh… Cody's camp? Seriously?
With flat car riders and cross-tie walkers. Zero confidence now…
Old Cody, Junior took me over,
Said, "You're gonna find the world is smould'rin'. You're kidding, right?
And if you get lost come on home to Green River." Confidence coming back…
Watch the lyric video for "Green River," to help you fully decipher the great song
Fogerty explains how the song came to be. "When I was quite young, my family would travel up to Winters, California. We had a cabin there and it's a place where I learned how to swim and how to fish. Of course, dragonflies and other critters were in the mix. A lot of the scenery and those memories made it into the song.
"Right up the street from where I lived was a pharmacy that had a soda fountain. And one of the drinks they would make for you was a Green River. And I stared at the label on that bottle of syrup when I was around eight years old and I said, 'I'm gonna save that. That's important.'"
It was released as a double-A-sided single with "Commotion" in July 1969.
Related: A unique "performance" of "Green River"
Bonus video… Watch the band perform their hit on The Andy Williams Show
Fogerty is on tour. Tickets are available here and here.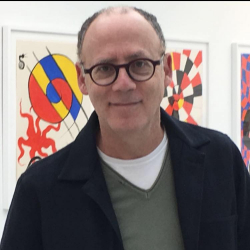 Latest posts by Greg Brodsky
(see all)