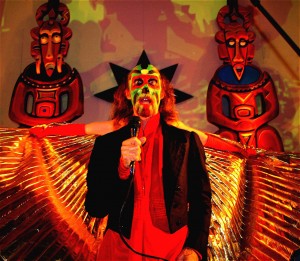 Though often tagged as just a one-hit wonder with "Fire," his #2 U.S./#1 U.K. single in 1968, the man born Arthur Wilton Brown on June 24, 1942, in Whitby, England has enjoyed a rich, varied and influential career, and remains musically active today. In fact, he released a video for his 80th birthday on June 24, 2022. Watch it below.
His group The Crazy World of Arthur Brown were a staple on the British concert circuit in the late 1960s. His highly theatrical performances – which included a flaming helmet atop his head, complex face make up and flamboyant stage outfits – influenced such acts as Alice Cooper, Peter Gabriel and Kiss, among others. The high-pitched screams of Brown's multi-octave voice presaged the howls of many heavy metal singers to follow in his wake.
Brown appeared in the movie Tommy as "The Priest," has worked with such other artists as Hawkwind and The Alan Parsons Project, and has performed and recorded his own work as a solo artist and in a variety of group configurations, most notably his early-'70s progressive rock band Kingdom Come. The opening line of his big hit, "I am the god of hellfire!" became a pop cultural catchphrase.
Fun fact: One of the roadies who would light Brown's helmet on fire in his Crazy World days, Dave Robinson, would later co-found the Stiff Records label and manage Graham Parker & The Rumour.
Related: Our feature story on Brown's "incendiary" song
Best Classic Bands caught up with Brown in January 2015 in a one-off show at Strange Brew in Austin, TX, where he lived from the late '80s to mid '90s.
Watch a fan video from that performance
Brown played the Stonefree Festival in London on June 17, 2017. Watch him perform "Fire" just days' shy of his 75th birthday.
Brown still tours. Tickets are available here and here.
And on his 80th birthday on June 24, 2022, Brown released a video for "I Like Games" from a new album, Long Long Road.

Latest posts by Best Classic Bands Staff
(see all)