When Commander Cody & His Lost Planet Airmen Were 'Lost in the Ozone'
by Jeff Tamarkin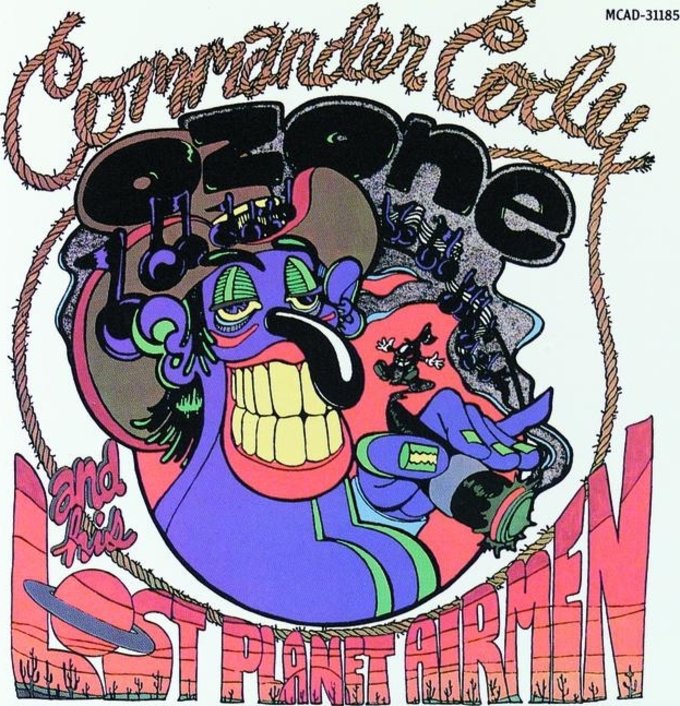 When Commander Cody and His Lost Planet Airmen arrived on the music scene in 1971, there really wasn't anything else quite like them. Here was an eight-piece band—whose members came from such far-flung locales as Alabama, California, Connecticut, Michigan, West Virginia, Idaho and New York—to whom genre was little more than made-in-America component parts meant to be blended seamlessly into something new.
The recipe went something like this: Take a dollop of Western swing and some classic honky-tonk country, add some 1950s rockabilly, a bit of blues and even some gospel, and filter it all through good ol' boogie-woogie, primal rock 'n' roll and—as one of their song titles put it—"Too Much Fun." Then pour it into the hands of a bunch of long-haired virtuosos, send it out there to stages all over the U.S.A. and watch what happens.
To some rock fans, the Commander Cody story begins and ends with the band's sole hit single, "Hot Rod Lincoln," a cover of a speedy rockabilly-esque saga written and first recorded by country artist Charlie Ryan in 1955. The Cody version reached #9 in 1972, but by that time the group had already built up a strong fan following based on their sweaty, good-time live shows and significant radio play on college and AOR radio stations in key markets.
Listen to the hit single, "Hot Rod Lincoln"
They'd already been together for five years by then, having formed in Ann Arbor, Mich., in 1967 around the gravel-voiced George Frayne, who took his nickname from a 1950s sci-fi character actually called Commando Cody. In addition to Frayne, a skilled pianist with a mischievous and somewhat lascivious streak and a penchant for boogie-woogie rhythms, the classic lineup included Alabama-born vocalist Billy C. Farlow, guitarists Bill Kirchen (lead) and John Tichy (rhythm), bassist "Buffalo" Bruce Barlow, fiddler and saxophonist Andy Stein, drummer Lance Dickerson and pedal steel guitarist Steve Davis, who went by the stage name The West Virginia Creeper (he was replaced by Bobby Black early on).
The band relocated to the San Francisco Bay Area after a few years, where they quickly built a reputation as a hot live act in the region's sardine-can-packed clubs. Embraced by fans of bands such as the Grateful Dead and the New Riders of the Purple Sage, Commander Cody and His Lost Planet Airmen soon caught on in other areas outside of Northern California, particularly in the Northeast—they were headlining gigs in the New York City area by the time their debut album, Lost in the Ozone, was released by Paramount Records in November 1971.
Related: Our obituary for Frayne, who died in 2021
Listen to the title track from Lost in the Ozone
That album—with cover art by graphic artist Frayne—represented accurately what one might hear at a Cody gig at that time, a combination of original tunes, most written by Frayne and Farlow, and covers, among them "Midnight Shift," lifted from Buddy Holly's 1958 That'll Be the Day album; a gospel ballad, "Family Bible," written by a young Willie Nelson but attributed to others due to a convoluted financial deal; "Home in My Hand," originally by rockabilly artist Ronnie Self; Eddie Cochran's "Twenty Flight Rock"; and "Beat Me Daddy Eight to the Bar," a showcase for Frayne's boogie-woogie piano dating back to 1940.
While every track on the LPA's debut was sung and played flawlessly, a few tended to find more favor than others among radio programmers. In addition to "Hot Rod Lincoln," which, in performance, always featured an improvised variation by Frayne on the basic car-race tale, the most popular tunes on the album turned out to be its Frayne-Farlow-penned title track, "Lost in the Ozone," a sprightly country-rocking paean to the power of gin and wine in instances of failed love, and the stoner ballad "Seeds and Stems (Again)," a tale of woe that leaves narrator Kirchen with no option other than to face his suffering with a bowl of some of the saddest-looking weed around.
Seriously, it just doesn't get any more pathetic than this spoken-word verse:
"Well, my dog died just yesterday and left me all alone
The finance company dropped by today and repossessed my home
That's just a drop in the bucket compared to losing you
And I'm down to seeds and stems again, too"
Intoxicants surface once again in the weepy midtempo ballad "Wine Do Yer Stuff," yet another tale of love on the rocks:
"Now the color of this warm red wine is the color of her hair
As I stare into my glass I see her face in there
One more bottle if you please, the goin's gettin' rough
Come on wine, wine, wine, do yer stuff"
Related: The year 1971 in classic rock albums
It's not all about drowning one's sorrows after the fact though. The album's opening track, the rollicking "Back to Tennessee," finds the Cody crew being proactive. This time our protagonist is not waiting around to get dumped. He's out of there right now:
"I was livin' up in Detroit, just me and my little wife
I did everything that I could do, but I got no ambition in life
I'm tired of sniffin' glue, I wanna breathe that southern breeze
I'm gonna hijack one of those big jet planes
I'm goin' back to Tennessee"
Another couple of originals, "Daddy's Gonna Treat You Right," with its ensemble vocal, and "What's the Matter Now?," a shuffling country tune recorded live, balance out the rockabilly and boogie numbers and confirm that this is one resourceful and versatile group of musicians. With four lead vocalists—Frayne, Kirchen, Farlow and Tichy—trading off, each offering distinctive approaches, there was never a chance of stagnation from one Cody song to the next.
Listen to "What's the Matter Now?"
Lost in the Ozone only reached #82 in Billboard, but like many bands based in San Francisco the LPA's strength was the concert stage, not so much the record player. Live, they truly whipped up a crowd, and although they only stuck around until the middle of the decade before the usual calamities that befall a band took them down, many today still recall fondly the early days of one of the most unique American bands of its day, Commander Cody and His Lost Planet Airmen.
Listen to "Beat Me Daddy Eight to the Bar," recorded live

Latest posts by Jeff Tamarkin
(see all)