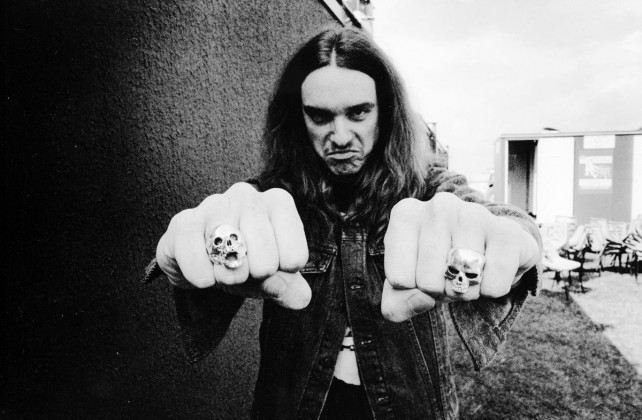 Bassist Cliff Burton's talents so impressed Metallica founding members Lars Ulrich and James Hetfield that they – and then guitarist Dave Mustaine, later to start Megadeth – agreed to relocate from Los Angeles to the San Francisco Bay area when Burton said he'd join their band if they moved to where he lived. Ulrich and Hetfield had seen Burton play with the band Trauma at the Whisky a Go Go. As Hetfield later recalled. "We heard this wild solo going on and thought, 'I don't see any guitar player up there.' It turned out it was the bass player, Cliff, with a wah wah pedal and this mop of hair. He didn't care whether people were there. He was looking down at his bass playing."
Burton played a number of integral roles in the first three Metallica albums that came to all but define what's been called thrash or speed metal: playing bass, and rather amazingly so, co-writing songs, and becoming a fan favorite for his mind-bending solos and fervent stage presence. A few years older than the rest of the band, he was its initial font of wisdom and coolness within what in time would become quite a complex intra-group dynamic (as obvious from the documentary film Some Kind of Monster).
The March '86 release of Master of Puppets found Metallica's buzz becoming a breakthrough towards stardom. On the European segment of the group's Damage, Inc. tour, they were traveling from Stockholm, Sweden to Denmark. The band members were dissatisfied with the sleeping accommodations on their bus and drew cards to see who would get the comfiest bunk. Burton pulled the ace of spades.
Around dawn on this day, just after 7 a.m., the bus skidded off the road. Burton was thrown out a window as it began to topple sideways, and was crushed when the bus landed on its side. "I saw the bus lying right on him," Hetfield later recounted. "I saw his legs sticking out. I freaked. The bus driver, I recall, was trying to yank the blanket out from under him to use for other people. I just went, 'Don't fucking do that!' I already wanted to kill the guy. I don't know if he was drunk or if he hit some ice. All I knew was, he was driving and Cliff wasn't alive anymore."
Burton became a legend not just by his tragic fate but even more so due to his prodigious abilities on bass and how his playing broke ground. "To this day, I think of him every day," Metallica lead guitarist Kirk Hammett has said.
Related: When a label chief threatened to cancel the Metallica signing

Latest posts by Best Classic Bands Staff
(see all)