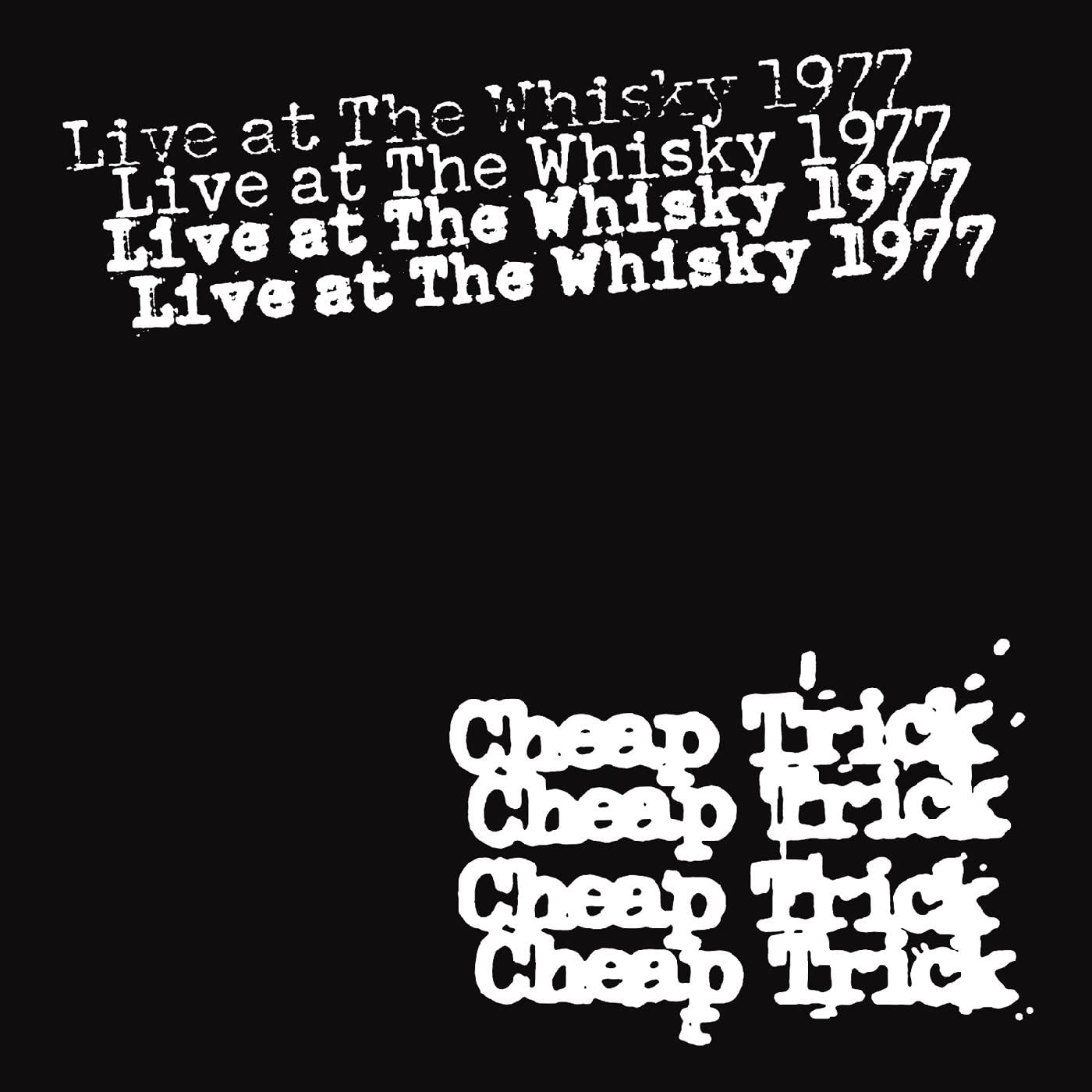 Cheap Trick's five-show run in June 1977 at The Whisky a Go Go in Los Angeles will be the subject of a new live collection. The limited edition 4-CD set from Real Gone Music will be released on Dec. 16, 2022. The Oct. 17 announcement indicates that it will be limited to just 2000 copies.
From the press release: In June 1977, Cheap Trick was in Los Angeles to record their second album, In Color. To get the band in shape for the record, they booked five gigs at the Whisky. The result: a series of fire-breathing shows that you can still hear reverberating on the Sunset Strip to this day. KROQ DJ Rodney Bingenheimer introduced the band at the shows, and his memories are clear: ""The Whisky was packed for every show. A lot of girls showed up. It was like the 'new' Beatles had arrived."
Indeed, this concert stand takes its place alongside The Doors in 1966, Led Zeppelin in 1969, and Van Halen in 1977 as among the most notorious shows hosted by the venerable venue.
As drummer Bun E. Carlos puts it, "The Whisky shows capture a hungry band. It's right before we went on tour with KISS and became much more famous than we were at this point. It was two nights where we did all our cool stuff from our first couple of records and it's chock-full of goodies."
All of this would be mere legend, witnessed by only a couple of hundred fans each night, but for the fact that the tapes were rolling courtesy of the Record Plant's Mobile Unit One for four out of the five shows. But when the band's live At Budokan hit 18 months later and propelled the band to superstar status, the tapes were shelved for 45 years. The 4-CD set contains all four shows in their entirety (well over half previously unreleased), complete with on-stage patter largely from guitarist Rick Nielsen, and includes notes from Ken Sharp featuring quotes from Nielsen, Carlos, and Robin Zander.
The bare bones packaging is "Live at Leeds" style.
Related: We spoke to the label exec who signed the band about their rise
The complete track listing appears below the Amazon links, along with some more audio clips.
DISC 1
06/03/1977 – Early Show
1 Rodney Bingenheimer Intro
2 Speak Now or Forever Hold Your Peace
3 Elo Kiddies
4 Set Break 1
5 High Roller
6 Southern Girls
7 Cry, Cry
8 Big Eyes
9 Can't Hold On
10 Oh Boy
11 You're All Talk
12 Set Break 2
13 He's a Whore
14 The Ballad of T.V. Violence (I'm Not the Only Boy)
15 Down On the Bay
16 Goodnight
DISC 2
06/03/1977 – Late Show
1 Hello There
2 Come On Come On
3 Set Break 1
4 Oh Candy
5 Daddy Should Have Stayed In High School
6 Speak Now or Forever Hold Your Peace
7 Elo Kiddies
8 Loser
9 Taxman, Mr Thief
10 Clock Strikes Ten
11 Set Break 2
12 Big Eyes
13 He's a Whore
15 You're All Talk
16 Auf Wiedersehen
Related: Our Album Rewind of In Color, the LP that put them on the map
DISC 3
06/04/1977 – Early Show
1 Speak Now or Forever Hold Your Peace
2 Elo Kiddies
3 Set Break 1
4 Hot Love
5 Southern Girls
6 Cry Cry
7 Big Eyes
8 Set Break 2
9 Ain't That a Shame
10 Oh Caroline
11 Oh Boy
12 You're All Talk
13 Set Break 3
14 He's a Whore
15 The Ballad of T.V. Violence (I'm Not the Only Boy)
16 Down On The Bay
17 Goodnight
DISC 4
06/04/1977 – Late Show
1 Hello There
2 Come On Come On
3 Set Break 1
4 Oh Candy
5 Daddy Should Have Stayed In High School
6 Please, Mrs. Henry
7 Set Break 2
8 Violins
9 Taxman, Mr Thief
10 Clock Strikes Ten
11 Set Break 3
12 Big Eyes
13 He's a Whore
14 You're All Talk
15 Auf Wiedersehen
16 Encore Break
17 Goodnight

Latest posts by Best Classic Bands Staff
(see all)