Cheap Trick 'In Color': The Radio-Ready Sophomore LP That Put Them on the Map
by Cary Baker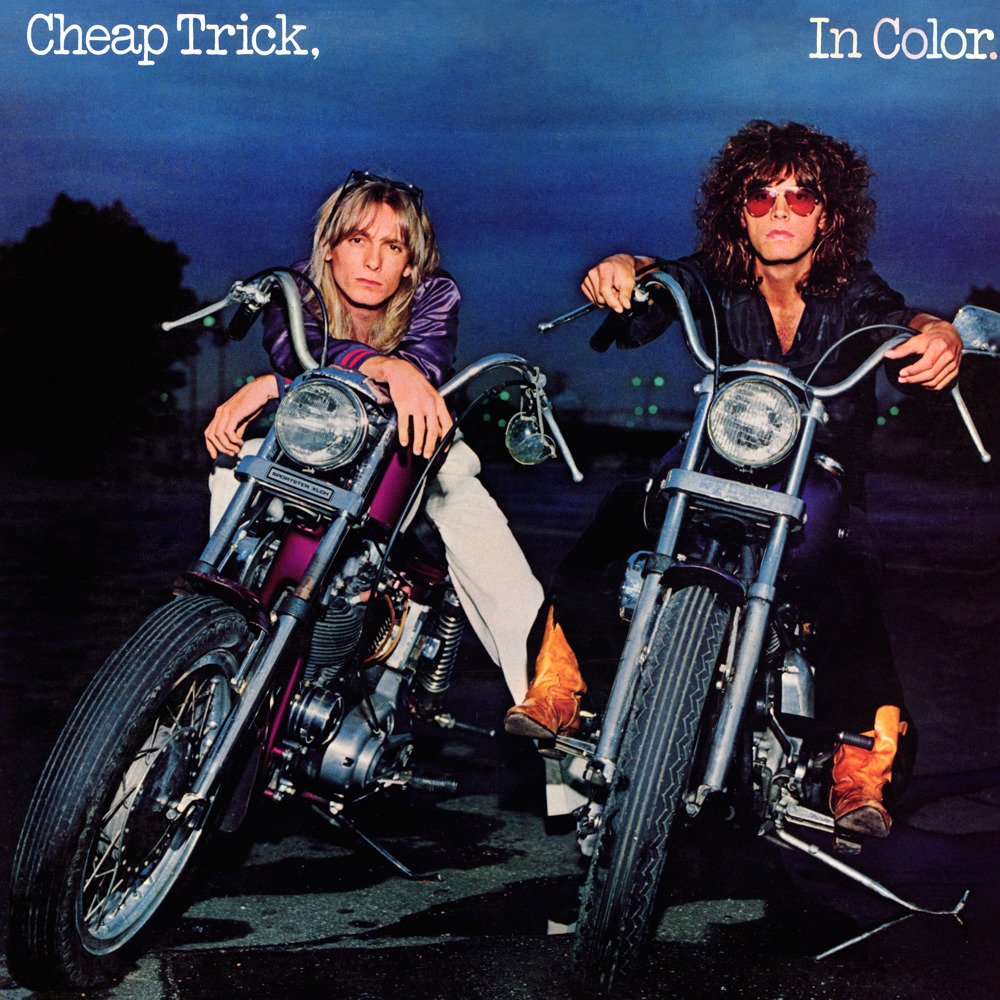 There's the old adage about the creative cycle of a songwriter: You have your entire life to write your first album. And six months to write your follow-up.
Cheap Trick's sophomore studio album, In Color, released in September 1977, sounds every bit as fresh as its first—and so, frankly, do the band's third and fourth studio albums. And there's a reason: The band (notably chief songwriter and guitarist Rick Nielsen) had stockpiled scores of worthy songs long before it had ever entered the studio.
As one who grew up in Illinois, aware of Cheap Trick a full year before the band's Epic Records signing and February 1977 debut album, I was hearing songs from the first four albums as early as October 1975. It was then that, on a tip from a kindred musical spirit, I checked them out at a 150-capacity dive called the UpRising Tavern in the university town of DeKalb, Ill.
There, for a $5 cover that seemed steep at the time, one was treated to three sets, that lineup, that look, that logo, and, best of all, those songs.
The band's 1977 self-titled debut album captured its edge, an unvarnished document of what we saw onstage around that time. Jack Douglas (credits: John Lennon and Yoko Ono, Aerosmith, New York Dolls) took the Rockford, Ill. band to New York's Record Plant in fall 1976 and emerged with edgy power-pop songs like "He's a Whore," "Elo Kiddies" and "Taxman Mr. Thief." Combined with the band's unconventional look (two pretty boys, two nerds), the quirky songs turned heads and the album became a full-fledged critical sensation. Press buzz, however, did not necessarily translate to radio play.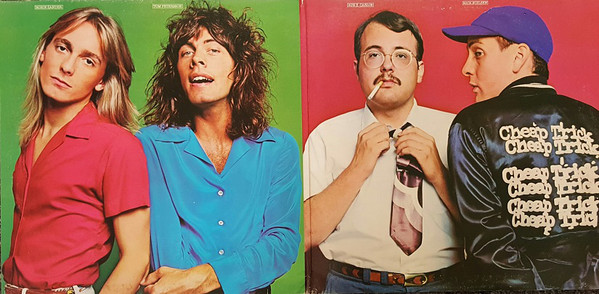 So when it came time to record the second album, the band changed coasts, and producers. Tom Werman (Blue Öyster Cult, Motley Crüe—and probably a few bands without umlauts in their names) took the band to Los Angeles' Kendun Recorders, and a few other changes were made. Keyboardist Jai Winding was brought in as a session player (he was retained through subsequent albums Heaven Tonight and Dream Police, also produced by Werman in a similar vein). Winding's keyboard swirls softened the occasionally stark spaces between Nielsen's guitar runs and gave singer Robin Zander's vocal phrasing a new platform. For Epic's purposes, it also brought Cheap Trick closer to the radio—even if it would eventually take a live version of one of the In Color songs ("I Want You to Want Me"), culled from the band's 1978 live At Budokan album, to finally break through.
For us Midwest fans with a few road miles already logged, In Color collected many of the songs we'd seen in the band's early live sets: "Hello There" with Nielsen's ear-nabbing guitar chords remains their onstage opener to this day; "Downed," "Oh Caroline" and "You're All Talk."
The latter, a raw rocker, would have been at home on the Jack Douglas-produced debut. But it brought some needed edge to In Color.
Related: Jack Douglas talks about Cheap Trick
There were also songs we hadn't yet heard onstage, but would become imminent concert classics: "Big Eyes," "Southern Girls," "So Good to See You" and of course "I Want You to Want Me."
The band always held back a few good non-LP B-sides, and the flip to the original 45 of "I Want You…" was an uptempo guitar-driven instrumental called "Oh Boy." Nielsen jokingly said in an interview, "['Oh Boy'] marks the singing debut of Bun E. Carlos. But since Bun E. has never sung, there are no vocals on it." (In fact, there eventually was a vocal version of "Oh Boy" also—Zander on vocals, of course, not Carlos—recorded in 2003, which can be heard on YouTube.)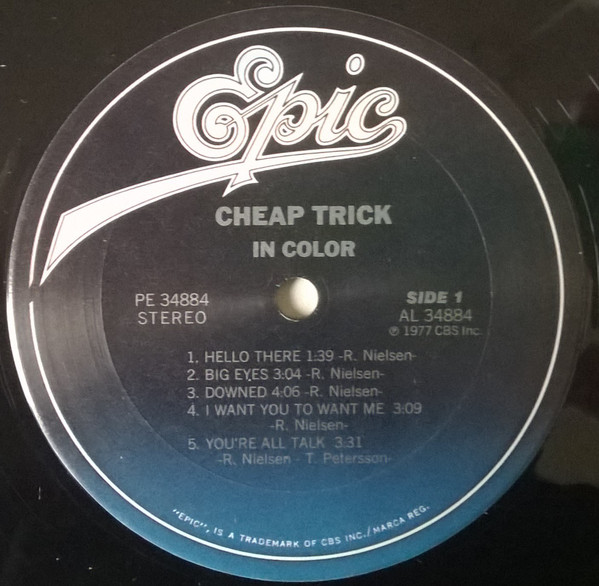 Reviews were solid: Rolling Stone called the songs "anthems." Robert Christgau, in his Consumer Guide, noted that Cheap Trick "doesn't waste a cut." Stephen Thomas Erlewine's review in AllMusic, commissioned long after the life of the album, inevitably noted Werman's "shiny, radio-ready sound," while commending Nielsen's "encyclopedic knowledge of rock 'n' roll, as well as the good sense to subvert it with a perverse sense of humor." He concluded, "Portions of the album haven't dated well, simply due to the glossy production, but the songs and music on In Color are as splendid as the band's debut."
No fewer than five of In Color's songs were included in the live album At Budokan, released 19 months after In Color. And the song many had thought the least likely to break the band, "I Want You to Want Me," reached #7 on the Billboard Hot 100 in its live rendition, distinguished by Zander's English-as-a-second-language introduction of "I…want…YOU…to…want…ME." And the band was off for the big time.
Cheap Trick had clearly broken musical and lyrical boundaries, even defying the look of a rock band by featuring one member (Nielsen) who looked like actor Huntz Hall and another who looked like (and in fact was) a record-collecting geek (Carlos), alongside two more traditional rock stars (Zander and bassist Tom Petersson). But the band, possibly the result of its corporate-rock-schooled management, kept the emerging punk/new wave revolution at arm's length. Cheap Trick tended to tour with radio stars: fellow Midwesterners REO Speedwagon, Styx, Ted Nugent and Head East, Journey, AC/DC, Foreigner, Kansas, Rush, Michael Stanley Band and, sure, a few edgier acts too: KISS, the Runaways, John Cale, Lou Reed, the Cars, Graham Parker and the Rumour and even a latter-day version of the MC5. Cheap Trick famously toed the line, and perhaps this was their secret to breaking through with music that was a little insurgent for its time. (Even this past summer, Cheap Trick opened for Rod Stewart, who thankfully gave concertgoers what they wanted most: his Mercury and Warner Bros. years, and mercifully shorter shrift to his Arista years.)
Despite sharing stages with Styx and REO, Cheap Trick's live show remained delightfully edgy. And whereas At Budokan may have reflected Werman's production, Cheap Trick recorded another live album in that window. It was an edgier, grittier set recorded at the Whisky a Go Go in the middle of In Color's L.A. sessions, yet not released until last year. It was titled Out to Get You! Live 1977, and has been called one of the best live albums of the rock era.
Cheap Trick went on to record two more studio albums with Werman, and a discography that (by my count) comprises 18 subsequent albums.
Related: Cheap Trick was inducted into the Rock and Roll Hall of Fame in 2016
That might have been all there was to tell about In Color if not for the fact that in 1997, the band—not fond of the compromises it may have felt it needed to make for radio 20 years prior—actually decided to re-record In Color. For the remake, they worked with a producer as incendiary as Tom Werman was commercially attuned. The new producer was Steve Albini, Chicago-based leader of Big Black and Shellac, and producer of Nirvana's In Utero, among other punk-rock classics. The object was to record the album the way the band had originally intended: A raw mix (what better?) of the new stripped-down, amped-up In Color hit the Internet (audible on YouTube) but has never been officially released.
It might also be noted that thundering founding drummer Bun E. Carlos, as a result of a reported 2010 dispute with Zander, left the band as a performing and recording member, while remaining a shareholder. Drumsticks are now wielded—not at all incapably—by Daxx Nielsen, Rick's son. (Carlos makes monthly appearances at Mary's, a venue in Rockford, Ill., where fans flock from all over to partake and sit in.)
In the end, In Color was a worthy follow-up to one of the best rock 'n' roll debut albums ever, and the world's first chance to hear 10 songs that would be reborn live on a Japanese stage, and later re-imagined sans production frills with Steve Albini. The original In Color peaked at #73 on the Billboard 200. No one felt it was a failure; career development would prove a long game, analogous to the commercial development of R.E.M. in that respect.
But given the initial unorthodoxy of the band, In Color did its job of making us care about what came after that.
And what came after that.
Bonus Video: Watch Cheap Trick on Don Kirshner's Rock Concert in 1977
Latest posts by Cary Baker
(see all)