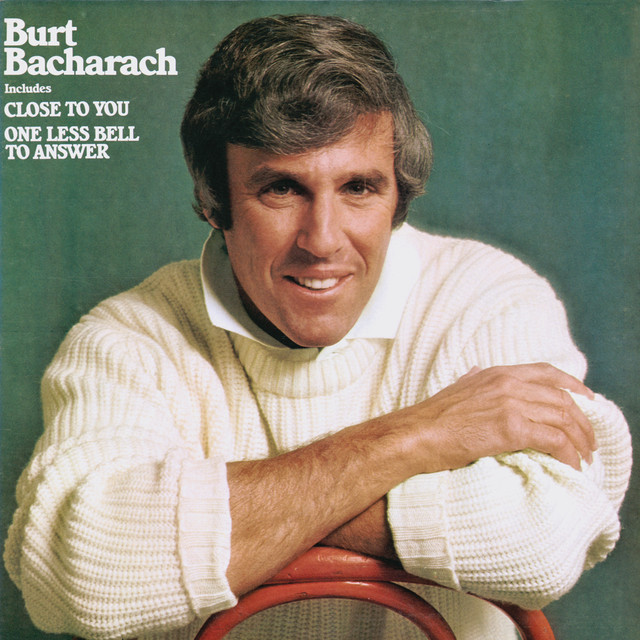 Burt Bacharach, the Grammy- and Oscar-winning composer, who teamed with lyricist Hal David on such pop music classics as "What the World Needs Now Is Love," "I Say a Little Prayer," "The Look of Love," "(They Long To Be) Close To You," "Raindrops Keep Falling On My Head" and dozens of others, died yesterday (Feb. 8, 2023), at 94, at his home in Los Angeles. A representative said he died of natural causes.
The 1972 Songwriters Hall of Fame inductee enjoyed major hits in numerous genres of music, including top 40, rhythm and blues, country, film scores and soundtracks. Brian Wilson paid tribute to Bacharach, calling him "a hero of mine and very influential on my work." Many more tributes appear below.
Bacharach and David, his main writing partner, became longterm contributors to the career of Dionne Warwick. Over a period of 10 years, the three enjoyed a string of 39 chart hits, including such memorable songs as "Walk On By," "Don't Make Me Over," "Do You Know the Way to San Jose," "I'll Never Fall In Love Again," "Promises, Promises," "Alfie" and "Message To Michael." In her tribute, Warwick said, "Burt's transition is like losing a family member." The 1985 song "That's What Friends Are For," recorded by Warwick with Stevie Wonder, Elton John and Gladys Knight, and co-written with Carole Bayer Sager, reached #1 on the Hot 100 and received a Grammy for Song of the Year, with songwriters and artists all contributing their services without charge; the recording raised over $1,500,000 for the American Foundation for AIDS Research (AmFAR).
View this post on Instagram
Bacharach and David's motion picture scores include a series of memorable themes, for What's New Pussycat (the title song was a million-seller for Tom Jones), and the James Bond spoof Casino Royale, for which the song "The Look Of Love" was a gold record for both Dusty Springfield and Sergio Mendes and Brasil 66. The title song became a major hit for Herb Alpert and the Tijuana Brass (Alpert also had a major hit with Bacharach-David's "This Guy's in Love With You").
Others in the movie genre include Alfie, Arthur and Butch Cassidy and the Sundance Kid, for which he received a pair of Oscars.
Watch the film's bicycle scene
Related: Our interview with B.J. Thomas, who talked about working with "Mr. Bacharach"
On the Broadway stage, Bacharach and David wrote Promises, Promises, a smash hit at the box office as well as through the Dionne Warwick recording of the title song.
In August 1970, Carpenters enjoyed a #1 hit with "(They Long To Be) Close To You)." They performed it on The Ed Sullivan Show on Oct. 18.
Bacharach was the recipient of eight Grammy Awards, including a Lifetime Achievement Award, as well as three Oscars. He and David were also honored with the Library of Congress' Gershwin Prize for Popular Song.
— Dionne Warwick (@dionnewarwick) February 9, 2023
Burt's transition is like losing a family member. These words I've been asked to write are being written with sadness over the loss of my Dear Friend and my Musical Partner. On the lighter side we laughed a lot and had our run ins, but

— Dionne Warwick (@dionnewarwick) February 9, 2023
I'm so sad to hear about Burt Bacharach. Burt was a hero of mine and very influential on my work. He was a giant in the music business. His songs will live forever. Love & Mercy to Burt's family. pic.twitter.com/yYGY3bGNSw

— Brian Wilson (@BrianWilsonLive) February 9, 2023
Dear Burt Bacharach has passed away. His songs were an inspiration to people like me. I met him on a couple of occasions and he was a very kind and talented man who will be missed by us all. His songs were distinctive and different from many others in the '60s and '70s… pic.twitter.com/pwoAiBChfM

— Paul McCartney (@PaulMcCartney) February 11, 2023
Peace and love, Burt Bacharach. ❤️ pic.twitter.com/phUcaESSwV

— Susanna Hoffs (@SusannaHoffs) February 9, 2023
The Kinks' Dave Davies paid tribute: "Very sad day, probably one of the most influential songwriters of our time. He was a great inspiration. Rest in peace Burt Bacharach."
One of the great thrills and honors of my life was getting to know @BurtBacharach – one of the greatest songwriters of all time. There will never be anyone like him and as a songwriter, he set the bar. Burt, you will be missed but your music will live on. My love to his family. pic.twitter.com/1obui0UYlt

— Sheryl Crow (@SherylCrow) February 9, 2023
Steve Perry wrote, "One of the biggest thrills in my life was to meet and become friends with Burt Bacharach. His song writing has touched my life in ways that forever changed me. No one wrote music like Burt Bacharach!"
Burt Bacharach was as sweet as his songs. He left us with a long legacy of music we will never forget. RIP xo B pic.twitter.com/e4J6oNONre

— Barbra Streisand (@BarbraStreisand) February 10, 2023
From Jackie DeShannon: I'll never forget that day. I was such a big fan of Burt Bacharach and was so excited that he was going to produce a recording session for me. As we were rehearsing a few songs one stood out the most.
I sang it a few times for him and he exclaimed that we were magic together. So off we went to New York to Bell Sound studios to record one of the greatest songs ever written – the original "What THE WORLD NEEDS NOW IS LOVE." My life was never the same.
Thank you Hal David,
Thank you Burt.
You will be missed.
RIP Burt Bacharach. His songs will live on for 94 years and then for another 94 years and then so on ad infinitum. Indisputably the songwriter's songwriter. And the world's.

— Tim Rice (@SirTimRice) February 9, 2023
Terribly sad to hear of the passing of one of the greatest composers of all time. We'll always remember @burtbacharach for his wonderful melodies. -ALW pic.twitter.com/MT3bNJXCe9

— Andrew Lloyd Webber (@OfficialALW) February 10, 2023
From fellow songwriter Diane Warren: "Too many genius songs to mention, 'Alfie,' 'Walk On By,' 'Anyone Who Had A Heart,' 'Don't Make Me Over' and on an on. The songs he wrote with the equally brilliant Hal David will last forever. The Songwriting world has lost its Beethoven, and Heaven is going to get some great music. Compose in Power Forever Burt Bacharach.🎵🎶🎼💔"
My great friend Burt Bacharach passed away today. What a genius the music world lost, and I a friend!! Burt wrote this song and taught me how to sing & record it. Thank you, Burt. RIP 🙏🏼 #burtbacharach pic.twitter.com/p4UUqOgOaC

— Tony Orlando (@TonyOrlando) February 10, 2023
Christopher Cross sang and co-wrote the #1 single, "Arthur's Theme (Best That You Can Do)," with Bacharach, Carole Bayer Sager and Peter Allen. The song won the Oscar for Best Original Song. "Burt Bacharach was a genuine musical genius—his harmonic and rhythmic style was truly unique. Burt was incredibly prolific and the world is richer for him. I am deeply humbled to have collaborated with Burt and honored to have known him. May his memory be a blessing."
Burt was a dear friend, who was a humble creative giant with a big heart.
-Herb Alpert pic.twitter.com/yCSvklgQpA

— Herb Alpert (@HerbAlpert) February 9, 2023
The Songs of Bacharach & Costello, compiled by Elvis Costello, brings together all of the published songs that the pair wrote together. The title arrives March 3. The two had previously released the collaborative album Painted From Memory in 1998.
Costello began a lengthy residency in New York on Feb. 9 and told the Gramercy Theatre audience, "It's never time to say goodbye to somebody if you love 'em. And I'm not ashamed to say I did love this man." He sang several Bacharach songs including "Baby It's You."
Born May 12, 1928, in Kansas City, Missouri, Bacharach did most of his growing up in New York City, where, during his elementary school years, he began taking piano lessons.
During the earliest phase of his career, Bacharach worked as accompanist and conductor for Marlene Dietrich's night club act. In the early and mid-'60s, he composed many country smashes, "The Man Who Shot Liberty Valance," "Only Love Can Break A Heart," for Gene Pitney, and "Story Of My Life" for the county star, Marty Robbins. Four years before their career kicked into high gear with Warwick's first hit, Bacharach and Mack David (Hal's brother) even wrote the theme song from the campy 1958 faux-sci-fi film The Blob.
Bacharach's compositional style has often been described with words such as suave, sophisticated and urbane. It has been noted in biographies that, at the peak of the rock era, he took a lighter approach, favoring romantic themes and pronounced melodicism. The New York Times, in its obituary, stated, "Mr. Bacharach fused the chromatic harmonies and long, angular melodies of late-19th-century symphonic music with modern, bubbly pop orchestration, and embellished the resulting mixture with a staccato rhythmic drive. His effervescent compositions epitomized sophisticated hedonism to a generation of young adults."
Hal David died in 2012.
Watch Dionne Warwick sing a medley of Bacharach-David compositions (with Bacharach playing piano)
Related: Musicians we've lost in 2023

Latest posts by Best Classic Bands Staff
(see all)