Review: 'The Songs of Bacharach & Costello' Collects Memorable Collaborations
by Jeff Burger
The great songwriter Burt Bacharach, who teamed up most famously with lyricist Hal David, also worked for nearly three decades with Elvis Costello. That pairing may at first seem as unlikely as the one between Robert Plant and Alison Krauss or the Christmas medley recorded by Bing Crosby and David Bowie. Take a close look at Bacharach and Costello's bios and listen to their work, however, and you'll begin to see why their collaboration made sense and bore fruit.
Costello—whose catalog embraces elements of genres as varied as new wave rock, country, pop, and classical—grew up listening to Bacharach/David songs and performed their "I Just Don't Know What to Do with Myself" as far back as 1977. Bacharach, who died Feb. 8, 2023, at age 94, was best known for the pop and easy-listening versions of his compositions. However,  his music has proven a good fit over the years for artists ranging from the rock group Love and jazz musician Stan Getz to R&B singer Ron Isley of the Isley Brothers. Bacharach even played piano on Manfred Mann's version of "My Little Red Book," a song he wrote with David that arguably issues from the same musical universe as some of Costello's early work. And doesn't the latter's "Alison" sound like something Bacharach and David could have written? (OK, maybe not the line about the protagonist's friend taking off her party dress.)
T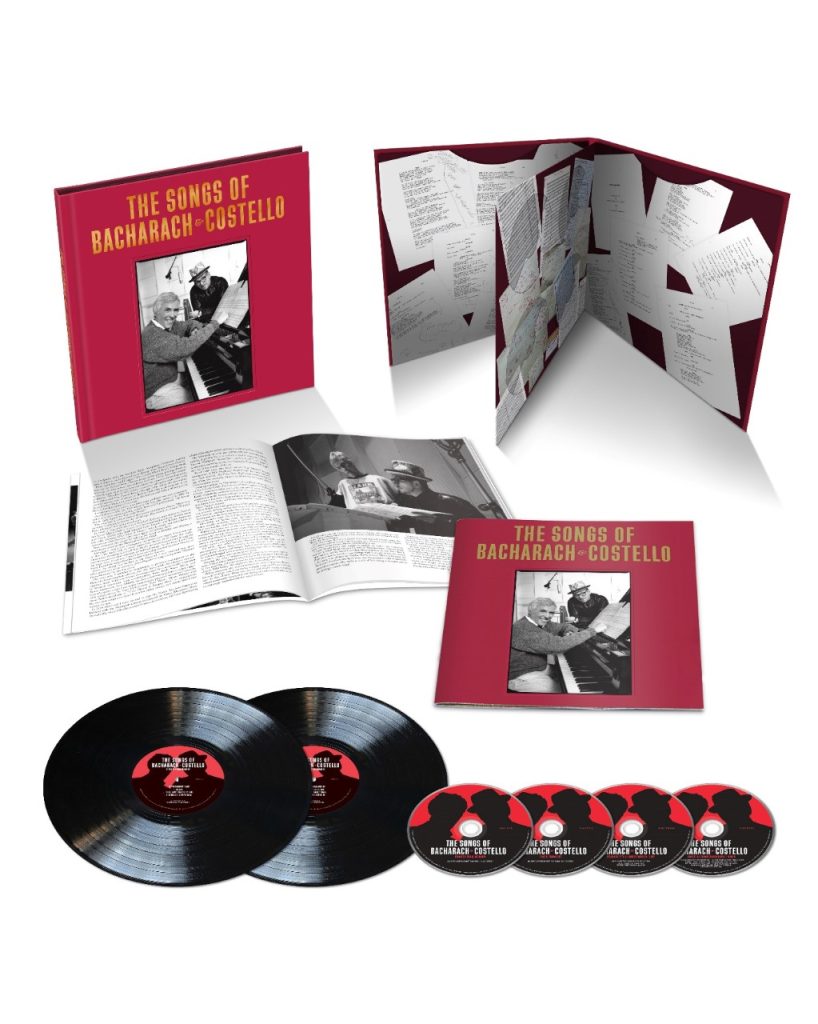 he new The Songs of Bacharach & Costello, released just weeks after Bacharach died, features 19 previously unreleased tunes and three recently recorded numbers. It collects all of their collaborations and offers abundant evidence of how well they worked together. The anthology offers four CDs with a total playing time of three hours. A pair of included vinyl LPs duplicates some of its material and the set comes with two 20-page booklets, one containing lyrics and song credits and the other featuring a new 10,000-word essay by Costello.
The first of the box's CDs delivers a remastered copy of Painted from Memory, Bacharach and Costello's excellent 1998 album, which features the Grammy-winning "I Still Have That Other Girl." The second disc includes versions of songs from a proposed stage score performed by Costello or Bacharach as well as by such artists as Jenni Muldaur and Bill Frisell. Dominating the remaining two discs is superlative live material, most featuring Costello's vocals and keyboard accompaniment by either Bacharach or his longtime keyboardist Steve Nieve.
Among the tracks in the box are concert renditions of Bacharach/David classics that mark Costello as arguably the best of their interpreters. "I Just Don't Know What to Do with Myself," which scored for Dionne Warwick and Dusty Springfield; "Anyone Who Had a Heart" and "I'll Never Fall in Love Again," both hits for Warwick; "Make It Easy on Yourself," which rode the charts for Warwick, Jerry Butler, and the Walker Brothers; and "My Little Red Book," which led off Love's essential eponymous debut LP. Also here are Costello's studio recordings of "Please Stay," which Bacharach wrote with Bob Hilliard; and "Baby, It's You," which he penned with Mack David and Barney Williams. (These two recordings first appeared on Costello's Kojak Variety and Out of Our Idiot, respectively.)
The hit versions of all these songs are excellent but many of them feature vocals and bouncy pop arrangements that belie their essential sadness. In Costello's renditions, though, you can hear the heartache in every verse. Compare, for example, the Shirelles' or the Beatles' "Baby It's You," which make you want to tap your feet and sing along, with Costello's mournful performance of the song. Or listen to how he turns the Drifters' doo-wop-influenced "Please Stay" into a stark portrait of lovelorn desperation. As Costello concedes in his essay, he lacks the vocal range of some of the artists who have recorded Bacharach's songs. "All I could do," he writes, "was try to maintain their "emotional center." That he most certainly does.
Related: Bacharach died on Feb. 8, 2023
Costello ends his essay by saying how grateful he is for "all the hours that I have shared with Burt" and adds, "I wait patiently for next time." Sadly, that time won't come, but at least we have this box.
Latest posts by Jeff Burger
(see all)