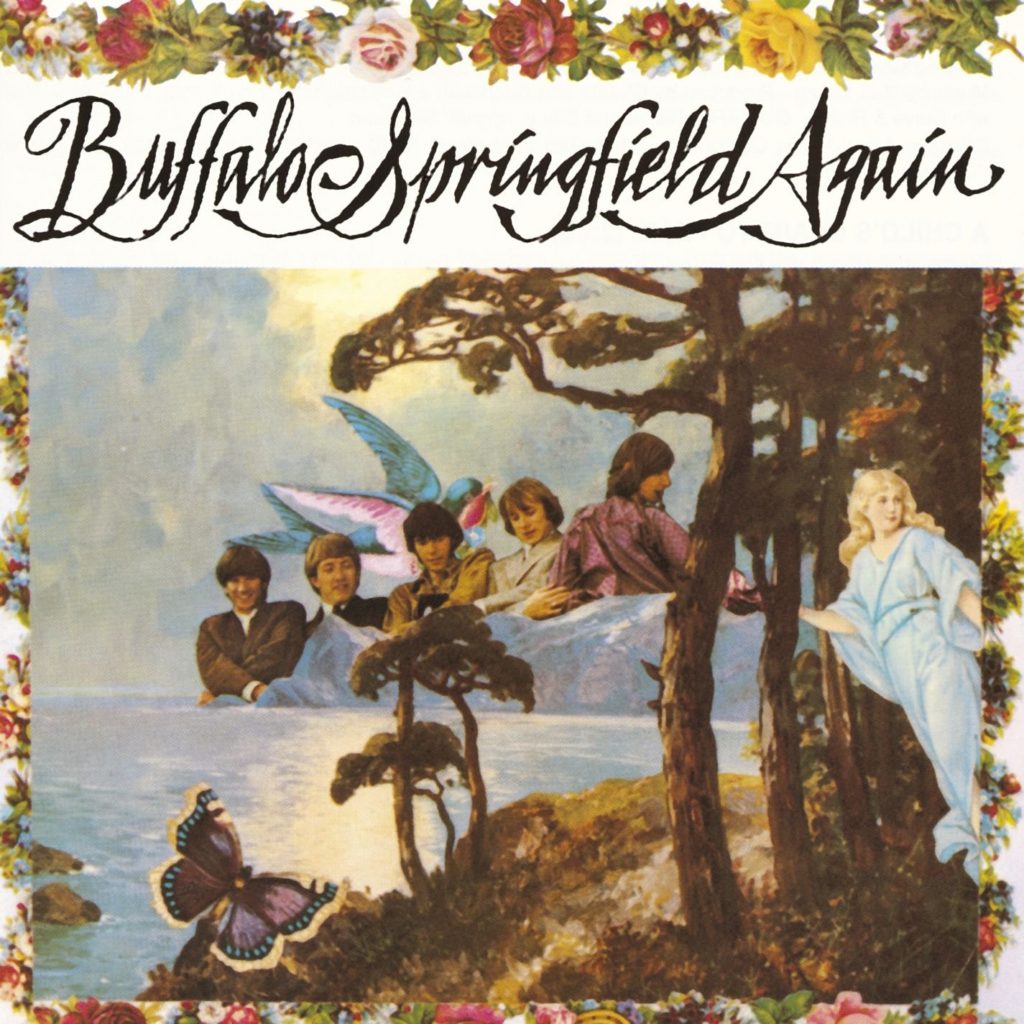 A volatile mix of talent and dysfunction percolates beneath the surface of Buffalo Springfield's second and best album, Buffalo Springfield Again, highlighting the band's strengths even as it exposes fissures already unraveling them less than a year after their formation. In contrast to their self-titled debut, recorded over a few weeks in the summer of 1966, …Again was cobbled together over the course of nine months during which internal rivalries and combustible personalities provoked fistfights, walkouts, epileptic seizures, drug busts and even a deportation.
The first LP had been handicapped by managers Charlie Greene and Brian Stone, flamboyant hustlers who insisted on producing the band despite a lack of studio experience. At least Buffalo Springfield was recognizable as the work of the Canadian-American quintet, however pallid it may have sounded compared to their incendiary live performances. Such cohesion was impressive for a band with just a few months of gigs under its belt when it entered Gold Star Studios for its first sessions.
The group's formation was a rare instance where "overnight sensation" wasn't pure hyperbole. A chance 1965 encounter in Ontario between Dallas-born singer, songwriter and multi-instrumentalist Stephen Stills and Neil Young, a Toronto musician with the same skills, had seeded a prospect of future collaboration. By early '66, both had followed a folk-rock gold rush to Los Angeles inspired by the Byrds' success the previous summer. On April 6, Stills and Young reunited when they passed each other while driving on Sunset Boulevard, Stills now joined by fellow folkie Richie Furay and Young accompanied by Toronto bassist Bruce Palmer. Pulling over to catch up, they joined forces virtually on the spot.
Five days later, they had a fifth member, Canadian drummer Dewey Martin, a band name inspired by the name plate on a steamroller, and their first gig at the Troubadour. Four days after that, Buffalo Springfield opened for the Byrds. Within a month of their "big bang" Sunset reunion, they began a residency at the Whisky a Go Go, leading to an Atlantic Records contract in June.
Musical chemistry was immediate, powered by a three-guitar front line featuring Young's and Stills' dueling lead guitars, but with three singer-songwriters aboard, conflicts surfaced quickly. Leader Stills was a domineering taskmaster, Young masked his own steely ambition behind passive aggression and Furay bristled as his songs were pushed aside for the debut album.
Related: When Buffalo Springfield appeared on TV's Mannix
By January '67, a month after Buffalo Springfield's release, their third single, Stills' "For What It's Worth," was generating buzz as they began recording the next LP, only to be derailed soon after by Bruce Palmer's deportation on drug charges. The lone session on January 9 did bring promise in a Neil Young song that would open the album.
"Mr. Soul" is a darkly cynical rocker "respectfully dedicated to the ladies of The Whisky a Go Go and the women of Hollywood" that seethes with contempt for the sycophants and hangers-on Young was encountering offstage. Propelled by churning rhythm guitars and Young's snarling, buzz-saw lead, the track also introduced his career-long scorn for the music industry and a sneering vocal attack that vindicated him after being sidelined as a vocalist on the first album.
"Mr. Soul" captures Buffalo Springfield's core ensemble style, but Young's other songs on …Again signaled increasing alienation from his bandmates. Stills' bullying style alternately angered and intimidated the reticent Canadian, who began missing gigs (including the Monterey Pop Festival and a Tonight Show slot, subsequently canceled). Meanwhile, arranger, composer and producer Jack Nitzsche, known for his work with Phil Spector and the Rolling Stones, was urging Young to go solo. His influence shaped both of Young's other album tracks, serving as co-producer with Young on "Expecting to Fly," an impressionistic orchestral ballad produced as a de facto solo track.
Sgt. Pepper's influence on "Expecting to Fly" was even more pronounced on Young's third album track, "Broken Arrow," constructed in three segments and shifting from rock band to jazz combo, inserting audience ambience, sound effects and a calliope over the course of six minutes. While the other band members played on the session, Young's production clearly veered toward the studio experiments heard on his self-titled solo debut the following year, tipping toward psychedelia.
While Young's songs retreated from the band, Stills was very much focused on reinforcing that sound. The first Stills song in the LP's sequence, "Everydays," captured a hushed mood, reining its guitars to allow fluid jazz piano figures, but on "Bluebird" he erected a guitar rave-up designed to match electric guitar firepower with his aggressively picked Martin D-28 acoustic. Engineer Bruce Botnick used outboard signal processing to magnify the instrument to a monumental scale.
Released as a single midway through album production, "Bluebird" coupled its guitar fusillade to a melancholy lyric that Crosby, Stills, Nash & Young biographer Peter Doggett traced to Stills' infatuation with folk siren Judy Collins, whom he would later meet, woo, lose and memorialize in CSN's towering "Suite: Judy Blue Eyes." However speculative that view, the song realizes a nearly perfect fusion of folk melody and acoustic instrumentation with electric rock. Onstage, the song would become an extended barn burner, stretching out for up to 20 minutes; Stills shelved an extended studio version, while building upon the two-minute single with a delicate acoustic coda that mused, "Soon she's going to fly away," decorated with Charlie Chin's lilting banjo, that appears on the album. That version remains definitive.
Listen to Buffalo Springfield's extended version of "Bluebird"
A similar if less intense acoustic-electric guitar framework shines on Stills' other high point here, "Rock & Roll Woman," adding surging organ and additional guitar from Doug Hastings.
After being sidelined as a writer on the band's first album, Furay succeeded in landing three of his songs on the sophomore set, including the band's purest foray into country-rock with "A Child's Claim to Fame." Furay's clear tenor and effortless falsetto float above the easy canter of the rhythm section, with Young's glowing, countryfied guitar harmonics answered by James Burton's ringing dobro figures, foreshadowing the direction Furay would later take with Poco.
Buffalo Springfield Again, released on Nov. 18, 1967, would peak at #44 on the album chart, with the band returning to the studio in February to record a final album to fulfill their contractual commitment to Atlantic before formally disbanding in May, 25 months after their fateful meeting on Sunset Boulevard.
Bonus Video: See Buffalo Springfield perform a medley of "For What It's Worth" and "Mr. Soul" on The Hollywood Palace, 1967.

Latest posts by Sam Sutherland
(see all)