Bobbie Gentry's 'Ode to Billie Joe': Another Sleepy, Dusty Delta Day
by Jeff Tamarkin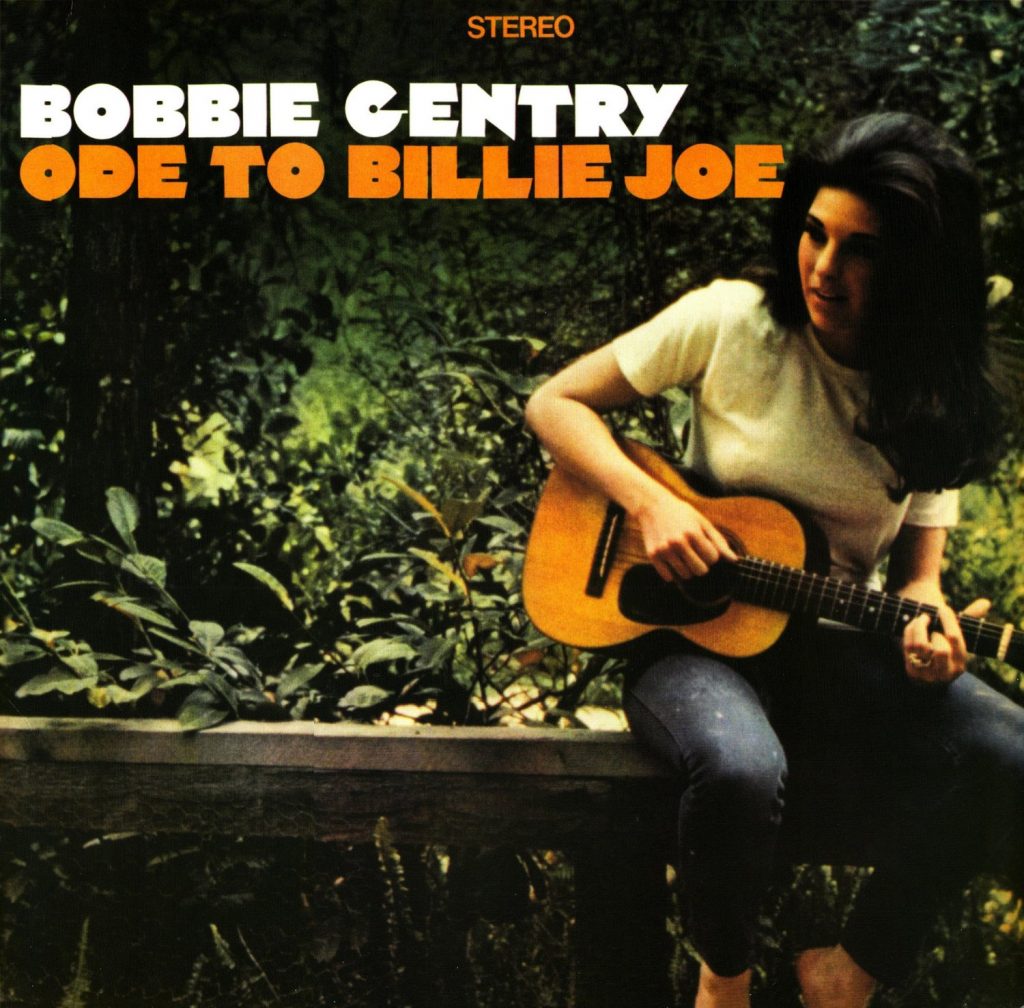 It begins with the date—"It was the third of June, another sleepy, dusty Delta day"—and if you listened to the radio back then, the late summer of 1967, you soon knew the whole tale by heart: what happened before and after, on an otherwise uneventful day, Billie Joe McAllister, under mysterious circumstances, jumped off the Tallahatchie Bridge.
It's all so matter-of-fact, this "oh-by-the-way" news that Mama delivers, this tragedy that happened up on Choctaw Ridge, told to our narrator just after she's finished pickin' cotton and wiping her feet. Over dinner that evening, the news barely rates a mention: "Billie Joe never had a lick of sense; pass the biscuits, please," says Mama, adding that it was "a shame" nonetheless.
The storyteller, though, might be harboring stronger feelings than she's letting on—and a secret. As Mama and brother ramble on, mingling casual dinner chitchat with recollections of the departed, it emerges that perhaps there's a dark side to the story: Brother Taylor, it seems, only recently "saw a girl that looked a lot like you up on Choctaw Ridge, and she and Billie Joe was throwing somethin' off the Tallahatchie Bridge."
But what exactly took place on that bridge that day? What was Billie Joe tossing into the water, and was it our chronicler who was seen with him?
The only person who can answer those questions, the composer and singer of this novella set to song—Bobbie Gentry, born Roberta Lee Streeter in Mississippi on July 27, 1944—never has. And, having long ago turned her back on show business and the public life, she likely never will. Journalists have spent years trying to track her down, to get her to tell her story. She's often described as a recluse. There's even a Facebook group called "Where On God's Green Earth is Bobbie Gentry?"
Related: What were the top radio hits of 1967?
"Ode to Billie Joe" was a quick sensation when it was released on Capitol Records, climbing to the #1 position on the Billboard Hot 100 and staying there for four weeks. Gentry's first and biggest hit—which featured cellos and violin arrangements by Jimmie Haskell—it was at heart a country ballad, although it peaked only at #17 on the Billboard country chart, taking off at pop radio instead.
Gentry had only been singing professionally for a few years when she wrote her signature song. She'd moved from her Southern home to California, living with her mother and picking up some performing experience there and in Las Vegas. She chose her stage name from a 1952 film, Ruby Gentry, and attended school at UCLA while working as a model and singer. In 1964, having transferred to the Los Angeles Conservatory of Music, she cut her first record, "Requiem for Love," but it went nowhere.
Three years later, Capitol noticed her. She recorded two of her own tunes, with "Mississippi Delta" initially promoted as the A-side. Capitol's A&R executives were more impressed with the flip though, correctly getting a hunch that the lyrics of "Ode to Billie Joe" would cause controversy and, hopefully, get the single some airplay.
Upon its release on July 10, "Billie Joe" vaulted from #71 on the Billboard chart of Aug. 5, 1967, to the top spot on Aug. 26, pushing labelmates the Beatles' "All You Need is Love" out of the way after it had spent only a single week at #1. Gentry's song was, by any measure, an outlier on the pop charts during the so-called Summer of Love, but her presence there confirmed the very open-mindedness of radio (and record buyers) at the time: Other top 10 hits of the day on top-rated New York AM station WABC included songs by Motown's Supremes and Temptations, the Doors, Aretha Franklin, the Monkees and the Young Rascals. Just below that: everything from James Brown to the Parliaments to Procol Harum, the Beach Boys and the Turtles.
Listen to the studio version
Gentry steadfastly refused to offer details of the saga. Asked about that bridge and what was tossed, she said (in a quote reprinted in Wikipedia): "Those questions are of secondary importance in my mind. The story of Billie Joe has two more interesting underlying themes. First, the illustration of a group of people's reactions to the life and death of Billie Joe, and its subsequent effect on their lives, is made. Second, the obvious gap between the girl and her mother is shown, when both women experience a common loss (first, Billie Joe and, later, Papa), and yet Mama and the girl are unable to recognize their mutual loss or share their grief."
To this day—more than a half century after Papa died "from a virus going 'round" and Mama no longer seemed "to want to do much of anything," and the narrator found herself "pickin' flowers up on Choctaw Ridge" and dropping "them into the muddy water off the Tallahatchie Bridge"—those questions remain unanswered, and are still hotly debated in some quarters.
Some say that Billie Joe and the girl in the story were carrying on a clandestine love affair, and that it was a baby—or perhaps an aborted fetus—that was thrown to the water.
Meanwhile, record collectors insist that there was a longer version of the song, over seven minutes and featuring an extended narrative, that might have shed some light. But no such recording has ever surfaced. As the hit was more than four minutes long, it seems unlikely that it had started as seven, but again, no one with access to the recording sessions has ever said.
Gentry placed several more singles onto the charts into 1970, including a couple of duets with Glen Campbell, but none came close to the top 10. Her Ode to Billie Joe album matched the single's chart feat, however, reaching #1 (replacing Sgt. Pepper), and also made it to #5 on the trade magazine's Black Albums chart, a rare feat for a country-style tune. There were six more albums that made the charts, including 1968's Bobbie Gentry & Glen Campbell, but it was that first surprise smash with which she will forever be associated. The single became the #4 best-seller of the year and gave Gentry a boost in recognition that would result in three Grammys in 1968, including Best New Artist and Best Female Vocal Performance. Haskell took the Grammy for Best Instrumental Arrangement Accompanying Vocalist(s)/Best Background Arrangement.
Gentry was also named the Academy of Country Music's Most Promising Female Vocalist.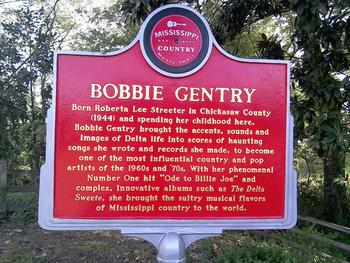 Her subsequent career took several sharp turns. She tried her hand at stage and TV work but by the turn of the decade she was no longer much of a presence in the entertainment world. Bobbie Gentry retired from music in the 1981 after three failed marriages and now reportedly lives a quiet life not far from the original site of the Tallahatchie Bridge.
Her hit song, meanwhile, long ago took on a life of its own. There's an entire book devoted to "Ode," written by Tara Murtha and published in 2015. A 1976 film adaptation of the story (with the title changed to "Billy Joe"), stars Robby Benson and Glynnis O'Connor and set the suicide event in the '50s. In the film, the narrator gets a name, Bobbie Lee Hartley, and a somewhat seedier story that involves Billie Joe McAllister's longing for Bobbie and an illicit homosexual relationship between the conflicted boy and the boss of a local sawmill, leading to Billie Joe's decision to leap off the bridge.
The film was, for the most part, panned by critics. Perhaps it was the script that they were throwing over the Tallahatchie Bridge.
As for the actual bridge—which crossed the Tallahatchie River at Money, Miss., about 10 miles north of Greenwood—the wooden structure collapsed in 1972 after being set on fire by arsonists, and has since been replaced.
Watch Bobbie Gentry sing "Ode to Billie Joe" on the BBC

Latest posts by Jeff Tamarkin
(see all)