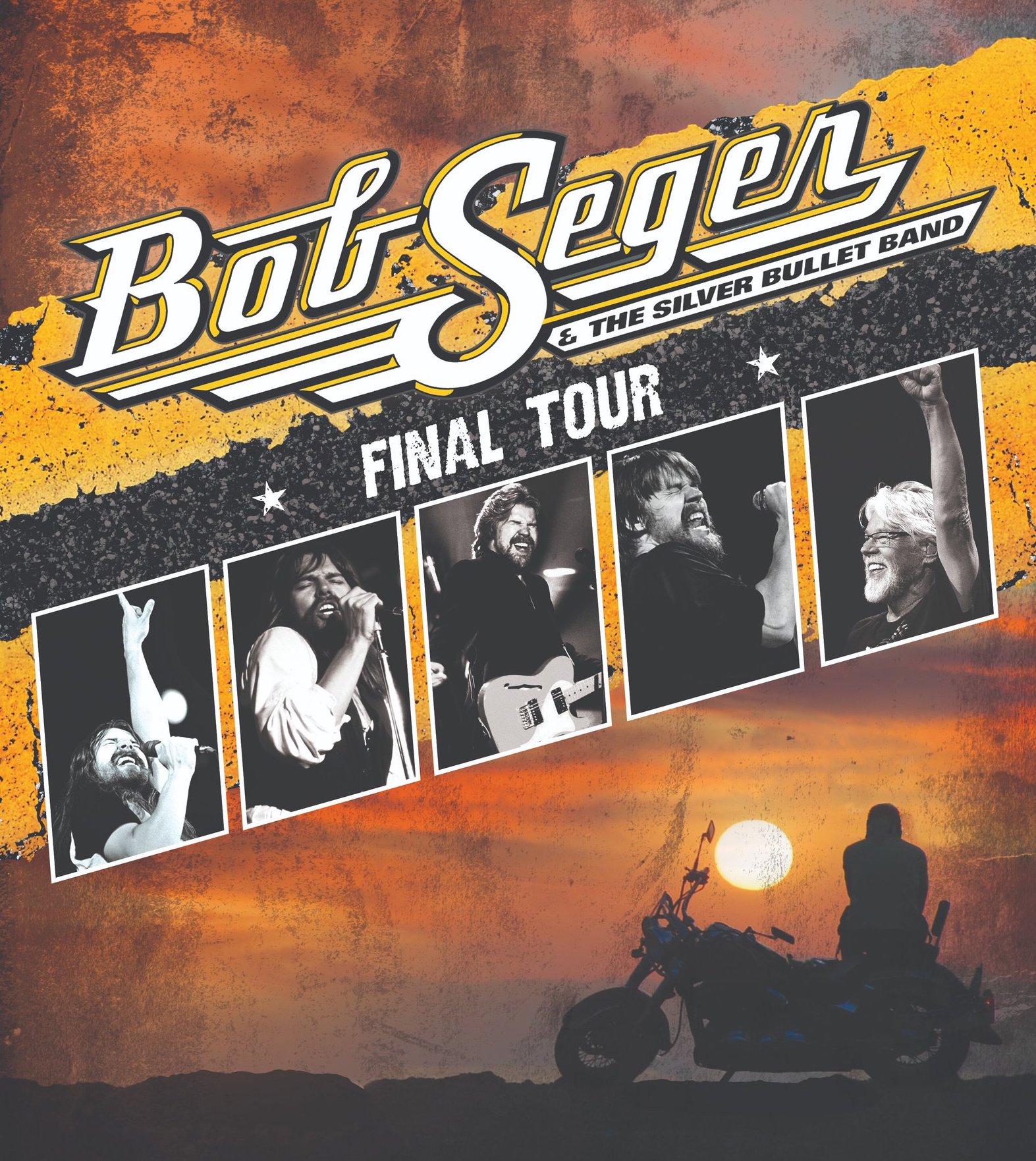 On September 5, Bob Seger announced four "final" dates to his final tour, with east coast concerts for October and early November. With the tour having been abruptly suspended in 2017 due the rocker's spinal surgery, this really may be it.
The last of six hometown shows in Detroit was June 21. The run is being billed as the final tour by Bob Seger and the Silver Bullet Band. Following the long layoff while Seger recovered, the tour resumed November 21, 2018.
The tour announcement, distributed on Sept. 18, 2018, said, "After a career that has spanned more than 50 years, Bob Seger and the Silver Bullet Band will hit the road for one last time on their final tour. More dates are being added to Seger's previously announced dates, giving fans one more opportunity to see Seger and the band live."
The run was originally called "Travelin' Man" and then "Roll Me Away," before settling on simply, "Final Tour."
Watch Seger perform on November 24, 2018
Although no reason was cited for Seger's decision to quit the road, the classic rock legend abruptly suspended his then-current tour on October 3, 2017, due to "intense spinal surgery."
Seger joins a growing list of classic rock stars that have announced farewell tours including Paul Simon, Elton John, Ozzy Osbourne, Joan Baez, Lynyrd Skynyrd, Neil Diamond and Peter Frampton.
Watch Seger perform "Rock and Roll Never Forgets" in Pittsburgh on October 17, 2019
Related: Our review of Seger's final tour
When Seger postponed a sole date–his Sept. 30, 2017 concert in Columbus, OH–it appeared to be a case of the 73-year-old classic rock legend perhaps having overextending himself on his arena tour. Not so.
Seger released his I Knew You When album on Nov. 17, 2017, his first studio release since 2014. He suspended his Runaway Train tour on Oct. 3, 2017, upon receiving his doctor's orders to attend to an urgent medical issue concerning his vertebrae.
On Oct. 23, 2017, the classic rock legend's social media team offered a brief medical update via his Facebook page: "Bob is on the road to recovery after undergoing surgery on Friday [Oct. 20] to address the medical issue causing the postponement of his tour. According to his doctors the surgery 'couldn't have gone better.' Bob wants to thank all his fans for the outpouring of well wishes and support. We hope to have news regarding dates for the tour soon."
Watch Seger perform "Against the Wind" on August 26, 2017
On Nov. 22, 2017, Seger revealed to his hometown Detroit Free Press about the procedure. As the paper's Bob McCollum noted, Seger felt a "numb tingle" creep into his hands three weeks into the tour, which began Aug. 24, 2017. "Whoa, this is weird," he quoted the musician.
It turns out Seger had a ruptured disc in his neck, leading to "intense spinal surgery. I've been singing real hard for 52 years. That's a strain on the upper shoulders and neck. And I guess I finally just popped one out."
He continued to perform. "I'll take care of this after the tour," he said, though the doctors warned him that if the numbness spread to his legs, he'd have to stop. It did and he had a cervical laminectomy on Oct. 20, 2017.
When he postponed the tour, Seger said: "I'm so disappointed to have to suspend the tour as the band is on a great roll. It's a privilege to play for our amazing fans. Hoping to be back out on the road very soon."
On March 28, 2018, he offered a brief update on his health indicating "returning to the concert stage is now our number one priority."
Tickets are available here and here.
Bob Seger & the Silver Bullet Band 2019 Tour Dates
Oct 24 – Boston, MA – TD Garden
Oct 26 – Toronto, ON – Scotiabank Arena
Oct 30 – New York, NY – Madison Square Garden
Nov 01 – Philadelphia, PA – Wells Fargo Center
Related: Links to 100s of classic rock tours
Watch them perform "Hollywood Nights" at one of the 2019 hometown shows
Thirteen months after abruptly suspending his 2017 tour, Bob Seger opened his rescheduled Runaway Train tour on November 21, 2018, in Grand Rapids, Mich.
The classic rock legend can be forgiven for postponing the tour (on October 3, 2017): he had a cervical laminectomy – "intense spinal surgery" is how he described it at the time. Feeling sufficiently recuperated, he announced the rescheduled tour on September 18, 2018 and since added many dates.
At opening night on Thanksgiving eve at Grand Rapids' Van Andel Arena, Seger and the band brushed off any rust with a 22-song set. Spoiler Alert: How many rockers can offer a four-song encore that features tunes as well-liked as "Against the Wind," "Hollywood Nights," "Night Moves" and "Rock and Roll Never Forgets"?
Watch Seger perform "Night Moves" in 2019
It was fitting that the Detroit native opened the tour in his home state. The western Michigan city had officially named the day "Bob Seger Day."
Bob Seger & the Silver Bullet Band, Grand Rapids, MI, November 21, 2018 Setlist
Face the Promise
Still the Same
The Fire Down Below
Mainstreet
Old Time Rock & Roll
The Fireman's Talking
Shame on the Moon
Roll Me Away
Come to Poppa
Her Strut
Like a Rock
You'll Accomp'ny Me
We've Got Tonight
Travelin' Man
Beautiful Loser
Turn the Page
I'll Remember You
Ramblin' Gamblin' Man
Encore
Against the Wind
Hollywood Nights
Encore 2
Night Moves
Rock and Roll Never Forgets
Tickets for the final tour are available here and here.

Latest posts by Best Classic Bands Staff
(see all)