Bob Lind, 'Elusive Butterfly' Singer-Songwriter: Q&A
by Jeff Tamarkin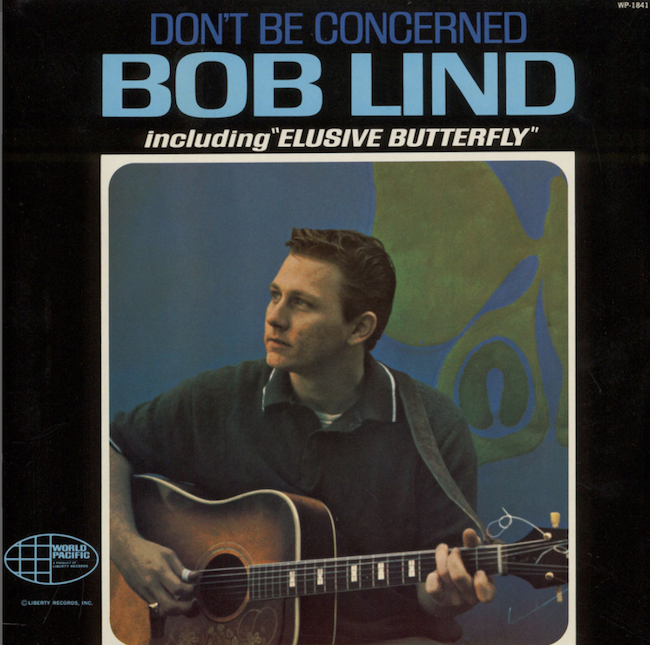 The singer-songwriter boom that erupted in the wake of Bob Dylan's "conversion" to rock in the mid-'60s exposed fans to dozens of brilliant new artists who wrote their own material, some of whom would go on to become major, innovative stars and others who would shine for a brief moment and then recede from view.
Bob Lind fell into the latter category. In early 1966 his recording of his composition "Elusive Butterfly" found its way to millions of ears and landed at #5 on the Billboard singles chart on March 6. Although Lind placed a couple of other tunes in the top 100 and released a few albums, by the early '70s he was gone from public view, his sole hit relegated permanently to oldies radio stations as the artist himself pursued other avenues.
As it turns out though, Lind, born November 25, 1942, never stopped writing songs, and early in this current decade he re-emerged with a new album, Finding You Again, that proved he'd lost none of his songwriting and singing chops. An equally strong followup, Magellan Was Wrong, followed in 2016.
This interview was conducted that year, and most of it remained unpublished until we shared it here.
Best Classic Bands: "Elusive Butterfly" is now more than 50 years old. Can you now tell us what the song is about?
Bob Lind: I leave it to others to decide what the song says. It's tyranny to stand over one's songs and dictate interpretations. Plus, I'm not entirely sure myself. It wasn't concocted consciously. A curtain opened and it was there. I just grabbed it and wrote it down. Other than the thrill of the chase (obvious), I don't know what else it's about.
Is it helpful or harmful to an artist's career when they're mostly associated with one song?
Of course it's only helped. It has a place in the hearts of millions. But it's by no means my best song. Only the gods know why one song, like "Butterfly," connects on a massive level and another doesn't. I still sing "Elusive Butterfly" in my shows, but I'm not an oldies act. I have no wish to revolve around my own corpse when I'm writing so much better now.
Related: What were the big radio hits of 1966?
Is it true that the song actually started out as the B-side of the single and was then discovered by disc jockeys who flipped it over?
Yes. It was the B-side of "Cheryl's Goin' Home."
Watch a video of Bob Lind lip-syncing his big hit
Do you have a favorite cover of the song?
There have been over 75 and more still keep showing up on YouTube. My favorite is Petula Clark's.
Watch Clark perform the song on The Ed Sullivan Show in 1967
Check out the Four Tops' cover
What was it like working with the great producer and arranger Jack Nitzsche on that and your other early recordings?
This question is too broad to answer in the allotted time. In short: fantastic while it lasted. Both Jack and I were difficult. For awhile, our rhino-sized egos—fired by truckloads of alcohol—blended into something more than the sum of its twisted parts. Then they clashed—hard.
Do you have any favorite covers of your other compositions, especially "Cheryl's Goin' Home"?
My favorite covers are by the artists who don't imitate me, the ones who show me something surprising in the song that I never knew was there. There are 20-some covers of "Cheryl." My favorite is by John Otway, who built an entire rock opera around it. My favorite cover [of my songs], period, may be Richie Havens' "How the Nights Can Fly." Some covers have sentimental value, like "Down In Suburbia," by the Turtles—the first-ever recording of one of my songs by another artist. The Turtles were red hot at the time and I was nobody, just a hick folkie from Denver. I will never forget their faith in me. Same goes for Cher, who recorded "Come to Your Window," also before "Butterfly" was even released.
Watch Bob Lind perform "Cheryl's Goin' Home" recently
What happened in the early 1970s that caused you to disappear, from the fans' point of view anyway?
My stupid pride. I let my hatred of the business outweigh my desire to persist, a childish and much-regretted mistake.
What did you do in between that early phase and your reemergence in the 2000s? I seem to remember you writing for the parody newspaper the Weekly World News! Was that as cool as it sounds?
Yes. I loved my time at WWN. I learned so much about writing in those eight years. I also used my time away from the biz to write five novels, countless poems and short stories, four plays and a script that won the Florida Screenwriters' Competition.
The British group Pulp wrote a song called "Bob Lind (The Only Way Is Down)." What was your reaction to that?
I love [singer/guitarist] Jarvis Cocker. The tribute song exposed me to a new generation of music lovers who might never have known me. He says he gave it that title because it was written "in the Bob Lind style," but I don't hear it. Jarvis is unique. His songs come from his own heart and experience.
Listen to Richie Havens cover Lind's "How the Nights Can Fly"
In 2012, you came back with the album Finding You Again and then in 2016 Magellan Was Wrong. Why have you re-entered the world of songwriting and recording?
I never stopped writing. The music never left me. But drugs and alcohol and my distaste for the business kept me away from recording. In 2004, when I was 27 years clean and sober, I put my toe back in the water. Arlo Guthrie invited me to play the Guthrie Center in Massachusetts and I did. I started to realize there were places I could play that didn't require the "all oldies all the time" approach and I welcomed them. Then, the fantastic people at Ace Records in England released a compilation of my early work [Bob Lind: Elusive Butterfly–The Complete Jack Nitzsche Sessions] and I found that working with them was easy, relaxed. They're passionate, feeling people who care about what they're selling. By this time my hatred for the reptilian creeps in the recording industry had practically blinded me to the possibility that there were there were people like that: a record company composed of guys who actually love music and respect their artists. So my manager asked them if they knew of a label that might want to release some new songs. To our delight and amazement, they said, "Yeah. Us." I have never had an instant of regret. They're beyond great.
What would you say your songs address now that maybe they didn't 50 years ago?
My themes haven't changed much. They've always been more local than global—intimate love and/or the yearning for it. About 90 percent of my tunes are love songs. The difference is that I believe I've retained much of the lust and passion of my earlier work but my viewpoint has matured. Of course it's not really up to me to say that. But there are songs I can write now that I could never have written in my gushy 20s: "Gravity of the World," "Finding You Again," "Never Even There," and particularly "Outsider's Dream" can only have come from a "ripened" perspective. I'm as happy with these albums as I am with anything else I've recorded.
Bonus video: "Someone to Adore," one of Lind's recent compositions

Latest posts by Jeff Tamarkin
(see all)