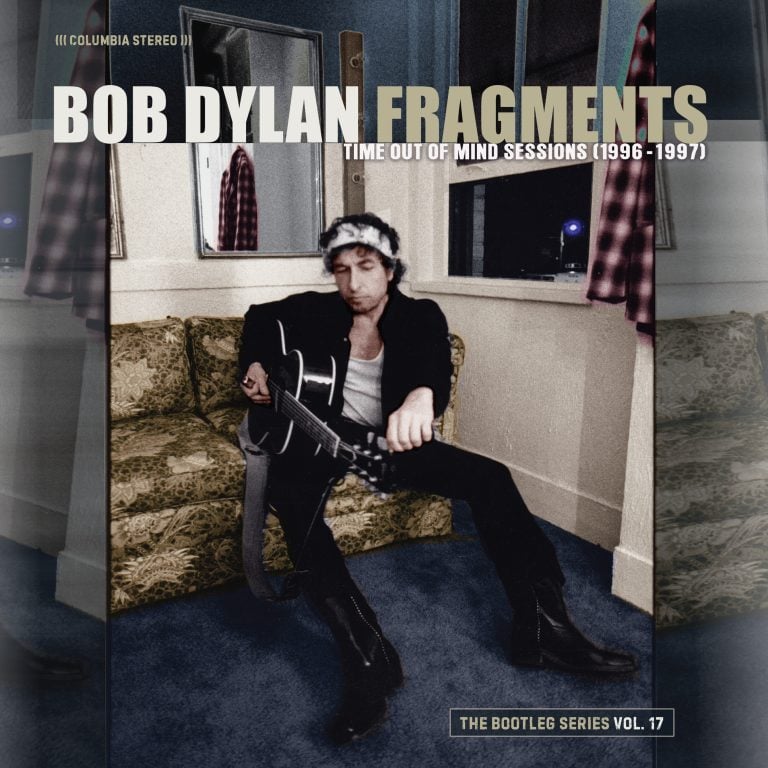 Bob Dylan has released the latest edition of his award-winning Bootleg series. Fragments – Time Out of Mind Sessions (1996-1997) The Bootleg Series, Vol. 17 arrived Jan. 27, 2023, as a 5-CD or 10-LP collection, with 4-LP, and 2-CD highlights sets, via Sony's Legacy Recordings. The new collections include previously unreleased studio and live performances. Listen to the first several releases from the set and see the complete track listing below.
The latest chapter in the series takes a fresh look at Time Out of Mind, Dylan's mid-career masterpiece, celebrating the album and its enduring impact 25 years after its original release on Sept. 30, 1997. Fragments – Time Out of Mind Sessions (1996-1997): The Bootleg Series Vol. 17 follows the evolution of songs written for the album, from intimate early incarnations in the previously unreleased 1996 Teatro sessions featuring Dylan (vocals, guitar, and piano), Daniel Lanois (guitar and organ), Tony Garnier (bass) and Tony Mangurian (drums and percussion) through incandescent live renditions (also previously unreleased) showcasing Dylan and his touring ensemble channeling the songs on-stage from 1998-2001.
From the Nov. 17 announcement: In early 1996, Dylan (whose last album of originals had been 1990's Under the Red Sky) began writing a group of new songs and, in August-October that year, went into Teatro studio in Oxnard with Daniel Lanois (who'd produced 1989's Oh Mercy) to record demos for a potential album. Recording for Time Out of Mind took off in earnest in January 1997, when Dylan moved the sessions to Criteria Studio in Miami and the studio ensemble was expanded to encompass a mix of all-star session players and members of Dylan's touring band including Bucky Baxter (acoustic guitar, pedal steel), Duke Robillard (guitar, electric Gibson L-5), Robert Britt (Martin acoustic, Fender Stratocaster), Cindy Cashdollar (slide guitar), Tony Garnier (bass guitar, upright bass), Augie Meyers (Vox organ combo, Hammond B3 organ, accordion), Jim Dickinson (keyboards, Wurlitzer electric piano, pump organ), and drummers Jim Keltner, Brian Blade, and David Kemper.
Watch the official unboxing video
The end result, Time Out of Mind, became a new pillar in the Bob Dylan album pantheon, its songs–"Love Sick," "Cold Irons Bound," "Can't Wait," "Not Dark Yet"–becoming concert staples and fan favorites with one composition, "Make You Feel My Love," achieving rare status as a new contemporary standard in the Great American Songbook, a tune covered by hundreds of artists including Billy Joel, Garth Brooks, Neil Diamond, and Adele. Time Out of Mind won the 1998 Grammy awards for Album of the Year and Best Contemporary Folk Album while "Cold Irons Bound" took home the trophy for Best Male Rock Vocal Performance.
Listen to "Not Dark Yet" (Version 1), shared on Jan. 11
Disc One premieres 2022 mixes, by Michael H. Brauer at Brauer Sound Studios, of the eleven original recordings on Time Out of Mind. In his liner notes for the set, Steven Hyden writes, "The album itself has been remixed to sound more like how the songs came across when the musicians originally played them in the room, without the effects and processing that Lanois applied later. It's not meant to replace the Time Out of Mind that won all of those Grammys a quarter-century ago; it's a reimagining, an alternate view of a great work of art. If the original album remains mythic and enigmatic, this Time Out of Mind puts you in close proximity to the players." The Time Out of Mind (2022 Remix) disc will be available in immersive audio, a first for a Bob Dylan recording.
Discs Two and Three are comprised of rare outtakes and alternate versions of songs written for Time Out of Mind including four original Dylan compositions–"Dreamin' of You," "Red River Shore," "Mississippi" (later re-recorded for Love & Theft in 2001) and "Marchin' to the City"–not included on the canonical 1997 tracklist.
Listen to "Mississippi" (Version 2)
Related: Our reviewer calls the new collection "brilliant"
Listen to "Love Sick" (Version 2)
A fifth unreleased performance, Dylan's interpretation of "The Water is Wide," a traditional folk song of Scottish origin (and spiritual precursor of "Highlands," Time Out of Mind's epic closer) opens Disc Two.
Disc Four presents songs from Time Out of Mind in a series of spectacular live performances from 1998-2001 featuring Dylan and his touring ensemble: Larry Campbell (guitar, mandolin, pedal steel, and slide guitar), Bucky Baxter (pedal steel and slide guitar, 1998-1999), Charlie Sexton (guitar, 2000-2001), Tony Garnier (bass) and David Kemper (drums). All tracks on Disc Four are previously unavailable with the exception of "Make You Feel My Love" (May 21, 1998, Los Angeles), previously released on the "Things Have Changed" maxi-single.
As a bonus for fans, Disc Five brings together studio recordings of the four Dylan songs omitted from the original Time Out of Mind track list as well as exemplary live performances of "Cold Irons Bound" and "Tryin' To Get To Heaven." The twelve tracks on Disc Five were previously available on Columbia/Legacy's The Bootleg Series Vol. 8: Tell Tale Signs: Rare and Unreleased 1989–2006.
See the complete song list for the 5-CD edition below the Amazon links.
Bob Dylan – Fragments – Time Out of Mind Sessions (1996-1997): The Bootleg Series Vol.17 Tracklisting
Disc One – Time Out of Mind (2022 Remix)
1. Love Sick
2. Dirt Road Blues
3. Standing in the Doorway
4. Million Miles
5. Tryin' to Get to Heaven
6. 'Til I Fell in Love with You
7. Not Dark Yet
8. Cold Irons Bound
9. Make You Feel My Love
10. Can't Wait
11. Highlands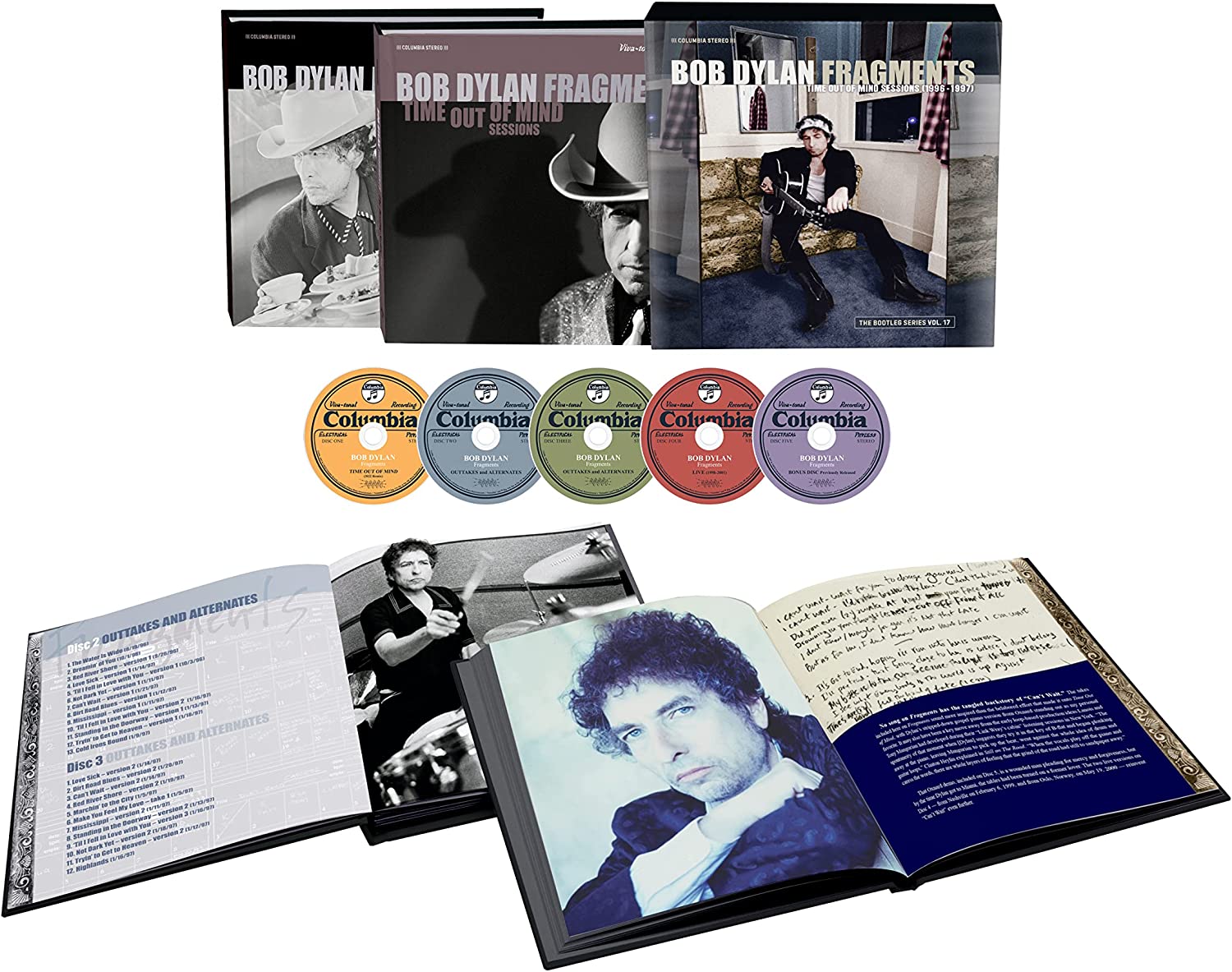 Disc Two – Outtakes and Alternates
1. The Water is Wide (8/19/96, Teatro)
2. Dreamin' of You (10/1/96, Teatro)
3. Red River Shore – version 1 (9/26/96, Teatro)
4. Love Sick – version 1 (1/14/97, Criteria Studios)
5. 'Til I Fell in Love with You – version 1 (10/3/96, Teatro)
6. Not Dark Yet – version 1 (1/11/97, Criteria Studios)
7. Can't Wait – version 1 (1/21/97, Criteria Studios)
8. Dirt Road Blues – version 1 (1/12/97, Criteria Studios)
9. Mississippi – version 1 (1/11/97, Criteria Studios)
10. 'Til I Fell in Love with You – version 2 (1/16/97, Criteria Studios)
11. Standing in the Doorway – version 1 (1/13/97, Criteria Studios)
12. Tryin' to Get to Heaven – version 1 (1/18/97, Criteria Studios)
13. Cold Irons Bound (1/9/97, Criteria Studios)
Disc Three – Outtakes and Alternates
1. Love Sick – version 2 (1/14/97, Criteria Studios)
2. Dirt Road Blues – version 2 (1/20/97, Criteria Studios)
3. Can't Wait – version 2 (1/14/97, Criteria Studios)
4. Red River Shore – version 2 (1/19/97, Criteria Studios)
5. Marchin' to the City (1/5/97, Criteria Studios)
6. Make You Feel My Love – take 1 (1/5/97, Criteria Studios)
7. Mississippi – version 2 (1/11/97, Criteria Studios)
8. Standing in the Doorway – version 2 (1/13/97, Criteria Studios)
9. 'Til I Fell in Love with You – version 3 (1/16/97, Criteria Studios)
10. Not Dark Yet – version 2 (1/18/97, Criteria Studios)
11. Tryin' to Get to Heaven – version 2 (1/12/97, Criteria Studios)
12. Highlands (1/16/97, Criteria Studios)
Disc Four – Live (1998-2001)
1. Love Sick (6/24/98, Birmingham, England)
2. Can't Wait (2/6/99, Nashville, Tennessee)
3. Standing In The Doorway (10/6/00, London, England)
4. Million Miles (1/31/98, Atlantic City, New Jersey)
5. Tryin' to Get to Heaven (9/20/00, Birmingham, England)
6. 'Til I Fell in Love with You (4/5/98, Buenos Aires, Argentina)
7. Not Dark Yet (9/22/00, Sheffield, England)
8. Cold Irons Bound (5/19/00, Oslo, Norway)
9. Make You Feel My Love (5/21/98, Los Angeles, California)
Previously released on the "Things Have Changed" maxi-single
10. Can't Wait (5/19/00, Oslo, Norway)
11. Mississippi (11/15/01, Washington, D.C.)
12. Highlands (3/24/01, Newcastle, Australia)
Disc Five – Bonus Disc (Previously Released on The Bootleg Series Vol. 8: Tell Tale Signs: Rare and Unreleased 1989–2006)
1. Dreamin' of You – Tell Tale Signs (10/1/96, Teatro)
2. Red River Shore – Tell Tale Signs, version 1 (1/19/97, Criteria Studios)
3. Red River Shore – Tell Tale Signs, version 2 (1/8/97, Criteria Studios)
4. Mississippi – Tell Tale Signs, version 1 (9/96, Teatro)
5. Mississippi – Tell Tale Signs, version 3 (1/17/97, Criteria Studios)
6. Mississippi – Tell Tale Signs, version 2 (1/17/97, Criteria Studios)
7. Marchin' to the City – Tell Tale Signs, version 1 (1/5/97, Criteria Studios)
8. Marchin' to the City – Tell Tale Signs, version 2 (1/6/97, Criteria Studios)
9. Can't Wait – Tell Tale Signs, version 1 (10/1/96, Teatro)
10. Can't Wait – Tell Tale Signs, version 2 (1/5/97, Criteria Studios)
11. Cold Irons Bound – Tell Tale Signs, live (6/11/04, Bonnaroo Music Festival)
12. Tryin' to Get to Heaven – Tell Tale Signs, live (10/5/00, London, England)
Related: Our review of Dylan's 2022 book, The Philosophy of Modern Song

Latest posts by Best Classic Bands Staff
(see all)